Corona Virus
B. J. Novak & Vengeance: Coronavirus Fear Halts His Directorial Debut
Actor B. J. Novak's director debut Vengeance has been affected by the pandemic coronavirus. The film, whose production had started in late February 2020 in Albuquerque, New Mexico, halted the shooting on 14th March 2020. 
Details On Vengeance
Vengeance is a thriller based on B. J. Novak's script. He is acting and directing the project. The movie also stars Ashton Kutcher, Issa Rae, and Boyd Holbrook. 
However, the movie's script is guarded with secrecy, the team behind the film hasn't let any information slip about the upcoming thriller. 
Who is Producing Vengeance?
Jason Blum is the man behind the production of Vengeance. He is producing the movie under his banner, Blumhouse, in partnership with Adam Hendricks and Greg Gilreath of Divide/Conquer.
For those unaware, Jason Blum and his production house is a reputed name in thrillers. Blumhouse rolled out the appreciated movie, The Invisible Man, in 2020. And, they are set to bring an untitled Dracula movie in the near future. 
Hollywood Hit By Coronavirus:- Details On Why Riverdale Shutdown Season 4 Production
Going back to Jason's initial days as a producer, his break out hit was Paranormal Activity in 2007. Since then, he has been appreciated for movies, namely The Purge, Insidious, Sinister, and Ouija. The producer also scored nominations in Academy Award for the best picture category for producing films, namely Whiplash, Get Out, and BlacKkKlansman.
B. J. Novak's Announcement 
B.J took to Instagram to announce the film's halted production on 14th March 2020.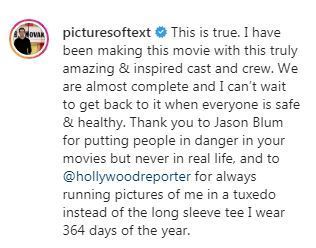 B. J. Novak's statement on Vengeance's production status on 14th March 2020 (Photo: B. J. Novak's Instagram)
He praised the cast and crew for their work on the film and mentioned his eagerness to get back to set at the right time- safe and healthy for people. 
Facts On B. J. Novak
B. J. is most famous as Ryan Howard from the hit TV show, The Office.

B. J. and his Vengenace co-star, Ashton Kutcher, were part of the TV show, Punk'd, in 2003.