Corona Virus
Hollywood Celebrities Reaction Over Coronavirus Fear, How's It?
The recent outbreak of the COVID-19 (Nobel coronavirus) has emerged as one of the biggest threats to the world, with confirmed cases of over 156,745 people and 5,839 deaths in at least 110 countries and territories globally, according to the worldometers as of 15 March 2020.
The virus has now started showing up to the recognized celebrities, players, and noble and respectable personalities. Some of the recognized names who have confirmed positive to the coronavirus include celebrity couple Tom Hanks and Rita Wilson, Arsenal's football manager Mikel Arteta, basketball player Rudy Gobert, and so on.
Reading all this information, you must have experienced varied emotions and reactions. But it is not just you who have these mixed emotions right now, as several Hollywood celebrities have also shown their reactions over coronavirus fear publically.
Tom Hanks' Son Chet Hanks
After coming to knowledge about his parents' (Tom Hanks and Rita Wilson) positive test to coronavirus, Hanks' son Chet Hanks shared his reaction to the news through Instagram. He posted an Instagram video on 12 March 2020, acknowledging the fact that his parents have caught coronavirus while they were in Australia for a movie shoot.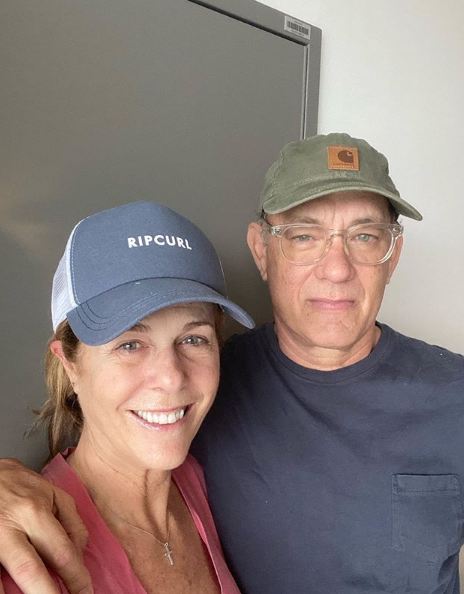 Tom Hanks shares a picture with his wife Rita Wilson after testing positive for coronavirus on 13 March 2020 (Photo: Tom Hanks' Instagram)
Chet further added that he received the details when his parents phoned him and informed about their situation. 
"...they both are fine, they're not even that sick, they're not worried about it, they're not tripping. But they're going through the necessary health precautions obviously. But I don't think it's anything to be too worried about. I appreciate everyone's concern and the well-wishes but I think it's all gonna be all right. But I appreciate it and just everybody stays safe out there. Much love."
His words suggest that he is positive regarding the quick recovery of his parents, and he is not freaked out too much.
Justin Bieber
Canadian singer Justin Bieber has also come forward, reacting to the COVID-19 via Instagram on 14 February 2020. Sharing a post on Instagram, he wrote,
"watching the news I couldn't imagine how scary it would be if a new disease was effecting my wife and my family and friends."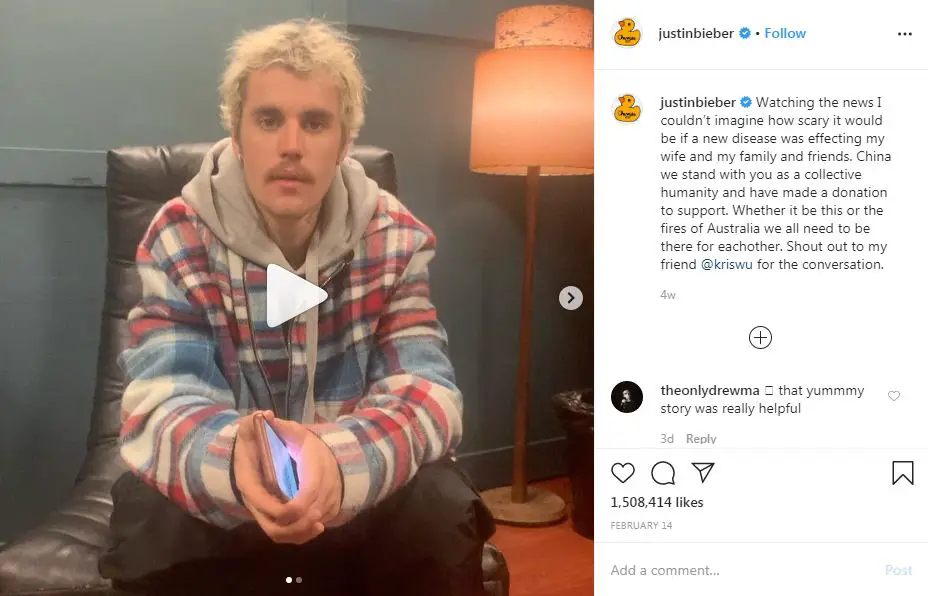 Justin Bieber shares love and support for China on 14 February 2020 (Photo: Justin Bieber's Instagram)
He even stretched his helping hands for his fans in China by donating 200,000 RMB to the Beijing Chunmiao Charity Foundation.
Katy Perry
American singer-songwriter Katy Perry has shown her concern and reaction to the coronavirus outbreak. She recently posted a video for a Chinese microblogging site, where she sent out her wishes for everyone who has been affected by the global pandemic.
Did You Know? : Alcohol Vs. Coronavirus! Here's Why You Mustn't Follow The Myth
Her wishes indeed ROAR-s aloud and say every one to stay positive at this moment of concern.
Gwyneth Paltrow
American actress Gwyneth Paltrow has aware fans and admirers to stay safe from the coronavirus. She shared a selfie of her wearing a heavy-duty face mask on 26 February 2020 via Instagram during a flight to Paris for Fashion Week.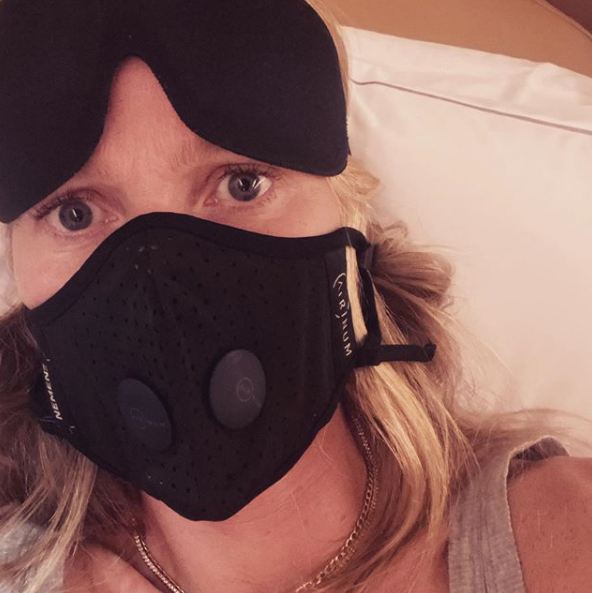 Gwyneth Paltrow wears face mask during a flight to Paris for Fashion Week on 26 February 2020 (Photo: Gwyneth Paltrow)
She also captioned her image associating her 2011's movie Contagion, the movie based on a deadly virus sweeping the world. She wrote,
"En route to Paris. Paranoid? Prudent? Panicked? Placid? Pandemic? Propaganda? Paltrow's just going to go ahead and sleep with this thing on the plane. I've already been in this movie. Stay safe. Don't shake hands. Wash hands frequently."
In the film Contagion, she portrayed the role of Beth Emhoff.
Bella Hadid
On 24 February 2020, supermodel Bella Hadid shared a selfie of her wearing face mask on an airplane while en route to Fashion Week. She posted the selfie on her Instagram, which has over 28 million followers.
Recommended: How Sophie Grégoire Got Diagnosed With Coronavirus?
For her followers, she wrote, "Stay safe, we still haven't seen how the Jessica storyline plays out."