Corona Virus
How Sophie Grégoire Got Diagnosed With Coronavirus?
Canada's leader Justin Trudeau's wife Sophie Grégoire Trudeau has tested positive for coronavirus. 
Canada's leader Justin confirmed on his tweet dated 13th March 2020 that his wife's COVID-19 test was positive. The statement further mentioned that Sophie experienced mild-flu like symptoms after returning from her visit to the UK for a speaking event: 
I have some personal news to share today. Sophie recently returned from a speaking event in the UK, and last night she was experiencing mild flu-like symptoms. She's feeling better, but following the advice of our doctor, she is self-isolating as we wait on COVID-19 test results.
Earlier, Canada's leader announced through his Twitter on 12th March 2020, that he, his wife, and their three children had willingly isolated themselves at the prime minister's residence in Ottawa after Sophie began exhibiting flu-like symptoms.
Recommended: Celine Dion Postpones Concert Due To Coronavirus?
After Sophie's result was tested positive, Canada's leader, Justin, further tweeted on 13th March 2020, revealing that he was fine and not exhibiting any symptoms of the virus.
Nevertheless, following the advice of the doctor, he will continue to self-isolate for the time being. He will continue to perform most of his official duties from his home and conduct meetings via video and teleconference.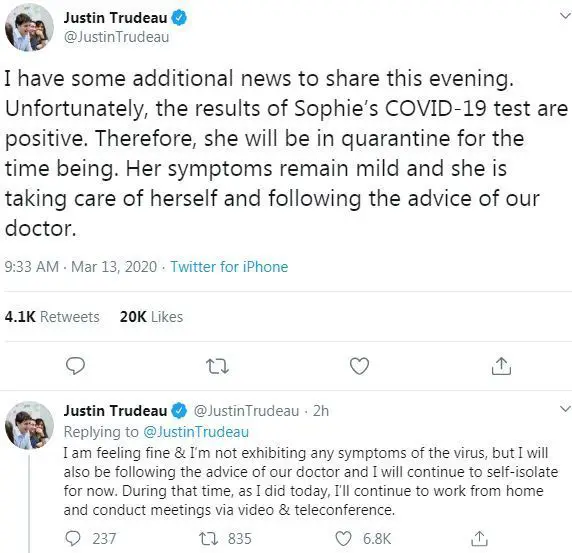 (Photo: Justin Trudeau's Twitter) 
The statement further mentioned that Sophie was feeling well, and taking all the recommended precautions as well as her symptoms, remain mild. 
Sophie, who is suffering from coronavirus, sends her gratitude to the people who have reached out to her personally. She also said that although she is experiencing uncomfortable symptoms of the virus, she will be back on her feet soon. She added that being in quarantine at home is nothing compared to other Canadian families who might be going through the situation and facing more serious health concerns. 
Dated on 12th March 2020, cnbc.com, reported that Canada had confirmed 117 cases of the new noble coronavirus according to data from Johns Hopkins University. 
The report further mentioned that coronavirus had infected more than 127,749 people around the world and killed at least 4,717. 
Sophie Grégoire Trudeau's Bio
Sophie Grégoire Trudeau is the wife of the 23rd and current prime minister of Canada, Justin Trudeau.
Sophie is a former television host and actively involved in charity work and public speaking and focus mainly on women's and children's issues.