Entertainment
A Boogie wit da Hoodie: 5 Facts - From Real Name to Affair With Girlfriend
A Boogie wit da Hoodie: 5 Facts - From Real Name to Affair With Girlfriend If you are a fan of rapping, then you must be familiar with the newly risen rapper A Boogie wit Da Hoodie who is famously known for his famous hits like "My Shit" and "Still Think About You."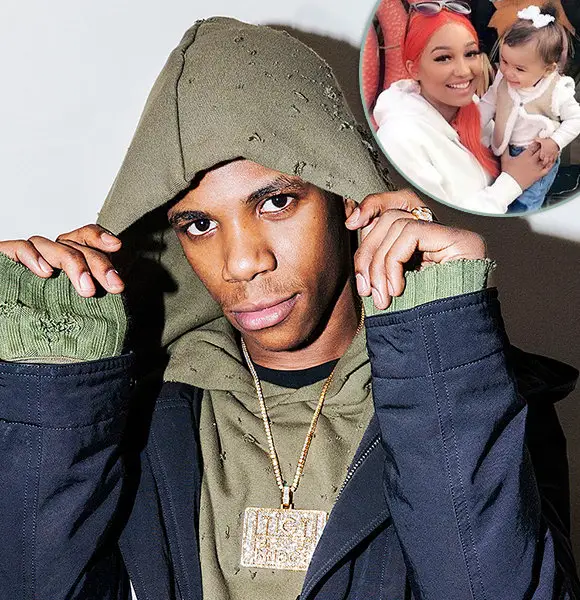 If you are a fan of rapping, then you must be familiar with the newly risen rapper A Boogie wit Da Hoodie, who is famously known for his famous hits like "My Shit" and "Still Think About You."
Well, the rapper has skyrocketed in the hall of fame with his lyrical rappings and heart melting songs and already garnered a lot of followers. He is also very vocal while sharing both his professional and personal aspects of life.
But if you are still unknown about this person and want to know more about him, worry not, as we have gathered all information about this singer to serve it to you in the form of his five facts.
1. A Boogie Wit da Hoodie Is Not A Boogie's Real Name. 
If you're wondering, the recording artist A Boogie's real name is Artist Dubose. During the elementary school, A Boogie's friends and classmates used to make fun of his name by asking whether he was a real artist or not. Such ill-treats made A Boogie dislike his name and hesitant to use his real name. 
A Boogie got 'A Real' as a nickname from his friends during his high school. People started calling him with that, but after his seventh or eighth grade, he changed his name to A Boogie, where the letter 'A' came from his real name, Artist, and the word 'Boogie' from the name of his hometown, Bronx.
And after the breakouts of his songs and videos, he got himself known as A Boogie Wit Da Hoodie as he often wore a hoodie, which subsequently became his widespread name. A Boogie has also talked about the story behind his name in an interview with XXL in September 2016. 
Caption: A Boogie Wit Da Hoodie speaks on how his name came. (Published on Sep 13, 2016)
However, in the interview with the Billboard on May 2017,  A Boogie cited that he now wants people to know him by his real name, Artist Dubose. Talking about that purpose, he said, 
I'm changing my name soon. I wanna go with my real name. I feel like it's a good name. 
Moreover, clarifying that his name A Boogie will still be there, he added
"It's gonna be A-Boogie still, though. It's gonna be two different sides. A Boogie is this person and Artist is here. "
A Boogie talks about his two identities as different personalities; he says that Artist is the real him and A Boogie is a person the world knows as a celebrity.
2. Heartbreak is The True Inspiration For A Boogie's Songs.
A Boogie Wit Da Hoodie's most popular music was inspired by a young lady with whom he once fell in love with.
Previously, A Boogie was an unknown artist from a background without any industry connects. Despite that, he tried to work for his singing passion but couldn't harmonize the flow while singing. It was so depressing that he even quit for few months. 
Afterwards, while working for his song, he went through some rough patches of his love life. His then-girlfriend cheated on him and was four months pregnant with a baby that didn't belong to him.
Talking about that situation with the XXL back in June 2017 A Boogie said, 
"Me and some girl was going through it. She was pregnant for four months and I didn't know though. It wasn't even my baby is what I found out.  I'm still confused and shit so I started making all these songs, these love, heartbreak songs."
Well, the case indeed got his heart broken and gave him traumas, but it also made him sing his heart out. He started making songs including love and heartbreaks which became relatable to his listeners and touched their heart, due to which he got himself known to the audiences as a celebrity in a minimal period.
3. A Boogie Was In For Weed Once:
A Boogie's parents moved to Florida from New York, and after the separation with his family, A Boogie got so into weed. At the time he wasn't even attending his schools which made it easier for A Boogie to hang out in the blocks and do what he wanted. He used to be high on weeds and be frequently locked up for the weed charges. 
However, when his parents got accustomed to what he was doing, they immediately made A boogie leave the city and called him to Florida.
In Florida, A Boogie met the producer Myster Whyte and worked with him to release his first studio-made song "Temporary." The song made it to the media on 16 March 2016. And after it, he returned to New York and worked on his mixtape album "Artist."
Recalling those days in an interview with RollingStone in October 2017, he said,
"My mom and my dad moved to Florida first. I was in New York. I got in trouble a few times – just regular little weed charges and shit. They were like, 'It's over, you gotta come with us."
Well, the departure from the city indeed set the rapper on the path to his stardom.
4) A Boogie Has A Net Worth That Totals To $3 Million.
The rapping sensation A Boogie instantly rose to fame after he launched his first full-length mixtape "Artist" in February 2016. Released through the Atlantic Records, the album reached on the number 31 on the Top R&B and hip-hop albums and 70 on the US Billboard Top 200. The album didn't only garnered popularity but also earned a generous fortune.
His song "The Shit" from the Artist is one of his most successful track till date. It ended up in the number 22 on the Top Rap songs chart and was A Boogie's first song to be the first RIAA-certified record.
Moreover, A Boogie collaborated with  Highbridge rapper Don Q in the same year for the mixtape "Highbridge the Label: The Takeover Vol. 1". Besides Don Q, he has also teamed with other performers like Young Scooter, Kodak Black, Fabolous, Kehlani and PnB Rock. He also performed thrice in the  Drake and Future's Summer Sixteen Tour dates.
Most recently,  A Boogie released the lead single "Drowning"  from his upcoming album "The Bigger Artist." The song written by the rapper himself peaked at number 27 on the Hot R&B Songs chart and 55 on the Billboard Hot 100 chart, making it be his highest-charting to date. 
Caption: The official video of A Boogie's lead song, "Drowning." (Published on Oct 4, 2017 )
Moreover, he has a large audience on his YouTube channel, which consists more than 1.2K subscribers, and it presumably helps him add more to his net worth, which dwells around $3 million as of now. 
5) A Boogie Has a Daughter Named Melody
A Boogie, after his breakup traumas, flauntingly dated the Instagram personality Ella Bands, who runs her eyelash line called 'Slay By Ella.' The duos were open about their relationship and were timely seen uploading pictures dedicated to each other. 
Their relationship created further buzz when Ella shared the news of her pregnancy via a post on Instagram back in October 2016. 
Later on February 14, 2017, A Boogie and Ella welcomed their first child, Melody Valentine Dubose. And since then, the Instagram account of both A Boogie And Ella has been flooding with Melody's cute pictures.
A Boogie uploaded a picture of him, his wife-like-girlfriend and their baby daughter on his Instagram account on 28th September 2017, scripting a beautiful caption, "Family Matters."
The couple looks to be so in love with each other and A Boogie's love-filled pictures hints that Ella is no less than a wife for him, but the announcement of their marriage plans is yet to come from the duo!
Keep visiting for the emerging updates on A Boogie wit da Hoodie!