Entertainment
Diane Parish Children Plans With Future Husband. IT expert Fiancee Surprises Her
Diane Parish Children Plans With Future Husband. IT expert Fiancee Surprises Her Unlike her on-screen character, the Londen native enjoyed a stable real-life relationship with a long-time partner.In 2008, she spoke about the possibility of adding more children to their family after accepting a surprising proposal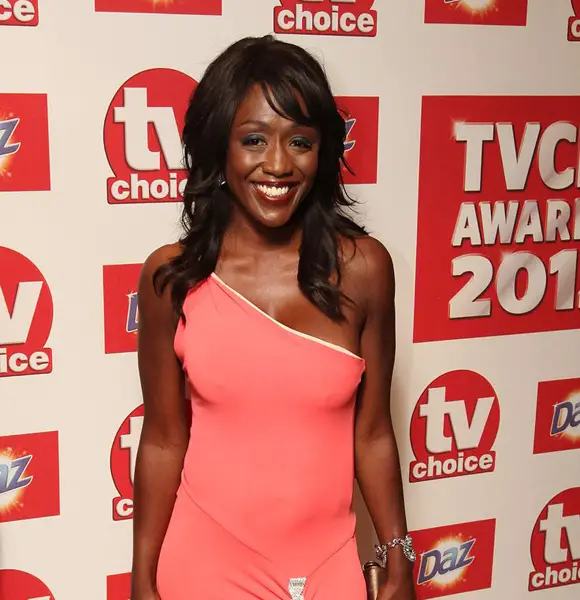 Diane Parish, a British actress, plays the character Denise Celeste Fox in the BBC soap opera 'EastEnders.' 
The London native has been portraying the character as a series regular since 2006, minus a temporary leave from EastEnders in early 2008 to give birth to her second child. 
In 2018, the character Denise Celeste Fox marked nearly 12 years worth of relationship drama since her first screening in 2006, making her the second longest-running black character on the show.  The enduring character passed through a tough storyline in the series. She not only had to raise her children as a single mother but also had to suffer from unstable relationships - if that wasn't enough, she also lost her job, survived a bus crash and roamed in poverty. 
Unlike her on-screen character, the Londen native enjoyed a stable real-life relationship with a long-time partner.
In 2008, she spoke about the possibility of adding more children to their family after accepting a surprising proposal.   
Suprise Proposal From Partner
Very few people are blessed with a long-term relationship, and the Eastenders actress surely falls in that group, as she is in a long-term relationship with Sebastian Parish, who is an IT professional.
Diane started dating Sebastian 16 years back in 2001. They dated for about seven years before Sebastian made a surprise proposal when the actress was pregnant with daughter Kaya, who was six months old in June 2008. Then, older daughter Kenya was two years old.  
Talking to  mirror.co.uk in June 2008, Parish shared that the then-boyfriend surprisingly proposed her on her birthday. She said,  
"Sebastian proposed on my birthday last November and I didn't see it coming at all
The Royal Academy of Dramatic Art graduate and Sebastian got engaged on 1st  November 2007; the day was also Diane's 38th Birthday.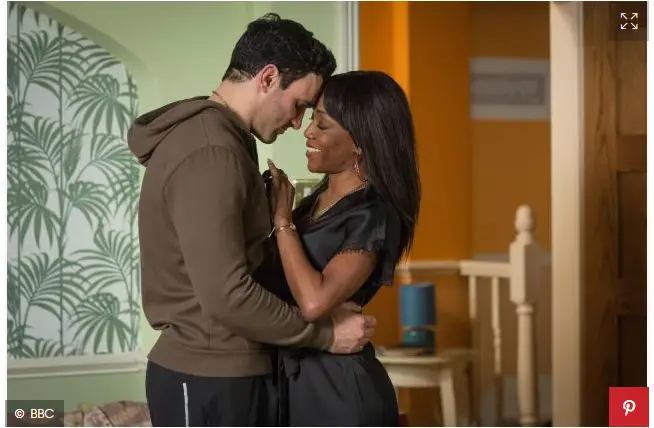 Diane hugging her on-screen partner Kush in EastEnders (Photo:digitalspy.com)
In the interview, the English actress expressed uncertainty regarding their future marriage plans.
" We've got so much going on we haven't set a date.I think one day we'll say: 'Shall we just do it?' and go for it. We've been together seven years and part of me thinks if it ain't broke..."
Although she had no plans on getting married in her real life, the Baby Father's actress eagerly wanted to see her reel life character Denise Fox get married to Kush Kazemi, played by British actor Davood Ghadam. To Digitalspy.com in November 2017, she said, 
"I'd love for Denise and Kush to get married.They are a cute couple, and I don't think they'd do anything too big or mad – I think it would be quite low-key. But I am sure in true EastEnders style, it would be a difficult journey – with lots of obstacles along the way...I've had a couple, but Denise finally getting together with Kush was definitely one of them. The whole up and down, roller-coaster romance has been a major highlight – and working with Davood [Ghadami] has always been a pleasure."
She was keeping her marriage plans close to her chest but was definitely spiling beans when it came to her marriage on-screen. It has been quite a time now since 2008, and the couple is yet to reveal their wedding plans. Hope the couple reveals it soon!
Any more children?
Diane and her partner Sebastian share two Daughters together, namely, Kenya(12) and Kaya(10). Kenya is their elder daughter and was born in September 2005, whereas, Kaya was born on 2nd December 2007
With a wedding yet to plan and two daughters to take care of alongside her work, has Diane spared a thought about having a family extension? Well, referring to her statement in the 2008 interview with Daily Mirror, which reads:
No way! I've shut up shop. I'm done. I'm no spring chicken, you know. I feel very fortunate for having my lovely little girls. We're a very happy family."
The couple seems to have settled down with two daughters and possibly have no further plans for the third one.
Diane Parish's Net Worth, Professional Career
A Graduate from London's Royal Academy of Dramatic Art, Daine Parish, 49, with a birth name of Jemima Diane Parish is a successful British actress and is best known for her roles as Denise Fox in BBC's soap opera EastEnders and Eva Sharpe in The Bill.
She also appeared as Mille in the 1996 film Indian Summer and has a sound career since she started working in 1991 until today. The actress is yet to reveal her net worth though. The versatile actress has been featuring in Eastenders since 2006, and that speaks volume. 
In 2017, BBC disclosed it's annual report revealing the salaries of its stars. In the report, according to huffingtonpost.co.uk, Diane Parish earns about £150,000-£199,999 for her role in Eastenders, probably a significant addition to her net worth.
Moving on to her personal life, the talented actress was raised by her mother Lynne alone, who was a teacher from Montserrat, since her father walked out on the family when Diane was just 8-years-old.
The EastEnders veteran, who has been slammed for a repeated storyline with her on-screen sister/actress  Kim Fox (Tameka Empson), does not have a sister in her real life.
She has two older brothers, a loving Fiance (if they have not separated yet) and two adorable daughters in the family squad.