Entertainment
Is Ester Dean A Lesbian? Plays Gay Role On-Screen But Is Also Looking For A Real Life Dating Affair And Perfect Boyfriend
American songwriter, singer, rapper and record producer, Ester Deen is someone who has been able to cement her place in the music industry firmly. She has a lot of skills and a lot of talents and that can be seen through her work in the industry. But regardless of what she has accomplished in her career, she often gets linked with a lesbian tag and people question her sexuality more often.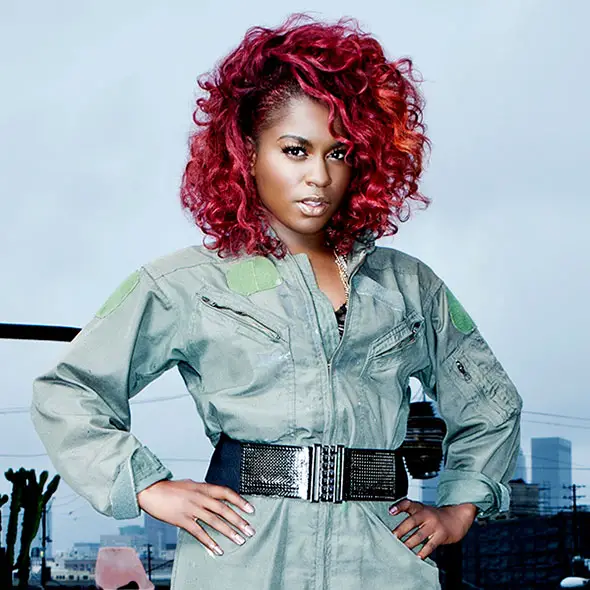 American singer-rapper, Ester Deen is someone who has been able to cement a firm stature in the music industry. She possesses a lot of skills and talents which can also be seen through her works in songwriting and record producing.
But regardless of what she has accomplished in her career, Ester's fans are more interested in her personal life rather than her contributions to the music industry.
The Oklahoma native frequently gets linked with a lesbian tag added to her name, and people question her dating life more often.
So what is the actual truth? Let's find out!
Ester Dean: Real-Life Lesbian Or Dating Boyfriend? 
If you are a big fan of Ester Deen, you should have known by now that she has played a lesbian role in the movie series "Pitch Perfect" as "Cynthia Rose". She portrayed her character in the movie with such exquisite art that people even considered her as a real-life lesbian.
The movie series was directed by gay director Jason Moore. When asked about her lesbian role in the movie series, she said during an interview,
"Well, you know, me and Alexis got it on a couple of times, you know. Like,  get in your character, you know? I've been after boys for a long time,  I've been doing that for like, 20 years anyway, so it all worked out."
Also, a statement from her saying she will date anyone sparked the rumors of her willing to date even girls.
"I'm thinking to myself, 'Come on, girls, come on! I am cute.' You know, if I don't get hit on by girls or guys, I'm really going to have to figure my life out.  So, whichever want to come, you just bring it on. I need a date, that's all that matters."
Also, in an interview, she somewhat described her lesbian role in the movie series, 
Ester Dean comes out of the closet in an interview and shares her lesbian role on Oct 4, 2012.
But let's not run for the hills with this statement as she has been famously advised by Beyonce to date and even provided tips to her on how to open up to her possible boyfriend. As per Dean's statement, she said;
"[Beyoncé] just sat down with me and told me how to get a man and what I should do. I told her all my man goals. She had me figure out what I wanted in a boyfriend. It's so crazy, 'cause everything I told her I wanted, that's what my boyfriend is." 
She also added,
"She would be a great relationship counselor. She told me to go on Match.com, [she said] if you've been single for too long, get into the habit of speaking to the opposite sex. After so long, speaking to a man could be uncomfortable in a personal way. When speaking to people who might be interested in you, you tend to clam up if you haven't practiced."
However, no news of her being able to implement those tips to good effect and dating a partner in life has come from Dean's end and no confirmation of her being a proper lesbian has come forth as well as she once said that she had plans to turn a lesbian by 2015 if she does not date a man. 
Also, she is yet to reveal if she is married and has a husband in her life. So let us wait and see if any revelation comes from Deans end.  
Ester Dean's Career and Net Worth:
Ester Dean was born on April 15, 1986, and is an American musician, songwriter, producer, and actress. She is most famous for working with various celebrities including Christina Aguilera, Katy Perry, Keri Hilson, Beyoncé, Priyanka Chopra, Mary J. Blige, Nicki Minaj, Kelly Clarkson, Ciara, The Pussycat Dolls, Usher, Kelly Rowland, Girlicious, Rihanna, R. Kelly, Britney Spears, and much more. 
At a very young age, Dean learned how to channel her pain into her music, writing and channeling her emotions into songs and that made her identify her goals for the future and she has been able to do well with her career thus far. 
When she was just 20 years old, Dean made a bold move of leaving Omaha with only $500 in her pocket to pursue her dreams, and that was a move that paid off as she has been able to justify her talents and show her mettle in the industry. All of that has resulted in her being able to accumulate an estimated net worth of $24 Million.
Ester Dean's video for "Drop It Low" feat. Chris Brown. posted on Nov 24, 2009.
Apart from her net worth, Ester also possessed two beautiful villas: one in California and the other in Philadelphia. The singer's two mansions were listed for $1.35 million and $3.5 million. It's not revealed if the houses have been sold or whether Ester changed her mind at the last moment, but in each case, the massive net worth and assets of the songwriter can be reflected. 
Similarly, the actress also shed off a significant amount of weight for appearing in the third movie of the Pitch Perfect franchise, Pitch Perfect 3. Ester mentioned that she didn't lose weight for others but rather for herself, but everyone knows that she wanted to look pretty for the movie.
Even though Pitch Perfect 3 didn't receive favorable reviews from the critics, it was a box-office hit and grossed over $185 million against its budget of $45 million.
Altogether, it shall be safe to assume that she has earned her success and richly deserves the recognition too.