Entertainment
"My Husband Didn't Beat Me": TV Personality Shannon Beador Shoots Down Assault Assertion On Her Husband David!
Shannon Beador most recently is defending her dear husband David from what looks like according to her side, a false assault assertion claiming with her words "My Husband Didn't Beat Me." To understand it all, let's take a tour back. Is she saying the truth or the rumors are all true?
It all started back when Shannon's husband, David Beador with whom she's been married for about 17 years now was charged with misdemeanor counts of assault and battery against a cohabitant and got arrested in February 2003 which turned out to be true.
However, it did not contain the whole truth as Shannon claimed that they did have an argument, but there was no physical abuse present.
Moreover, Shannon and her husband tried to make their relationship work out but it seems their effort was useless as the couple went under the bitter divorce battle.
The Resurrection of Allegations:
In recent events, Shannon's married life is again the talk of the town thanks to fellow cast member Vicki Gunvalson after she revealed a secret relating Shannon and her husband, David.
She slipped in Kelly Dodd's ear that Shannon's husband used to 'beat the s!@# out of her'. The word flew, and Shannon vehemently denied the allegation and claimed that Vicki was lying.
In the RHOC three-part reunion, Shannon revealed how she got bruises and explained that it was then when she found out her husband was having an affair and locked himself in a room.
See Also:- Kelly Dodd Kept Her Wedding And Divorce Details To A Minimum; But Her Struggling Married Life With Husband Is An Open Book
In the act of barging in forcefully, she injured her right shoulder and right hip. Amid of all these grave events, Shannon did not consider divorce as an option. She came with the shocking revelation that her husband had an extra-marital affair but she was doing her best to bring her family back.
She again clarified that the 2003's incident did not involve physical abuse and she called the police just to end the argument.
While tears started rolling down, Shannon held her responsible for the consequences that her family will face and claimed that she would never stay in an abusive physical relationship; still meaning Vicki made a false allegation.
Shannon continued,
"Most people are going to believe me because I haven't hid anything about my relationship with David, but what you have done? Now it's on the show, and it's in the universe, there will be people that will go up to my children and say, 'Your father beats your mother.' …That is so damaging."
Well, after all the hurdling relationship with her husband, Shannon tried her best to save the family from drifting apart but it seems it was only her who wanted to make the relationship work.
Divorce With Husband After 17 Years Of Marriage; New Dating Life?
Shannon did all the things that would make her married life steady. Even they renewed their wedding vows in front of cameras in 2016 but even after this, the couple could not make it further into their married life.
Related:- RHOC's Shannon Beader Rejoined with Her Ex-Husband David Beador for the USC Game Despite the Divorce Process!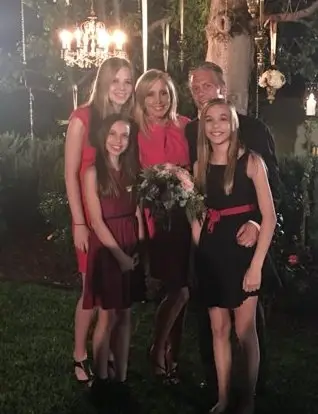 Shannon Beador and her husband David Beador with their daughters (Photo: ShannonBeador's Twitter)
While keeping divorce out of option, Shannon seems to be out of the option as she and her husband announced their separation in October 2017 after the 17 years of marriage and also filed the divorce in December 2017.
Then in March 2018, the court reached the temporary settlement of Shannon and David. Shannon was awarded the joint legal and physical custody of the couple's three daughters and $22,500 per month for temporary non-taxable child and spousal support.
After the furious divorce battle, Shannon claimed that it was indeed a heartbreaking moment for her and for her daughters.
Don't Miss:- Entrepreneur Tamra Judge Pleads to Reunite with her Daughter, who's currently with her Ex-Husband
Since the filing of their divorce, the former couple has been rejoicing their romantic life with a different partner.
The single mom, Shannon Beador moved on from the turmoil divorcee life and shared the romantic life with the real estate developer Scott Matteson in earlier 2018. Also, the couple made the public appearance in October.
But Shannon dating life lived only for the six months and hence the couple split in late December 2018. While Shannon is officially in the market, her ex-husband is swirling his love-life with a girlfriend, Lesley Cook.
Shannon Beador: Brief Sketch and Net Worth
Shannon Beador, 52, is commonly known as a television star and a housewife who is married to David Beador, an owner of a construction company called Beador Construction, Inc in Corona California.
Currently, she has a net worth of $20 million highly contributed by Beador construction's annual revenue of $13 million and added by her income from Real Housewives of Orange County. She has three daughters, Sophie, and twins Stella and Adeline.