Entertainment
After An Intimate Wedding Rochelle Humes Explains Why She Wants To Wait For Another Baby
What is expected as the next step right after the couple's decision to get tied down in marriage? It is giving birth to children and expanding a family. After all, the presence of a child is the symbol of love that exists between each other. And this is when family planning kicks in. In the married life of Rochella Humes too, after following three and a half year of birth spacing, she is again going to be a second-time mother soon.
Rochelle Is Pregnant With The Second Child:
The Humes couple together has a three-year-old daughter named Alaia-Mai, born in  May 2013. The presence of two ladies has made Marvin a rich family man in terms of contentment. His happiness is reflected from his following statement, where he said;
 'When I think about Rochelle I think about the happiest things in my life. Her and Alaia are the two most important ladies in my life and they make me smile all the time.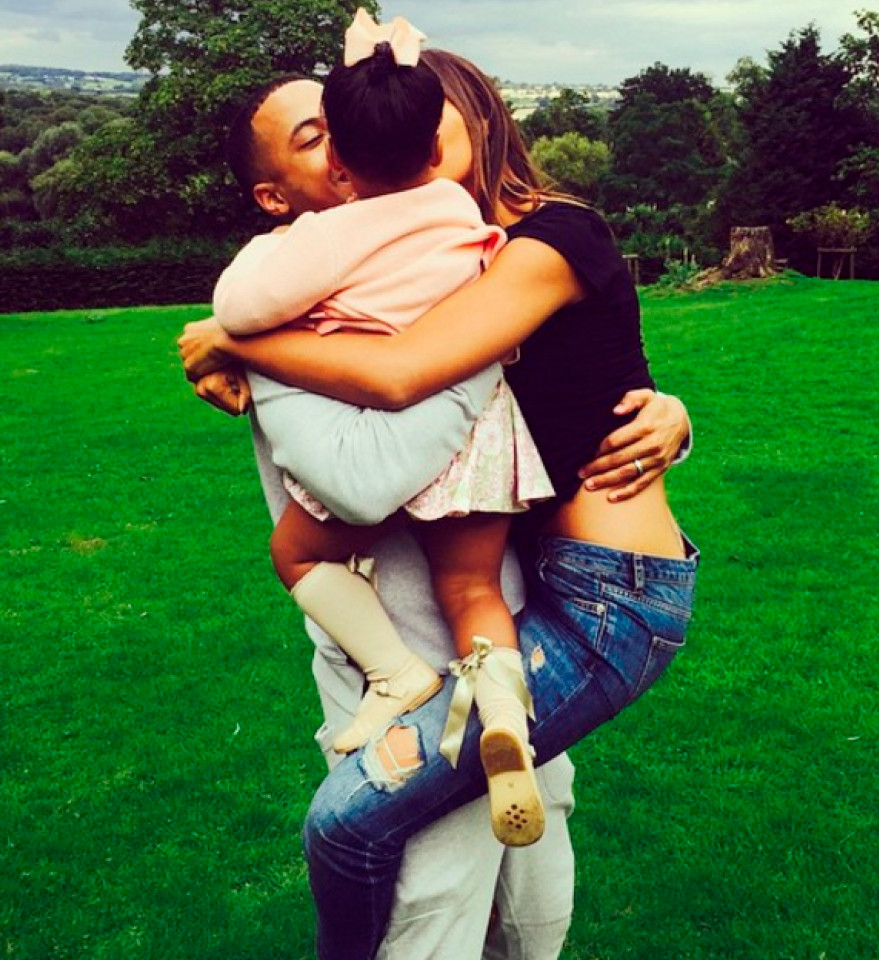 Caption: The happy family of Humes couple with their daughter Alaia-Mai enjoying their quality time together.
Photo Credit: thesun.co.uk
And Recently it has been confirmed that Rochelle is expecting another baby. A source told;
 "Rochelle and Marvin are both over the moon. They can't wait to welcome another member to their family."
In 2015, Marvin spoke about his wish  to have another baby where he confessed;
"I want another one, I really do. If I had my way, we'd have one every year,"
"But obviously it's not just up to me and Rochelle's taking a bit of persuading. I tell her she will have it easier with the second pregnancy but so far she's not buying it."
Now with Rochelle's pregnancy, his desire will be fulfilled soon. He gave the happy news via Instagram which says that he is absolutely delighted to extend the family with baby number two.
Rochelle also let the whole world know about her being a mother again through her Instagram.
Rochelle also posted an edited picture of baby's scan which showed her fetus wearing a Santa hat. It read as the baby is coming in 2017.
Rochelle Wiseman And Marvin Humes' Happy Wedding:
July 27, 2012, marks an important day in Rochelle and Marvin's life as the pair got married that day. They had begun dating in 2010 and finally tied in wedlock after two years of living together. 
The couple's wedding ceremony took place in a very lavish way at Blenheim Palace. And as Rochelle walked down the aisle to meet Marvin- her husband to be, he puts emotions of that crucial moment in words as,
 ""When the music started up and I knew Rochelle had arrived, I was desperate to turn around and look at her. We hadn't spoken all day and had spent the previous night apart. I'd missed her and I couldn't wait to see her. But so many people had said to me that I shouldn't turn around - that it was unlucky. Even my mum told me not to. Then, when I looked to my left and she was there, oh man, she looked unbelievable; more beautiful than I'd ever seen her look. Her face, her smile, the dress; she was absolutely stunning."
Rochelle also expresses her sentiments about the big day in her life as,
'It just hit me, what we were saying to each other. It was all so overwhelming, I couldn't stop myself from crying. I looked at Marvin and his eyes were glassy. I kept thinking he might go too, but he held it down."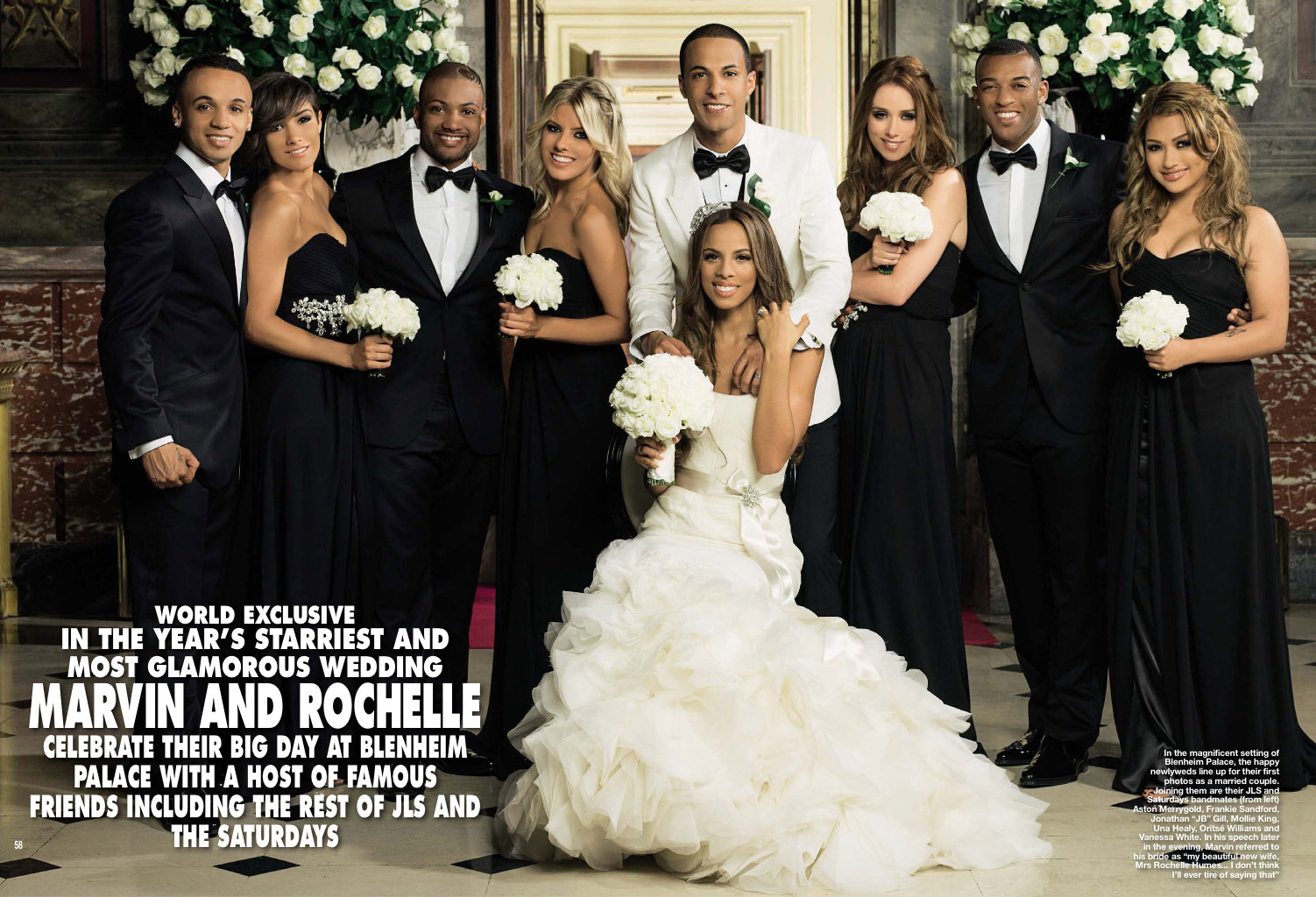 Caption: Rochelle Humes and Marvin got wedded in a very lavish style (2012).
Photo Credit: mygames4girls.com
About four hundred guests were there at the ceremony which had a classic black and white dress code, and celebrities like  Pixie Lott, Girls Aloud's Nicola Roberts, Harry Styles, Liam Payne and Niall Horan from One Direction, rapper Chipmunk, and Blue's Simon Webbe attended the program.
Rochelle and Marvin have been successfully married for four years, and she shares the secret for in her statement, where she said;
'When Marvin and I are on a date night, we keep our phones in our bags.
she added;
'If you're out for dinner, enjoy it! I find it bizarre that you would pay for an expensive meal to just Snapchat through all of it'. 
Rochelle Humes is an English singer and television presenter who is renowned for her work in pop groups. She has bagged six top hits with S Club 8 and thirteen Top 10 hits with girl group The Saturdays.The ongoing career of her's and her husband has contributed to the income of the couple and their current net worth of £9m.