Entertainment
"The Carrie Dairies" Actress Katie Findlay Dating rumors with Brendon Dooling. Off-screen Boyfriend?
Katie Findlay, the beautiful actress who portrayed Maggie Landers in the teenage drama called Carrie Diaries is now rumored to be dating. Well, we are here just to know if this news is true or not and if it is, then we surely ought to know who that lucky guy is.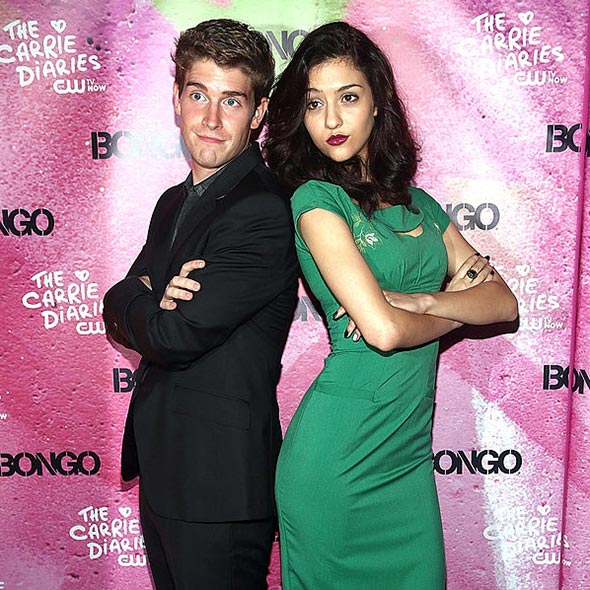 The beautiful actress, Katie Findlay, who portrayed Maggie Landers in the teenage drama Carrie Diaries, is now rumored to be dating. If it is true, then we surely ought to know who that lucky guy is.
Katie Findlay's boyfriend?
 Katie played the role of Maggie Landers in the teen drama. She was a sexually active ex-girlfriend of Walt Reynolds (Brendan Dooling) but eventually they broke up as Maggie was cheating over Walt with some young officer. We think you might have guessed already.
There are rumors about Katie Findlay, @katedangerfield, dating her ex-co-star Brendan Dooling. While their relationship on-screen has ended, the off-screen one is alive and kicking at the moment. The former on-screen couples are rumored to be dating since 2013.
Could this "once upon a time on-screen girlfriend and boyfriend" be dating?  As seen in some of their Twitter posts [which are now deleted], they seem to be giving away hints but still they haven't explained it explicitly.
"actually me and his girlfriend are dating and we all live in a big house together"
In 2015, a fan asked if Brendan was still in a relationship with Katie.
The tweet read, 
"Are you still in a relationship with @katedangerfield?"
To which, Brendan replied,

Chilling at the beach
 Katie, now 25 years old and Brendan 26 years old, are currently focusing on their respective careers. We just hope that they will soon come out as a couple. They do look cute and adorable together.
Katie Findlay was born on August 28, 1990. She is a Canadian in nationality as she was born in Ontario, Canada. Katie started her acting career with her first guest appearance on the FOX sci-fi series called Fringe. From that moment on, Katie began to progress on the course of getting established as an acclaimed actress. Katie Findlay has played many roles in many movies like Crash Site, The Philosophers, Premature, Jem and the Holograms and The Dark Stranger. Katie is currently 25 years old and stands at a height of 5ft 9 inches.
Caption: Katie Findlay talks about her character Rebecca ((2014-2015)) Sutter in 2014
Source: UniversalChannelUk