Entertainment
A Wiki-Like Bio Of Chris Marek! A Little More About Amy Roloff's Boyfriend And Their Strong Dating Affair
Little People, Big World Actor Amy Roloff, has been dating a new man in her life after her previous married affair ended.
So who is the man that Amy is dating? The name of the man is Chris Marek, and today, we would like to take a look at this beautiful relationship and also let you all know more on who Chris Marek really is. So without further ado, let's get going!
The Love Between Amy And Her Boyfriend Chris:
It was January 2017, when the "Little People, Big World" fans found a new way to feel good for Amy, as she had discovered a new love in her life following her divorce with her ex-husband Matt Roloff. Chris, who had not been open till then, revealed that he and Amy were indeed a thing.
Chris stated that he and Amy had been dating for around six months and elaborated,
"We're officially dating, yes,"

 "It's been fun! Amy and I are getting along great."
He also claimed that he had met most of the family of Amy and her children as well, twins Jeremy and Zachary Roloff and Jacob Roloff. But, he said he had not met Molly Roloff.
He stated,
"I've met everyone but Molly,"
The couple loves spending time with one another and also with their nears ones. Not only that, the two spent quality time on Valentine's day and Amy's post said it all.
Re;ationship Details:-  Mixed Ethnicity Camilla Belle-Clear About Dating Terms And Making Boyfriend; Will Not Get Married To Co-star In Future?
It was adorable to see how the two have brought their lives together and were living a happy and joyful relationship together.
Engaged In 2019
On 19 September 2019, Chris popped the question to his girlfriend Amy Roloff. Only a day after her birthday, the 56-year-old proposed to his beloved at the restaurant where the pair frequently visited.
Chris put no restriction on his proposal. According to him :
 "a heart-shaped diamond because I knew that's what Amy wanted"
And, thats what he exactly did, with a beautiful diamond sparkler in his hand Chris asked her to marry him.
While the fiance was nervous during the proposal, his fiancee was quite surprised and excited. Being married once before, Amy had never expected that she was going to get married again. But after his proposal, she was very happy and ready for the engagement.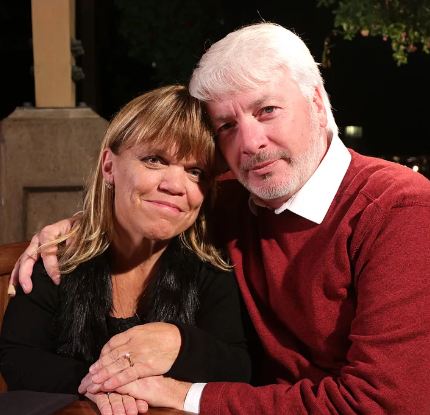 Chris Marek with engaged beauty Amy Roloff in September 2019 (Photo:people.com)
Unable to contain her happiness, the soon to ber bride took to her Instagram to let her fans and followers know that she was engaged, showcasing her new diamond engagement ring.
After three years of dating together, both Chris and Amy are looking ahead to start a new chapter in their life.
A Wiki-Like Bio of Chris Marek:
Chris Marek is a well-known real estate agent who works in the great state of Oregon, and he recently sold an apartment in Portland for a whopping amount of $300,000. Before this, Chris used to work as a photographer. Chris Marek's age is 55.
He is now ready to get married and have a wife in his life. He had been in the spotlight for dating Amy Roloff, and he said he liked Amy from the very first time he met her. He got engaged to her soon after.
You Might Like:- Ben Shattuck Bio, Engaged, Age, Family
Chris had always been someone who kept his personal life in the shadows, and as a result, he had not revealed much about his personal details. However, his relationship with Amy is quite clear.
Also, he has earned a fair amount of money in his career as a real estate agent but has not provided any official statement on his net worth.