Entertainment
The Young Carol Kane's Relationship Just Did Not Last! A Little About The Kind Of Man She Won't Marry And Call Husband.
You never know what happens next, as life is very unpredictable. In the case of people, you never know if the individual will stay by your side when you get old. Not even your partner, who exchanged vows with you in front of mass, is sure to stay with you.
Well, there is one in a million chances to find such person. Wedding in White (1972) actress Carol Kane knows that well, as she has had her share of failed relationship in the past.
But what about now? Is Carol secretly married, or was she tired of finding Mr. Perfect after a failed relationship? Well, let's dig in to find out!
Carol Kane's Unsuccessful Relationship:
The sixty-five-years old Carol Kane has kept her personal life very private. Being one of the successful American actresses surrounded by a number of fans and followers, she hasn't revealed whether she is married or not.
When it comes to Kane's dating affair, the only information she has revealed is her one and a half year long relationship with actor Woody Harrelson.
Kane dated him in the late 1980s. Although the exact reason for their split remains a mystery, Woody revealed that they remain friends till this date. He says-
"We had a friendship that became a romance and then a friendship again."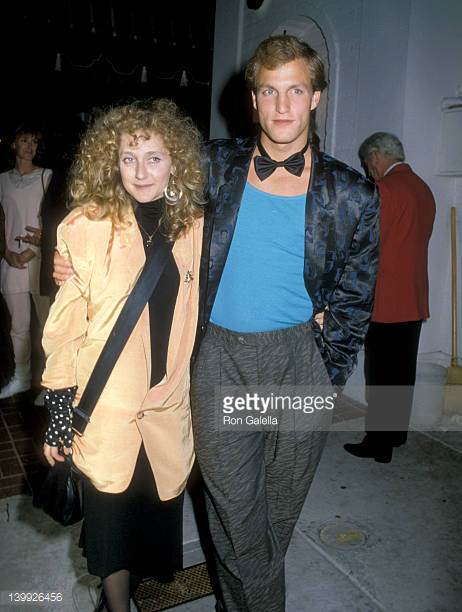 Caption: Carol Kane and her ex-boyfriend Woody Harrelson at the cast party of "Cheers" & "Family Ties."
Photo Credit: Getty Images
As time passes, your perfect partner can turn out as imperfect for you. Kane and Woody might also have experienced same, as Woody is now married to Laura Louie.  
Probably, Kane had a bitter experience with her ex-boyfriend, because of which she s not found involved in a relationship or dating since her young age.
Some people believe that Kane is married secretly, while some speculate her to be enjoying a solitary life. However, her exact relationship status is still a mystery. 
If Kane is enjoying a blissful married life with her husband secretly, we can say that she is avoiding media attention. There are also some people who believe her to be gay and conclude her as a lesbian.
Though there are many assumptions made regarding her personal life, we can't anticipate her relationship status and sexuality without the official statement from Kane herself.
If Carol Kane is not married even at the age of sixty-five and still has plans of tying the knot, she might choose the one who walks fast, as she has revealed that she can't stand slow walkers during an interview with New York magazine back in August 2012.
Talking about Carol Kane (real name Carolyn Laurie Kane), she has been active in the film industry for a very long time. Operating as an actress since 1971, Kane and her acting skills have been an inspiration to many aspiring actors. 
Kane, who has a large number of films and television series to her name, has been appearing in Unbreakable Kimmy Schmidt since 2015.
Kane is also famous for her portrayals in Hester Street (1975), Norman Loves Rose (1982), Taxi (1980-1983), All is Forgiven (1986), American Dreamer (1990-1991), Chicago Hope (1995), and Gotham (2014-2015).
Caption: Carol Kane plays the mother of the supervillain, Penguin (Robin Lord Taylor) in Gotham. (Published on Feb 18, 2015)
She has attained a huge success in her career, that includes immense name and fame along with a staggering net worth, that dwells around $5 million.