Entertainment
3-Time Divorcee, Chuck Woolery's Splendid Net Worth, Resides at Kentucky With Wife and Children
Remember when we talked about four-time divorcee Ahmad Rashad? Well, we found out he was not the only unlucky one when it comes to love and marriage. Chuck Woolery, the legendary game show host, too has a troubling personal life story as similar as Rashad's story.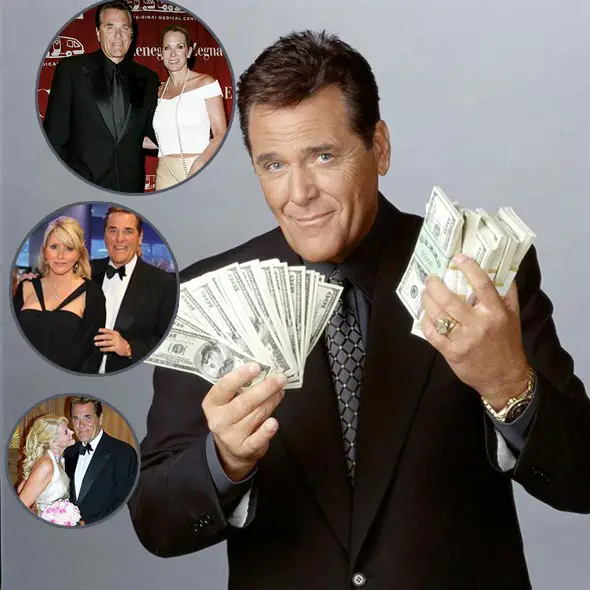 Quick Information
Wife/Spouse

Kim Woolery

Weight

N/A

Height/ How Tall? 6 Feet 2 Inches (1.88 Meters)
College

Eastern Kentucky University, Morehead State University

High School

Paul G Blazer High School

Career

1972-present

Nominees

Daytime Emmy(1978)

Net Worth

$15 Million

Gay

No

Ex-Wife

Teri Nelson(m.1985–2004), Jo Ann Pflug(m.1972–1980), Margaret Hays(m.1961–1971)

Wedding Date

17 July 2006

Divorce/Split

Yes (Thrice)

Date of Birth Mar 16, 1941
Relationship Status

Married

Daughter/s

Melissa Woolery, Katharine Woolery

Son/s

Sean Woolery, Chad Woolery, Cary Woolery, Michael Woolery

Sister/s

Sue Woolery

Mother

Katherine Woolery

Father

Dan Woolery

Ethnicity/Race

White

Zodiac Sign

Pisces

Birth Name

Charles Herbert Woolery

Profession

Game Show Host

Nationality

American
Remember when we talked about four-time divorcee Ahmad Rashad? We found out he was not the only one with problems when it comes to love and marriage. Chuck Woolery, the legendary game show host, too, has a tragic personal life story similar to Rashad's story.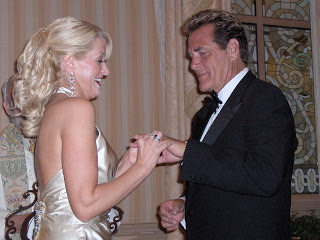 Caption: Chuck Woolery with wife Kim Barns at their wedding on July 17, 2006.
Source: blogspot.com
Chuck Woolery, a popular host of the all-time famous game show Wheel of Fortune, married Michigan native Kim Woolery (nee Barnes), a Hairstylist, at the Bellagio Hotel on July 17, 2006, Las Vegas. The wedding was a private celebration attended by just a small group of friends and family.
Chuck Woolery was already 65 years old when he got married to Kim. You must have guessed from the 'old age marriage' that this marriage wasn't Kim's first marriage. Well, it is exactly what you're thinking. When Chuck Woolery got married to Kim, he was getting married for the fourth time.
Chuck Woolery's Past Marriages
Woolery had to struggle to maintain his marriages and relationships. He was constantly on media attention as his marriages with four women happened all under the public eyes.
He might be stable in his marriage with Kim Woolery now, but there was once in this 80-year-old life when he struggled to save his relationship.
The first time Woolery tied the knot was with Television star and Journalist Margret Hayes back in 1961.
Even though not much is known about their marriage or their relationship after marriage, it might not have gone well as the two divorced after a decade of being together. However, the two shared two children; Katherine and Chad. 
Woolery's second marriage was with yet another famous face of Hollywood, Jo Ann Pflug, a popular actress. The two married in 1972, and after 8 years of being together, the former husband and wife filed for divorce.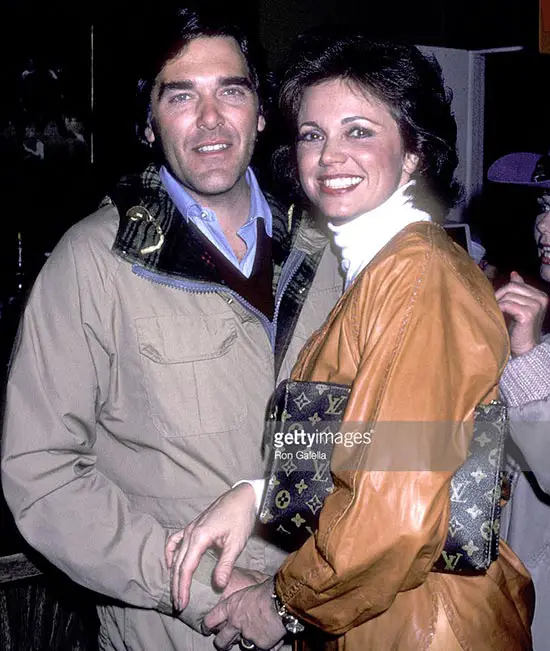 Caption: Chuck Woolery with then-wife Jo Ann Pflug attending the Avon Tennis Championship of Los Angeles on March 2, 1981, in Los Angeles, California. (Source: Getty Images)
However, the actor had the blessing of his third child from this marriage, Melissa Woolery. The couple seemed to have divorced on good terms, as Jo Ann said to Pittsburgh Press in 1982. She said,
"Chuck and I are both happier being divorced friends than married enemies."
The talk show host then married another woman named Teri Nelson, with whom he adopted the daughter of actor David Nelson and had two children of their own.
Unfortunately, while he was trying to put the broken pieces of his past life together with new beginnings with Nelson, his life was struck with another massive loss. His son from his first marriage, Chad, was killed in a motorcycle accident in 1986. 
He had explained how his son Chad was and how he felt when he died. He said,
"He liked to sing and play the guitar. He wanted to be an actor. He loved girls and all sports. He loved me and I loved him. When Chad died, I was crushed. Something died with me that could never be replaced. 
After the shocking death of his son, he stayed low-key from the media and only made headlines when he spilt up with Nelson, with whom he was in an almost two-decades-long marriage. He explained the reason behind the spilt up being Nelson's unfaithfulness. 
Talking with The New York Post, Chuck said that his wife Teri Nelson was not faithful towards him and was having an alleged affair with another man, as told by the personal investigator hired by Chuck. He said,
"She said she needed to find herself - that's as far as she took it."
While the 80-year-old might have seen many tragic losses, he now seems to be in 15 year-long healthy marriage with Kim Barnes.
Finally, Stable In His Marriage
The famous Wheel of Fortune host did not let the media's backlash and judgment decide the path his personal life would go on.
Still, he took matters into his own hands and, despite the judgments, decided to get married to his now-wife Kim Woolery in 2006. Two years after his divorce from his fourth marriage. 
Kim, who is 20 years younger than the talk show host, is a hairstylist by profession. She met with Woolery on a blind date in 2003.
The two hit it off pretty well together and started dating each other.
After being together for three years, the now-husband and wife decided to get married in an intimate ceremony that consisted of close family members only. 
Now moving in 15 years of marriage, the couple does not seem to have children together.
Finds Covid-19 A Hoax?
The former game show host and father of six made headlines all over the news when he made a tweet saying that the Covid-19 is nothing but a lie. His tweet [now deleted] was also retweeted by Donald Trump. The tweet wrote, 
The most outrageous lies are the ones about Covid 19. Everyone is lying.... The CDC, Media, Democrats, our Doctors, not all but most, that we are told to trust. I think it's all about the election and keeping the economy from coming back, which is about the election. I'm sick of it,
But the 80-year-old's statement did not last for long as shortly after his tweet; his son tested positive for Covid. Upon his son being tested positive, the former host changed the narrative of his statement and told people how much real the disease was. 
Woolery then again made a tweet regarding the matter and said, 
My son tested positive for the virus, and I feel for those suffering and especially for those who have lost loved ones
Well, whatever the 80-year-old might believe in, we are just glad to see him and his family all healthy and happy. 
His former tweets might have been deleted from his personal account but it still lives on in various media channels. 
Professional Life and Net Worth of Chuck Woolery
Chuck Woolery was an ambitious guitar player and singer back in his teen days, but he later joined the Navy, and when his service was up, he moved to Nashville to pursue his musical career.
In 1968, Woolery came up with a music duo called Avant-Garde.
Caption: Chuck Woolery's Avant-Garde (1968)
He later starred as a guest on The Merv Griffin Show. Later, Merv persuaded Woolery to audition for the NBC show. After a year, he was offered to host a brand new show called Wheel of Fortune.
He has also hosted Love Connection, Scrabble, and many other shows. His net worth is estimated to be around 15 million dollars.
He is also a gun advocate and is fairly against gun violations.
Chuck Woolery talking about gun violence and saving the Second Amendment in June 2013
Chuck Woolery's Short Bio
Born on March 16th, 1941, in Ashland, Kentucky, Chuck Woolery is currently aged 75 years old. He joined the Morehead State University, where he studied economics and sociology but did not complete his study to follow his musical career.
He has also played many roles in many movies like New Zoo Revue, Sonic Boom, Six Pack, and much more.