Aaron Hicks is the star-primary center-fielder of baseball giant, New York Yankees. Since joining the team in 2016, he has showcased excellent form with 137 games, 79 RBIs( run batted in) and 27 homers till date.
Before New York Yankees, he played with Minnesota Twins in 2013. Interestingly, he got picked straight out of Wilson Classical High School as first-round Major League Baseball (MLB) in 2008.
Aaron's Girlfriend Or Wife?
Aaron is a commited man to Jessica Knoles-an Instagram fitness model. The pair's romance was revealed when the baseball star's girlfriend posted a heartfelt message for Aaron on her Instagram on April 2018.
Since then, the couple continues to flaunt their love on social media. Aaron and his nutritionist girlfriend's romance further strengthed when Jessica became pregnant with their first child in 2018.
Similar MLB Player:- Jeremy Hellickson Wife, Parents, Net Worth
The Yankees star and his girl celebrated the joy with an elaborate pregnancy announcement in July 2018. Fas forward to, 14 January 2019, the couple became first-time parents with the arrival of a son, Aaron Michael Hicks Jr.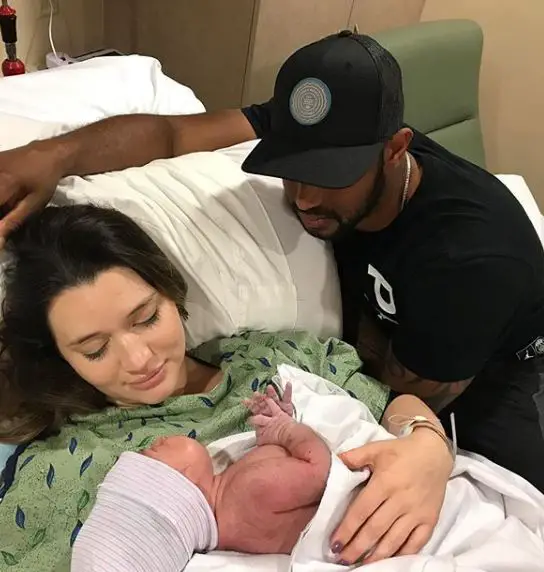 Aaron Hicks shares a moment with girlfriend Jessica Knoles and son Aaron Michael Hicks Jr. on January 2019 (Photo: Jessica Knoles' Instagram)
The first time parents and lovers are yet to become husband, and wife. Maybe they are waiting for their son to grow a little older so that he can enjoy his parents' wedding ceremony.
Family & Etnicity Details
Aaron of African-American ethnicity was born to father Joseph Hicks and caring mother on 2 October 1989. The California native's father wanted him to pursue a career in golf and become the next Tiger Woods, instead of a career in baseball.
The New York Yankees star's father's disapproval of baseball was a rather personal story. Jospeh used to be a baseball player. He was picked in the amateur draft in the 12th round by San Diego Padres in 1975. He even played for Walla Walla Padres.
Sadly, his baseball aspirations were cut short after getting an orbital bone injury while playing on the field. The injury resulted in him quitting his athletic career and taking up other jobs to support his wife and kids.
However, his son Aaron defied his father and proved his mettle in the baseball field. Today, his father is proud of his son's career and comes out with his whole family to cheer for his talented son.
Net Worth Details
Aaron's first signing amount with Minnesota Twins was $490K in 2013. Since then, he has shown incredible performance on the field, which resulted in an increasing net worth off-field.
In 2019, Aaron of age 29 signed a $70 million deal with his current team New York Yankees. The agreement includes a seven-year contract with a primary center fielder.
Explore:- Sonny Gray's Trade Turned Out To Be Lucky For Him? Has A Contract That Goes Down To Arbitration In 2018
Further, the lucrative deal added $64 million in Aaron's previous agreement with the team. The new deal has the possibility of leading up to $81.5 million in 2026. No doubt, the athlete of height 6 feet 1 inch (1.85 m) and weight 91 kg is surely laughing his way to the bank.