Entertainment
ABC's George Stephanopoulos And His Comedian Wife: 15 Years Of Married Life And Their 2 Children
"Chief political commentator" What pops up in your mind when you see these words? Boring right!!! But this might not be the case for George Stephanopoulos, chief political correspondent of ABC news. You may know that he is married to comedian Alexender Wentworth for fifteen years now.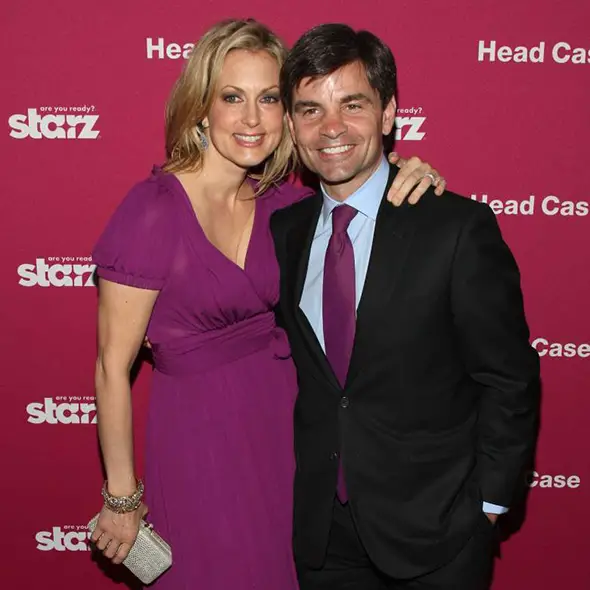 The co-anchor of Good Morning America, George Stephanopoulos, 55, has been enjoying a marital relation with comedian, Alexander Wentworth for fifteen years now. Let's learn in details about their relationship, marriage, and children in our story today.
The Couple's First Date, Engagement, And Wedding:
George and Alexander met on a blind date in April 2001. Alexander expressed the feelings that aroused within her in the first meeting in an interview. She said,
'It wasn't loved at first sight. It was I sat with him and there was this amazing comfort and it really felt like being home.
Similarly, George recalls the excitement of the first date as:
"A kind of quiet, happy shock. I couldn't believe we found each other."
They got engaged two months after their first date. George and Alexander got married on November 20, 2001, at Archdiocesan Cathedral of Holy Trinity on New York's City Upper East Side. The couple got married after dating for seven months. Alexander tells their wedding as "a big fat WASP - Greek wedding.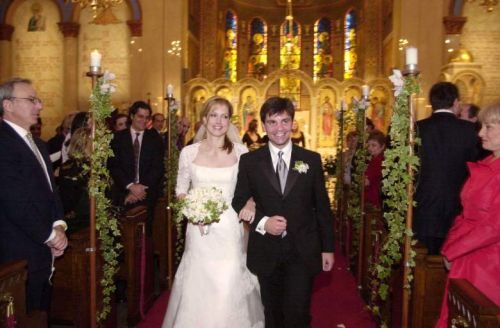 George and Ali in their wedding in November 2001
George and Alexander are blessed with two children. The elder daughter, Elliott Anastasia Stephanopoulos was born one year after the marriage, on September 9, 2002. Similarly, the younger daughter, Harper Andrea Stephanopoulos was born on June 2, 2005. The couple has a sweet and happy family of four. 
Even after seventeen years of marriage, the couple is enjoying a lovely relation. There are decidedly fewer chances for us to listen to their divorce.
In the video, George is celebrating a birthday with their lovely wife Alexander and other members of the show good morning America. Alexander looks excited for her hubby's birthday. She is dancing and shouting to express her happiness.
[video_deleted_from_source]
His older daughter Elliot who is 14 years old suffers from a medical condition called scoliosis which affects the curve of the back. The pair posted a brave photo of their daughter wearing braces on Twitter. They decided on sharing the condition with the public in order to raise awareness among the people.
After the post, their fans were praising and encouraging parents and Elliot for warning people about the condition.
While his personal life is in complete bliss, his professional life did face some turbulence.He was on the top of his game during the presidentship of Obama and even made $15 million to $18 million a year. 
But he became a source of embarrassment during the presidential campaign to ABC as he was caught handing money to Clinton Foundation. There was a huge issue raised in the matter and was even mocked by the president Donald Trump as Little George.
He further added:
"All the networks, I mean CNN is really bad but ABC this morning- I don't watch it much but I'm watching in the morning and they have little George Stephanopoulos talking to Nikki Haley," 
The president of 1 million dollar States even made fun of his height. But he managed to brush the dust off and get back on to his average and reputed pace in the field of journalism.He recently got an opportunity to interview ex FBI chief Comey which managed to put him in the limelight.
George Robert's Short Bio:
Born on February 10, 1961, George Robert Stephanopoulos is an Orthodox Christian and has received a degree in theology.  George currently serves as a chief political correspondent and chief anchor for ABC News. He is also the co-host of ABC's, Good Morning America and anchor of Sunday morning show, This Week. He is also seen as a substitute for ABC World News Tonight.
Previously, George served as a U.S Democratic Party political advisor. He is associated as a member of the Council on Foreign Relations. George earned his bachelor degree in political science, summa cum laude from Columbia University in 1982.  His endeavors of years had rendered him a net worth of $15 million. He put his house on sale for a whopping $1 million dollar back in 2016. However, he did not disclose the reason behind the cutoff, and it did hamper on his net worth as it has been reduced from $18 million to $15 million in just a year.