Entertainment
Beautiful Actress Mandie Taketa: Divorced with Husband on 2008, Children? Is She Dating Someone?
People say that you don't have the same connection with someone once you're separated, but the actress and dancer Mandie Taketa and her ex-husband, comedian Wayne Brady are here to prove them wrong.
Wondering how they are proving them wrong? Let's find out as we take a stroll in her possible romantic life!
Mandie Taketa's Married Life! Has A Baby Girl With Husband!
Mandie and Wayne first met in 1996, during his showcase in Ohau, Hawaii.
Mandie met Wayne during the preparations for a musical while Wayne was working in a musical revue based in Oahu, Hawaii. Mandie's musical never made it to Broadway but the duo instantly began dating and moved to Los Angeles after the show was closed.
The two got married on 5 April 1999, and later, in 2003, Mandie gave birth to their first child, a beautiful baby girl named Maile Masako Brady.
Mandie loves to flaunt her family love and on 3 February 2016, she shared a beautiful picture with her daughter, Maile, and Wayne via Instagram.
But unfortunately, there seemed to trouble in paradise. Not every story has a happy ending and same happened to Mandie's marriage.
Mandie and Wayne separated seven years later, the same day they got married on 5 April 2006. The reason for the split was stated as irreconcilable differences. Mandie filed for divorce on July 2, 2007, requesting joint legal and physical custody, and spousal support.
But the great thing about their relationship is that they share amicable relationship despite the divorce. Even though they've been separated, they remain the best of friends helping each other in need. Mandie even bought a home in Wayne's neighborhood to make the joint co-parenting of their daughter, Maile Masako Brady easy with Wayne.
In an interview in September 2015, Wayne gave opinion about Mandie's shift to his neighborhood saying,
"We said we want to give Maile the closest experience to living in the same house. We have always lived in different homes. We just live super close now. The fact of the matter is I like Mandie … she was with me when no one else in the world was with me, except my mom. There was loyalty, there was trust, she is my baby mama."
Mandie, who have known Wayne for 20 years, even helped Wayne come out of depression after he had a complete breakdown on his 42nd birthday.
Caption: Wayne Brady talks about his depression issue and how he came out of it with Entertainment Tonight (Published on November 3, 2014)
And Wayne credited his ex-wife Mandie for helping him while he was on the road to recovery. In an interview on November 2014, Mandie said,
"We said we want to give her the closest experience she can have to living in the same house. And we've always lived in different homes. We just live super-close now. The fact of the matter is, I like her mom. She was down with me when nobody in the world was down with me, except my mom. There was loyalty there, there was respect, there is trust -- she is my baby mama."
Moreover, Wayne even gave his words of wisdom for the people suffering from depression and said,
"It took me a while to get my stuff together to go, 'You know what? If you're not happy, you have to do something about it. Just to admit that you are feeling this way is a huge step. To claim that, to say, 'Why do I feel dark? Why do I feel unhappy? Let me do something about this.'"
Mandie was Brady's second marriage as he previously married to Colombian singer Diana Lasso, but they did not share any children together.
Mandie Taketa's New Boyfriend?
Since the divorce with Wayne, Mandie hasn't had any serious relationship, though her ex-husband, Wayne was linked with Chill from TLC.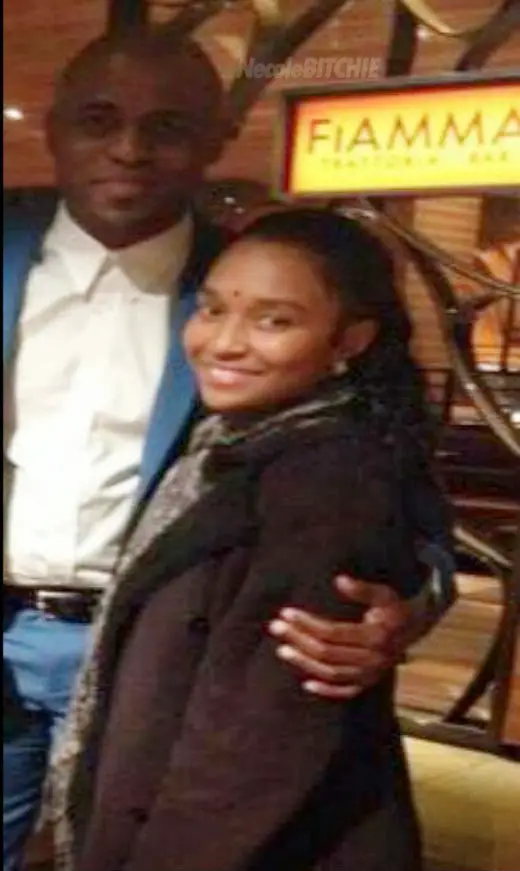 Wayne and Chilli spotted together during a TLC concert at the MGM in Las Vegas in January 2014 (Photo: mstra-thatgem.com)
But love knows no limits, so who knows? There might be a boyfriend in the future waiting for Mandie to swoon over. Who knows, Mandie could be secretly romancing her boyfriend far away from the limelight.
Mandie's Short Wiki-like-Bio:
Mandie Taketa was born on 3 March 1976 and was raised in Honolulu, Hawaii. She got her education from the University of Hawaii, where she was given a full scholarship in dance. Mandie is the owner and CEO of three companies, Adell Body Works, This Lifetime and Everything Did Productions.
She is a dancer, actor, who starred in the 2007 film "Manband: The Movie," a certified yoga instructor and a physical therapist. Mandie, who enjoys the net worth of $1.5 million, is busy being a mother to teenage daughter Maile.