Entertainment
The Goldberg Sisters' Adam Goldberg Wife-Like Relation With Partner, Family - Details!
American actor, Adam Goldberg is a versatile man in every way as he handles both his charting career along with family duties.
Away from the cameras, the actor has been cherishing parenthood with his longtime girlfriend with whom he has shared tragedies of life. However, before the couple could become parents, they share a tragic story together and has remained together for a long time.
The pair has been going strong and giving relationship goals for many.
Well, even though the couple has not yet exchanged marriage vows, they sure have risen from the tragedy together and are now parents to their toddler.
Wife-Like Girlfriend, Struck By Tragedy
Before sharing a blissful relationship with Roxanne, Adam was dating Christina Ricci, the former child actress. The pair started dating back in 2003. But the duo broke their relationship after four years of being together in 2007.
A year after the split with Christina, the photography passionate had the beautiful turn of his life meeting Roxanne Daner, a part owner and lead designer at Los Angeles based Ludlow Kingsley.
He first met Roxane in February 2008 and became friends at first. Later the couple hit it off and soon started dating.
Back in 2012, the couple had to go through the mishap of losing their first baby. Adam and his girlfriend lost their first baby in utero at full term back then. They lost their child to stillbirth.
The misfortune of losing their first-born sadden them as their worst fear became their reality. The couple remained silent during that time grieving their firstborn. After few years talking on the podcast, Adam opened about their loss. He shared his grief with the listeners saying,
"I haven't said this. I haven't talked about this at all. My girlfriend — we've been together for several years — we had a stillborn child about a year and a half ago. I've talked about it but not really in a public fashion. Totally awful, especially because I had been ambivalent of having children,"
Adding to it, Adam also revealed how he felt living his worst dream at the time. He added,
"It was four days after the due date. It was horrifying and it was also my worst fear."
Well, they had their share of unhappiness, but as sadness does not last forever, they were blessed with their bundles of joy.
Rising From Horrific Tragedy, Finally Become Parents
Losing a child is a parent's first fear, and sadly Adam and Roxanne both had to go through such horrific tragedy. But after healing from such pain, the pair again gave parenthood another shot.
Roxanne was pregnant with their second child after losing their first born. The news of their pregnancy surfaced the media in December 2014 when Adam revealed that they were expecting a baby through a WTF Podcast with Marc Maron on 18 December.
On the podcast, Adam, who enjoys the net worth of $3 million, revealed the pregnancy news saying,
"My girlfriend Roxanne is pregnant. We weren't going to tell anybody — I mean it's obvious. She's gigantic. But we weren't going to tell anyone unless you ran into her."
Well, they welcomed their second child, Bud, who is healthy and now growing as he turns three years old. If the couple had not lost their first child they might have been perfect siblings to each other and Bud would have been a perfect brother to his brother or sister.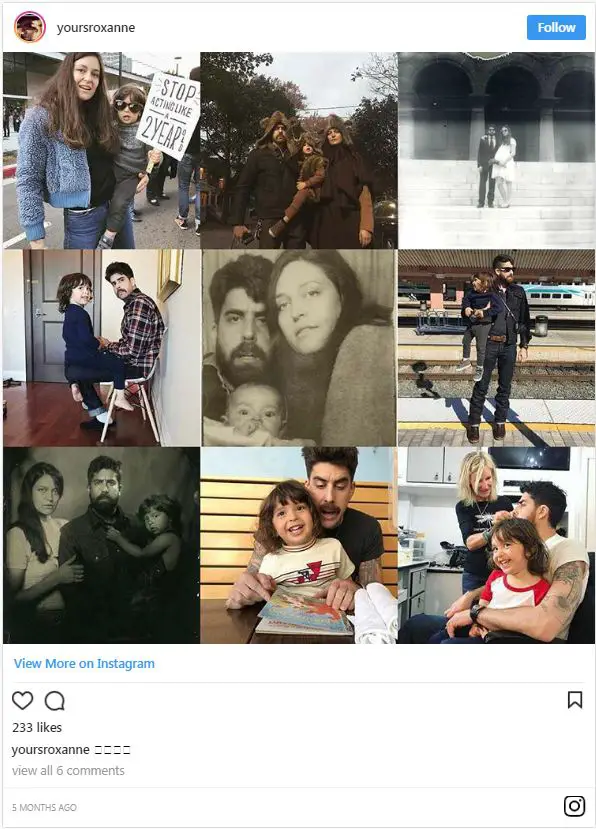 Adam Goldberg with wife Roxanne Daner and his family of three. (Photo: Roxanne Daner's Instagram)
However, the couple has not exchanged the wedding vows yet. There has not been any news of them tying the nuptial knot. Regardless of it, they have been holding onto each other even though the tragedies.
As life doesn't always turn out as it is expected to, it just drags you to greater happiness.