Entertainment
'Teen Mom' Adam Lind Girlfriend At Age 29; Wife Married Again, Where He At?
Adam Lind was dating "Teen Mom" star ........Then he got involved with another Teen Mom 2 star named .........However, the relationship took a bad turn after .........ended the dating life.......There were strong suggestions that Lind had finally found his wife.....His ex-girlfriend, ...........officially tied the nuptials with her current husband .........on October 2017
Widely recognized through his appearances on MTV's 16 and Pregnant and Teen Mom 2, Adam Lind earned his spot on the show as the father of Chelsea Houska's daughter, Aubree.
However, the social media superstar has been a constant headline by being more than just a reality star; the mega bad boy has mixed his dating life with never-ending drug abuse and legal problems. 
His personal life hasn't been much of a smooth ride. With split up with ex-wife to another beauty, a restraining order, fighting for child custody, and inability to pay child support means Adam Lind has all as one the most controversial stars of today!
Never Ending Girlfriends; Almost Found His Wife Amidst Abuse Allegations
The list of girls Lind has dated seems to be never-ending. On top of that, his continuous drug use and domestic abuse habits have invited troubles in his dating life, time and again. 
He was famously involved with "Teen Mom" star Chelsea Houska, as the couple was pregnant to what now is a 9-year-old girl named Aubree Houska. However, the two broke up despite sharing a child together after Chelsea being fed up of Lind's serial cheating and a lousy attitude.
Adam's ex-girlfriend slamming continued even in a reunion episode of Teen Mom 2 in June 2018, quoting him being a "huge irresponsible d**k".
You May Also Like:- Model Elsie Hewitt Sues Her Boyfriend Ryan Phillippe, Accusing Him of Drug Abuse and Domestic Violence!
Chelsea Houska's baby daddy was then involved with another Teen Mom 2 star, Taylor Halbur and eventually gave birth to a daughter, Paislee Mae Lind in September 2013. The then-couple even featured together in Teen Mom 2 as the parents of Paislee Mae Lind. 
However, the relationship took a bad turn after Taylor ended the dating life accusing him of abusive behavior like killing her dogs, acting abusively with her and substance abuse as per Radar Online. Adam was silent to all the allegations of his ex-girlfriend. 
However, the reality star found love again with Stasia Huber in the summer of 2016 and got engaged. There were strong suggestions that Lind had finally found his wife as the two of them were rumored to be married secretly.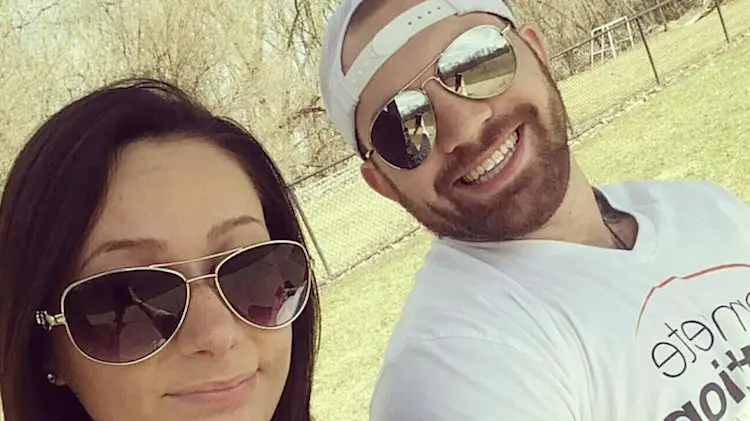 Adam Lind poses alongside his ex-fiancee, Stasia Huber (Photo: Intouchweekly.com)
However, the two parted ways as well after his another ex-girlfriend, Jessica Nicole posted a seductive picture of the two on Instagram. Stasia cleared the air claiming she was never a wife of Lind and further accused him of domestic abuse, drug use, and harassment in an explosive protection order. 
Previously, the dashing looking star was also said to be involved with a married woman named Danielle Nord from Aurora, South Dakota on December 2014.
Child Support Issues After Ex-girlfriends Get Married
It seems Lind is just a gateway ex to a happily ever after as both of his exes are now happily married.
His ex-girlfriend, Chelsea officially tied the nuptials with her current husband Cole DeBoer in October 2017, whereas Halbur got married to fiance Joseph Leonard on the same year. The couple has two children together, son Watson and daughter Layne.
Other Interesting Article:- X-Pac 12360 pod-caster Sean Waltman's Sexual Abuse Story, Divorce With Wife Due To Drugs, Girlfriend Died, Married Again
As for Lind, his behavior on-and-off the camera has placed him under public scrutiny. He has constantly been found griping about his child support payments on social media.
According to Radar Online, Lind pays only $945 a month to Houska for expenses accrued raising Aubree. He also pays $1,203 a month to his other baby mama, Taylor Halbur, for raising his second daughter Paislee.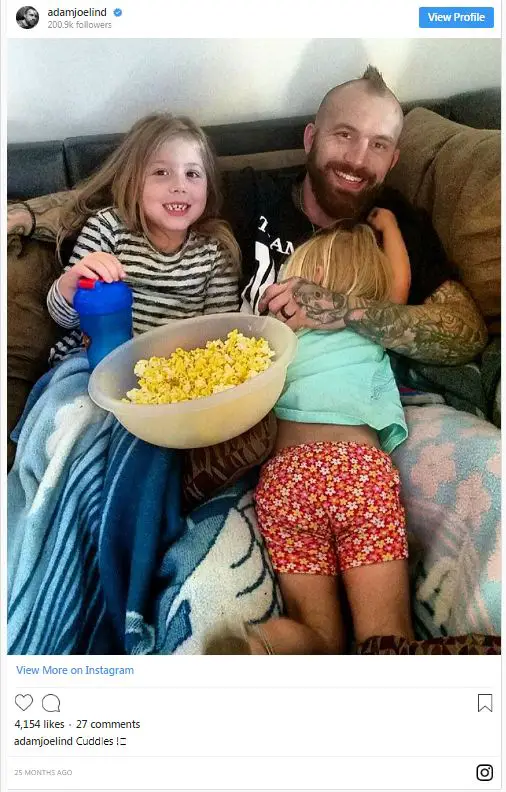 Adam Lind spends quality time with his daughters, Aubree and Paislee on 10 September 2016 (Photo: Adam Lind's Instagram)
However, a warrant was issued by the officials in South Dakota on February 2018 which claimed Lind to be behind in child support by a total of at least $21,122. For a guy who earned a whopping amount worth $285,000 a year from 'Teen Mom 2' season 7 alone, being behind on child support is a massive surprise.
Age 29: Massive Weight Loss And Fighting For Child Custody
With a fading career going nowhere and controversies left, right and center, Lind has still managed to keep himself always in the limelight.
Read Also:- Loggerheads' Gay Character Kip Pardue: Not Yet Married But Dated Multiple Girlfriends and Dating History
He managed to grab everyone's attention after his photograph resurfaced throughout the social media on July 2017, where the former bodybuilder was seen losing a massive amount of weight. This attenuated appearance of his is likely to be the consequence of his continuous substance abuse.
Lind also faces an ongoing battle where his former girlfriend Taylor Halbur is fighting tooth and nail to ensure he is not permitted to spend any time with their daughter, Paislee.
Similarly, Lind also has only limited visiting arrangements with his first daughter, Aubree.