Social media has become a platform for talented people to share their skills with the online community. One of such raw talents is Adelaine Morin, who earned her fame through the video sharing site, YouTube.
A Canada native, Adelaine is an expert in makeup with her hair as the most distinctive feature. Let's take a minute to learn all about the YouTuber's bio as well as her family and dating life.
Adelaine Morin Bio: Age, Hair & More
A Canadian by nationality, Adelaine commenced her YouTube career at the age of 13 in 2011. Her channel was initially named C0OK1EMONSTER; however, she changed it to her name later. At age 21, she has crossed 2.5 million subscribers on the circuit.
She also possesses a second YouTube profile titled Adelaines Camera Roll. Additionally, Adelaine is quite popular on Instagram, where she posts tutorials on makeup and hair.
Another YouTuber's Bio:- Desi Perkins Bio, Age, Wedding, Ethnicity
Her videos consist of a variety of genres including makeup challenges, hair & skin treatments, shopping, and more. Originally dark brown haired, Adelaine's hair color has changed over the years as she doesn't like to stick with a fad.
The YouTuber excels at makeup and even helps her viewers for dressing up in different attires.
Family & Ethnicity
Adelaine was born in Toronto, Canada as the daughter of parents: Randy and Bernadette Morin. She was raised alongside her siblings, brother Brayden and sister Celeste.
Although she has not mentioned much about her parents, Adelaine is exceptionally close to her family. Brayden and Celeste are often featured in their sister's videos, which shows the love and care between the brother and sisters.
The internet sensation possesses a Caucasian ethnicity, derived from her parents and family.
Dating Boyfriend For Nearly Five Years
Adelaine has been in a relationship with Matthew Berry for nearly five years. The couple first started dating in June 2014 and have been together ever since. Although Adelaine is much shorter in height than her boyfriend - she is only 5 feet 2 inches (1.57 m) tall - the duo makes a perfect match.
Back in March 2017, Adelaine joked via a tweet that Matthew was almost on the verge of not dating her as she had a pimple on her breast at the time.
Years Of Dating Turns To Marriage:- Todd Spiewak Is A Married Man! Witness His Wedding Ceremony With Gay Actor Husband
On Adelaine's 20th birthday on 28 January 2018, the YouTuber's boyfriend gifted her a ring but, insisted she wears it on her right hand as he didn't want to appear too superstitious. Adelaine even admitted that the lovebirds were looking to move in together and were they searching for a house.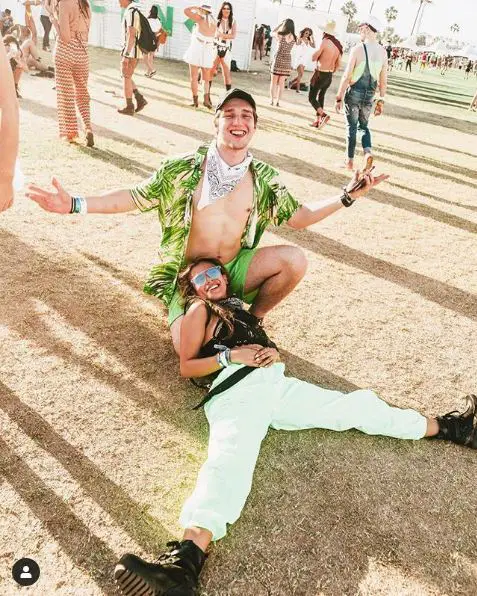 Adelaine Morin with boyfriend Matthew Berry at Coachella, California in April 2019 (Photo: Adelaine Morin's Instagram)
The couple will be celebrating their fifth dating anniversary in June 2019. But at the moment, they are happy with their casual dating life.
While the pair have not revealed their intentions on sharing a future, Adelaine and her partner seem pretty serious about their relationship.