Entertainment
Aimee Kelly Married With Husband At Young Age? 'Wolfblood' Star's Status Now
British television actress Aimee Kelly, who is best known for playing her character as Maddy Smith in CBBC's children's drama Wolfblood, in both of its seasons 1 and 2, gained her much fame and love. Her role in the series also grabbed a lot of followers for her.
Just as she elevates in her career with nominations such as Best British Newcomer by the British Film Institute in 2012, she also holds a personal life of her own. Apart from her career, Aimee might be involved in a loving relationship but seems like she prefers to keep it under her nose.
As celebrity rumors mills are always churning, Amiee has also been a victim of it. She has been rumored to be romantically involved with few men in her life. 
Onscreen Romance To Real Life Dating?
Aimee Kelly, who grabbed many followers on her Instagram through her role in Wolfblood, has raised many queries from her admirers regarding her dating life. He fans are eager to know if her love interest on the screen is also her boyfriend in her real life.
On the series, Amiee who portrays as Maddy Smith shares a deep romance with the fellow character Rhydian who is portrayed by Bobby Lockwood, who is also known for his appearance in the BBC series Waterloo Road.
You don't want to miss:- Luann de Lesseps Has New Super Boyfriend While Sour Married Life Stomps
The fans of Wolfblood wished in their hearts of hearts for them to share relationship away from the camera. For them, their wishes seemed coming true when Aimee started sharing much time with Bobby even away from the sets of the series. 
Aminee made sure her admirers were up-to-date with their meeting as she often posted the picture from her quality time with Bobby. This gesture of hers gave rise to the rumors of their love relationship.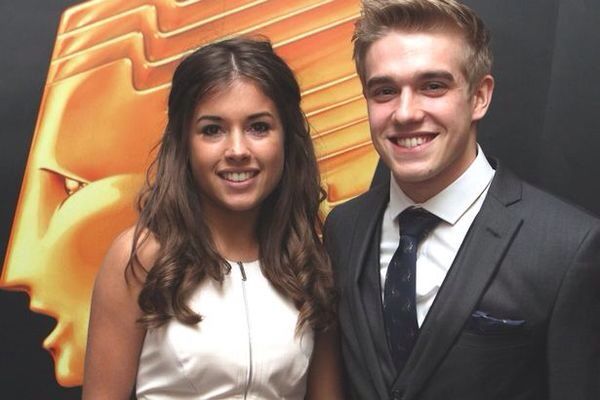 Amiee Kelly with rumored boyfriend, Bobby Lockwood. (Photo: pinterest.com)
However, nothing much yield out of the rumors as neither Amiee nor Bobby officially spoke on their relationship.
It turns out Amiee prefers to keep her love life away from her followers. Her secrecy has been the oil in the fire for her "want-to-know-it-all" fans. But seems like having a wedding is far off the coast for Amiee. There have not been any signs of her possible husband neither on her social media nor any of her interviews.
Take a Look:- Injured George Clooney Hospitalized After Accident In Italy! Scooty Meets Car
Even though she keeps her love life a total secret, she at times shares pictures with Alex Bibby who is a photographer. Through Amiee's Instagram, it seems like she shares quite a bond with Alex. Back in March 2017, she posted a picture in which the pair seemed pretty close and comfortable having each other around along with Alex put in an attempt to place a kiss on Amiee.
However, in her post, Amiee, who also starred alongside Siwan Morris in Wolfblood, often addresses him as 'best mate.' 
Well, it seems like Alex is friend zoned by Amiee but Amiee's silence as only led to speculations on her love life.