Entertainment
AJ Mitchell Personal Life Details: From Age to Possible Dating Affair
AJ Mitchell Personal Life Details: From Age to Possible Dating Affair. As a social media person, AJ Mitchell's life is pretty much open to the public. His name AJ stands for Aron Jr. He is not only an Instagram star, but the 16-year-old also happens to be a songwriter and singer.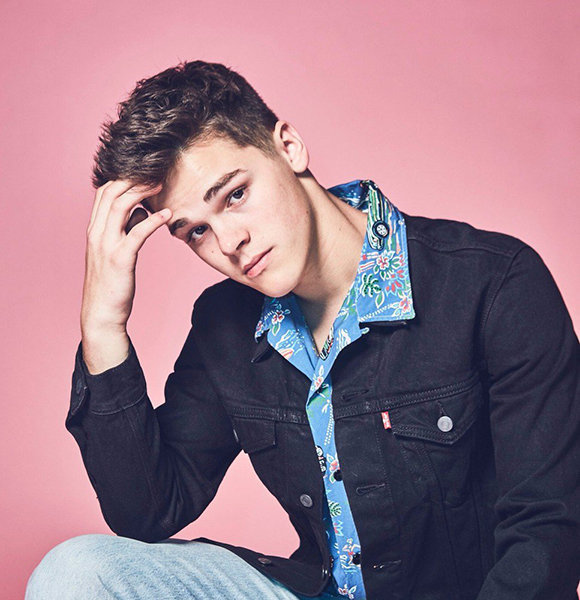 If you don't have an idea about what an Instagram star is, well you better get acquainted, for it is a thing now! With the growing craze and popularity of Instagram, Instagram stars are close to being called celebrities and have their own fan base.
Currently, we are here to talk about one such personality: the Instagram sensation AJ Mitchell. The 16-year-old is just like a regular teenager; the only difference is he has 1.6 million people following him on his Instagram.
If you crave to know more about AJ Mitchell, then you are in for a treat, as we have all his personal details and dating affairs covered in a single scoop!
AJ Mitchell's Bio, with Possible Dating Affair
Born on May 17, 2001, AJ Mitchell, whose full name is Aron Jr., grew up in Belleville, Illinois, alongside his sisters, Addy and Andrea. Later, in 2016, he moved to Los Angeles to focus on his career on social media.
As a social media person, Mitchell's life is pretty much open to the public. He is not only an Instagram star, but the 16-year-old also happens to be a songwriter and singer. Talent persists regardless of age and such is the case with AJ.
Michell started playing the piano at the age of five. He began posting videos of him playing the instrument on Instagram and later started making original songs, publishing the videos on YouTube.
Some of his famous songs include 'The Girl You Used to Be,' 'Reminds Me of You,' and 'Alright.'
AJ Mitchel's song on his YouTube channel (Jun 16, 2017)
His music is not the only reason why AJ's fans are obsessed with him; his good looks and talent are also the factors that helped garner a massive fan following, especially girls. Given his charm, it comes off without a surprise to learn that he is linked with girls now and then.
For someone who makes a living out of social media, AJ is very private when it comes to his dating affairs, however. No one has ever come close that could be claimed to be his girlfriend. 
Because he has tons of pictures of him and Alissa Violet on his Instagram, the speculations swirled that the two are dating in real life, but it turns out that they are just good friends.
The two are very close and share warm wishes on various occasions. Previously, Alissa shared a heart-warming wish for AJ on her Twitter, on the occasion of his birthday.
He is also very close to a fellow YouTube sensation Tessa Brooks and even took the opportunity to wish her on her birthday through his Instagram.
His friends are not the only one who made it to his social media. AJ is also very close to his parents. Although there are not many details about his family, he confronted that his parents and family are the most prominent driving factor and source of encouragement that made him pursue his music career. 
AJ, who keeps a low-profile when it comes to his family, did post a picture of her mother on her birthday in 2017.
Well, now we know where he gets his good looks from, right?
Keep Visiting for the emerging updates on AJ Mitchell's life!