Entertainment
Is Alissa Violet Dating A Fellow Viner Or Is She Just Too Bored To Have A Boyfriend?
Having achieved a massive amount of followers through her Vine channel, Instagram star Alissa Violet has stashed her men away from life. Is it because she quickly gets with people, or is she quietly dating her fellow viner?
Without further delay, get the scoop of her relationship status and her boyfriend, if she has any.
Can't Decide On Boyfriend
With a bombshell figure and a charming face, it was just impossible for the star not to have a boyfriend.
Instagram Star In Our Vault:- Crystal Leigh Is Engaged, Meet Her Fiance 5SOS'S Guitarist Michael Clifford
But everything got stashed away when she confirmed her status to be single through Twitter. Alissa also kept on throwing puzzling clues via the social media site to baffle the media and her followers.
At one point in 2016, she claimed that she was bored to have a man in her life. In her own words:-
"I want a boyfriend but then again I think I'm just bored... "
But at the same time, she revealed her secret desire to have a man in her life. On 5th January 2016, she tweeted:-
"I highkey want a boyfriend who secretly takes pics of me when I'm doing cute things... "
At 20 years of age, her fans were scrolling through her sites to get hold of information regarding her relationships.
However, in October 2016, Alissa revealed about having a new boyfriend, which ultimately soared the buzz. But in the meantime, she still confirmed her singularity despite getting attracted to several men.
Dating Woes: History With Jake Paul
In early 2016, she posted several pictures with her co-star Jake Paul, which created a buzz in the social media. Her fans & followers sought for more details regarding her shared relationship with Jake Paul.
But the rumor died when Alissa confirmed the existing relationship between Jake and herself was nothing more than just friendship.
The gossips about the Instagram star and her then-boyfriend Jake, however, got picked back up. The duo moved in together alongside five other social media stars to form the now-defunct collective called Team 10.
Alissa's romance with Jake lasted for a few months before their nasty breakup - which got played publically - in February 2017. In a Twitter exchange, she accused her then-boyfriend of being a snake. Meanwhile, Jake accused her of cheating on with a close friend.
More On Jake Paul:- Jake Paul Dating Teammate Girlfriend? Gets Married, But With Mystery
Over time, the former duo has seemingly reconciled their friendship. Alissa even made an appearance on a Shane Dawson's docu-series based on Jake.
Dating Fellow YouTuber
After breaking up with Jake, Alissa ignited a romance with fellow Team 10 affiliate FaZe Banks, a YouTube star.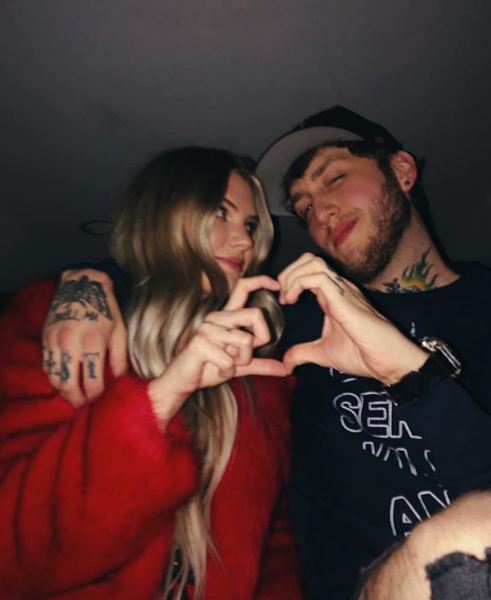 Alissa Violet helps her boyfriend FaZe Banks complete the heart sign circa Feb 2019 (Photo:- Alissa Violet's Instagram)
She and her once-boyfriend initially fueled dating rumors when the two began making a regular appearance on each other's social media. The Instagram star then made their relationship official by sharing a photo of the two locking lips at the Electric Daisy Carnival.
In months that followed, Alissa jokingly tweeted about being engaged to FaZe and also changed her last name on Twitter for laughs.
Split From Boyfriend
After almost two years of dating, Alissa - now age 23 - and FaZe parted ways in the summer of 2019. However, the news didn't become public until a month later in early-July 2019.
Opening about the split via Twitter, the Instagram star's boyfriend wrote about the breakup which occurred a month ago. Regardless of the separation, he claimed to love Alissa to death.
Citing the decision to go separate ways as hard, FaZe asked their fans to respect their privacy. Furthermore, the YouTuber promised never to speak badly about his now-ex Alissa.
In a separate tweet from the same day, FaZe argued that there wasn't any drama despite the split. By his admission, the pair had maturely handled their break up by dealing it offline.
Discover New Read:- Mod Sun Age, Girlfriend, Split, Bella Thorne
Long before the revelation, fans predicted things to be over between the two. After FaZe admitted to hooking up with Tana Mongeau on a podcast appearance, he and Alissa got engaged on a spat on June 2019. The pair, however, asserted that the fight had nothing to do with Tana.