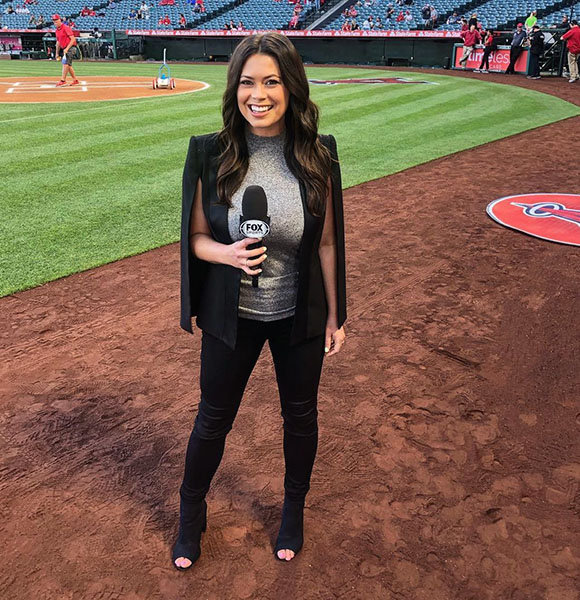 Alex Curry rose to fame when she started hosting Angels Weekly.
As an active athlete since school, her love for sports shined through her gigs; thus she got a chance to join the coveted Fox Sports West in 2012. Her other memorable hosting jobs was for The World University Games for Fox College Sports as well as the Pro Beach Volleyball Series for NBC Sports.
Who Is Alex's Husband? Wedding Details
The sports host is married to Jeff Nisen since 2nd July 2016.
Alex and her man were together for a while before getting hitched in a wedding ceremony at Manhattan Beach, CA. The host of mixed ethnicity first mentioned about her man in 2011 on Twitter.
Celeb With Same Last Name:- Ayesha Curry Net Worth, Ethnicity, Family, Husband
After their beautiful wedding ceremony, the lovebirds jetted off to Ibiza, Spain for their two weeks honeymoon.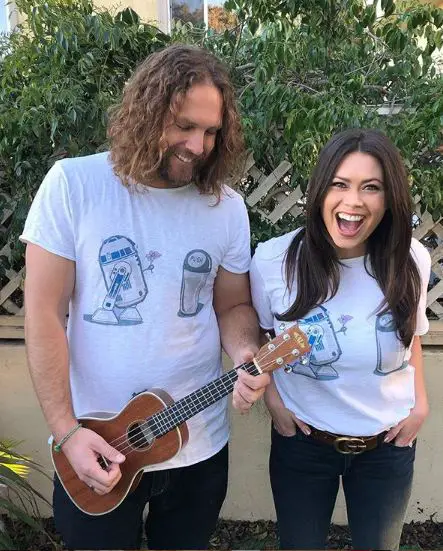 Alex Curry laughs with husband Jeff Nisen on 23rd February 2019 (Photo: Jeff Nisen's Instagram)
When not being a romantic husband to Alex, Jeff finds time to focus on a musical career.
A guitarist, singer and a songwriter by profession, he is a member of the hard rock band, Enter Lose Control. The upcoming group boasts credits of playing with Pennywise, Pepper, Puddle of Mudd, Shiny Toy Guns, Unwritten Law, and Death By Stereo.
Jeff is multi-talented as he is not in one but three bands. His other associations are Bret Bollinger and Bad Habits. He tours with all three of the groups and also produces music.
Interestingly, the multi-faceted guy co-hosts a weekly podcast called Another Take.
Alex Curry Bio
Alex was born in 1987 at Manhattan Beach, CA.
The sports host, who celebrates her birthday on 27th May, grew up in a big household with three younger siblings. Her parents; Tim and Peggy Curry raised their four daughters wonderfully. Interestingly, they had married in 1979 after eight years of togetherness. Product of their decades-long relationship, the four Curry sisters, share a close bond.
The oldest among the siblings, Alex went to Mira Costa High School where she played competitive club soccer as well as varsity soccer. While not busy playing sports, she found time to study musical theatre which led her to take part in school plays and television such as Still Standing and 7th Heaven.
After finishing high school, she went to San Diego State University to study Journalism. While still at college, she worked for Fuel TV. She also worked for the Last Call With Carson Daly before landing her job at Fox Sports West. Her parents supported her through all her education and career.
Besides being supportive parents, Alex's mom and dad are big on charity. Founded by her mom, the whole family supports the charity, Growing Great that promotes healthy eating.