Alex Len is a huge basketball player playing for the Atlanta Hawks...is single for now...had a girlfriend in the past...is aged 26...parents are from Ukraine...moved his family from Ukraine to the US after his NBA debut...has a height of...is of white ethnicity, and has Ukrainian nationality...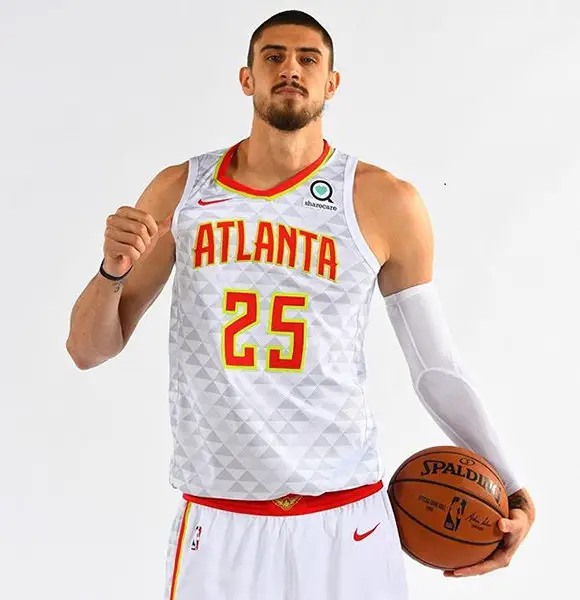 Atlanta Hawks' Alex Len is a massive presence on the court, both literally and figuratively.
His enormous figure makes him one of the most intimidating and difficult players to play against in the NBA.
Having made his debut in the league in 2013, his height and professional stature both are high as he goes into his 6th season of his NBA career. 
Learned English From Former Girlfriend, Now Single?
The Ukrainian center's professional information is out there for everyone to see and analyze, but what about his personal life? Has he found his significant other yet?
Let's start this from the beginning. Alex used to have a girlfriend a while ago, a girl that he met in college.
Essence Townsend, the then-Maryland Terrapins basketball player, started dating Alex back in 2011. There was a time when Essence used to be both Alex's girlfriend and his English teacher as the Ukranian hardly knew any English when he arrived in the USA in 2010.
Also Read About:- Chandler Parsons and Chloe Bennet Hint Their Dating Affair! But how much Truth does it Behold?
But, unfortunately, their relationship wasn't meant to be as the couple didn't last beyond 2013. Alex and Essence broke up, possibly on bad terms, sometime around late 2013.
As for now, Essence has deleted all her Instagram posts, which contained Alex. She has moved on from playing basketball and is a model at request.
Talking about Alex, he seems to be single for now and focusing on his game after his recent move to the Hawks.
Parents And Ethnicity
As you might know by now, Alex is from Ukraine. His mother's name is Yuliya. She was a track-and-field athlete during her teenage years.
Alex's mother always supported him in his basketball career, even when his grandparents were against it. On the contrary, the player's father's identity is not known as he has not revealed any information about him.
Other than his mother, Alex also has a sister in his family named Katya Koliesnikova. Katya did her studies at the University of San Diego in San Diego, California.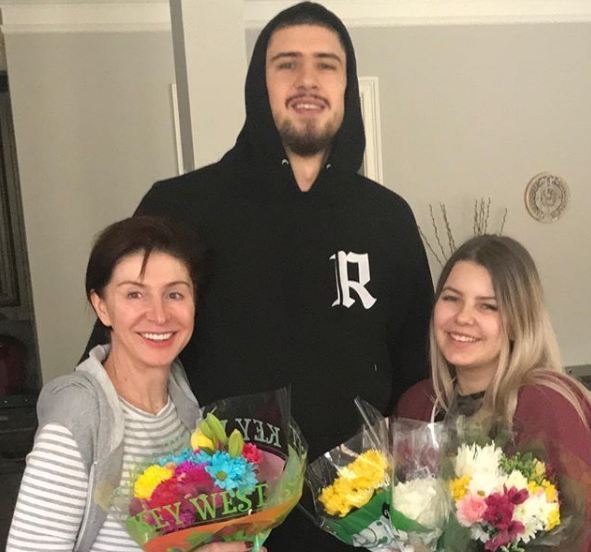 Alex Len with his mother Yuliya and sister Katya in North Buckhead, Atlanta on 9th March 2019 (Photo: Yuliya's Instagram)
After Alex settled down to NBA life, he brought his mother and sister to the US. Now, the family of three lives in North Buckhead, Atlanta.
Bio And Basketball Journey
Born on 16 June 1993 in Antratsyt, Ukraine, as Olexiy, Alex - age 26 - has Ukrainian nationality.
Alex came to the USA solely because he was offered an athletic scholarship by the University of Maryland, which brought him closer to the dream of playing in the NBA.
However, the athlete had started his basketball career back in his home country of Ukraine. His first professional team was BC Dnipro, and he played for them for a short time. Alex's performance for the team got him the attention of various colleges from the US.
But, the short professional stint before his move to the US would come to bite him in the back. Due to NCAA's strict rules about amateurism, he faced a 10-game suspension at the start of the 2011-12 season at Maryland.
Recommended:- Mario Chalmers Wife, Parents Net Worth
After two years in college playing for the Maryland Terrapins, Alex declared for the 2013 NBA Draft on14th April 2013. And, he was selected 5th overall by the Phoenix Suns in the draft.
Having made his debut on 1st November 2013, Alex played in the Phoenix's defense till the end of 2017-18 season. He gave his best performance yet for the Phoenix on his final season for the club.
Completing his five seasons at the Suns, Alex moved to the Atlanta Hawks signing a two-year, $8.5 million contract on 23rd August 2018.
Moving away from his club career, the Ukranian has also represented his home country during various international basketball games, including for the Under-16s and Under-18s national team.
As mentioned at the start, Alex is a massive presence on the court. He has a height of 7 feet (2.13 meters) and weighs around 113.4 kgs.