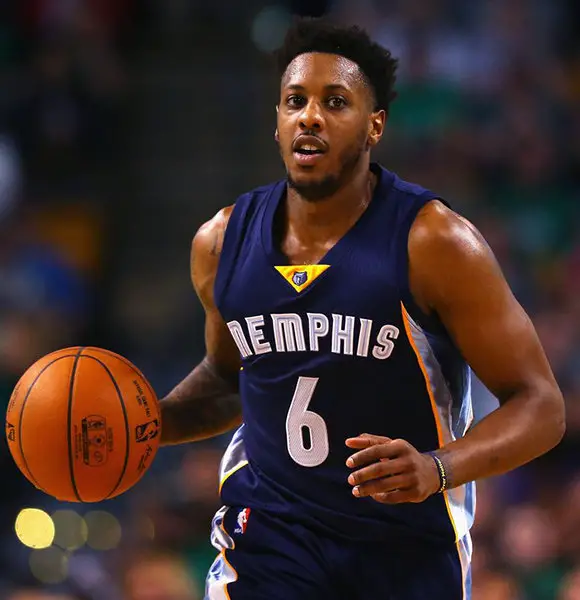 Father to four but still unmarried, Mario Chalmers has his fair share of spice in a relationship.
He is dating a fashion designer based out of Detroit and has welcomed a newborn son. Parenting a baby with his longtime girlfriend, Is Mario ready to take his relationship to the next level? Will, he put a ring on it and make it official? If so, when?
Ever Married? Relationship With Girlfriend
Talking about relationships, Mario has a juicy past.
He was in a relationship with College Hill star, Tiffany Graves. The pair had been bating for several years until someone else came into their life.
Rumors of Mario cheating on Tiffany surfaced on the internet in 2014. The rumors turned out true when Paije Speights, posted several photos of herself and him on her social media.
Paije must have been pretty special for him to make as he made such a bold move and left his longtime girlfriend. And, his decision has been right so far. The couple are still together as of the date and seem to be enjoying each others company.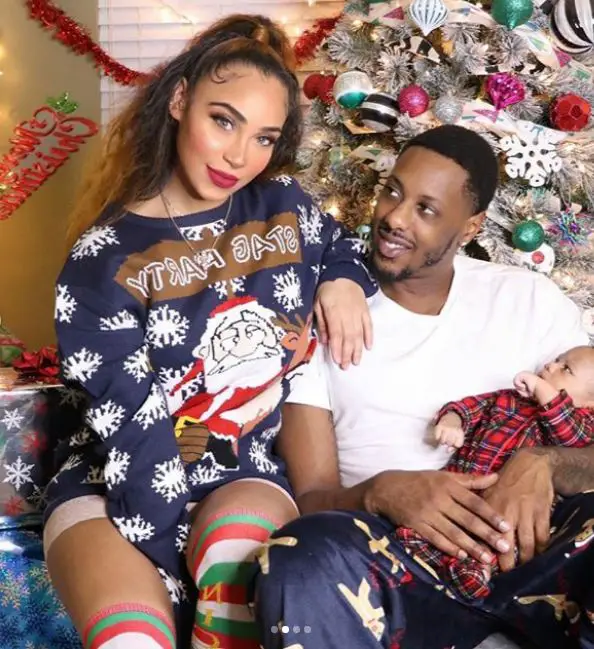 Mario with his girlfriend Paije and their son, Prynce on Christmas of 2018 (Photo: Mario Chalmers' Instagram)
Despite not being married, Mario fathers four children. He welcomed his youngest, a son named Prynce Almario Chalmers on 26 October 2018 with Paije. He is a father to two more sons, one named Zachiah A'mario Johnson and one unknown.
One Of The Great:- Ray Allen Wife, Gay, Kids, Net Worth
He also has a daughter, Queen Elizabeth with his fling from the past, Brittany Burrough. Mario pays a whopping $10,000 a month as child support after the baby mama sued him back in 2014.
Profession Side Of Mario
Mario is a legend among the basketball crowd. Even before he started to play professional, he was making waves and leaving marks.
While in high school, he was named Player of the state three times in a row. He led his school to two state championships in 2002 and 2003. On his junior year in college, he was named Most Outstanding Player in the 2008 NCAA Championship for Kansas.
He started his professional career with the 2008 NBA draft for the Minnesota Timberwolves. He was shorty traded in with Miami Heat. He stayed with the team from 2008 to 2015 and left for Memphis Grizzlies in 2015. He stayed with them for two years.
On 3 March 2019, Mario joined basketball club, Virtus Pallacanestro Bologna.
Out of his professional career, Mario has soared high with fame and fortune. His current salary with Virtus Bologna has not been disclosed, but he was earning $2.1 Million back in 2018 with Memphis Grizzlies. His net worth is estimated to be in the tens of millions.
A Short Bio (Parents & More)
Mario Chalmers was born in Anchorage, Alaska in 19th of May 1986 to Ronnie and Almarie Chalmers. For siblings, he has an older sister, Roneka.
He comes from a family of players. Lionel Chalmers, a former guard of the LA Clippers and Chris Smith, former guard of the Minnesota Timberwolves, are his cousins.
New Kid On The Block:- Jordan Bell Girlfriend, Age, Parents, Net Worth
For his education, he attended Bartlett High School in Anchorage and the University of Kansas. When it comes to his physique, his height is 6 feet 2 inches (1.88m), and weight is 86 kg.