Entertainment
MSNBC's Ali Velshi Shares Wife & Romance Background! Low-Key Family Revealed
MSNBC's anchor and business correspondent, Ali Velshi is famous for covering several breaking news and global events ranging from the US presidential elections, the Syrian refugee crisis, the funeral ceremony of Nelson Mandela and more.
Also a correspondent for NBC, Ali has his own ups and downs of his reporting career, which comprises of many backs and forth to several news channels.
Well, his personal life has mirrored the same feature as that of his professional career. Ali has also been involved with different women and got married twice. Though his first marriage ended in haste, he is content with his second spouse, and he may as well live the rest of his life with her.
Married Twice: Second Wife Is A Charm
The 48-year-old TV anchor is a twice-married man whose first marriage didn't work out. Ali first tied the knot at the age of 20.
See Also:- Arlene Dickinson Reportedly Married Twice; Almost Had A Third Wedding!
The couple divorced after remaining married for a while. However, not much is known about his first wedding or any details about his former wife.
Several years later, Ali walked the aisle with a woman called Lori Wachs in 2009. In a 2014 interview with PhillyMag, the couple mentioned that they first met on one of his shows.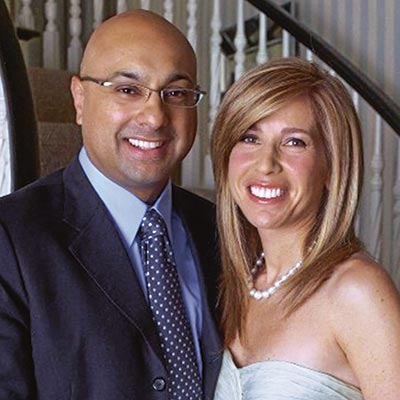 Ali Velshi, with wife, Lori Wachs (Photo: phillyMag.com)
Lori, who works as the president of a Philadelphia-based firm named "Cross Ledge Investments," mentioned that the pair's first encounter was her debut appearance in a TV show. Ali further specified in the interview that the couple would remain separated for most of the week due to his professional commitments but would catch up on weekends and go on romantic date nights.
Ali said,
"I'm not usually here [at home in Bryn Mawr] during the week. I have an apartment in New York. On Fridays I get on a 9 p.m. train from Penn Station, and I pull up at 10:50 p.m. in Bryn Mawr. And I usually leave Sunday night again. It's great. It's like date night all the time."
Lori further added that they would feel like a college couple due to their limited time together. She even expressed her gratefulness in having such a loving husband.
Ali and Lori have no children from their marriage; however, Lori, who was also previously married, has two kids with her former husband. Though the couple has not disclosed much information about their kids probably due to privacy concerns, Ali is helping his wife in raising the children and is close to them.
Family And Cultural Background
Born in Nairobi, Kenya as the son of Murad and Mila Velshi; Ali's parents moved to Canada where he grew up. The Muslim anchor is a descendant of Indian ancestors. 
Ali got his primary education from the Northern Secondary School, which is located in Toronto and was even appointed as the school president during his schooling years.
You May Like:- Hoda Kotb Appointed for 'Today' as Matt Lauer's Replacement! NBC Serves Justice
His cultural background has also made Ali a victim of racist comments.
Back in November 2017, when Roy Moore, Alabama's Republican Senate Candidate got accused of dating an underage girl, his attorney Trenton Garmon mentioned to Time that Ali's background could help them in understanding why an adult would date a minor girl.
The comment came when Trenton was on-air at MSNBC's Velshi & Ruhle, and even though Ali did not reply to the racist opinion, his co-anchor Stephanie Ruhle defended her colleague saying,
"What does Ali's background have to do with dating a 14-year-old?"
In response, Trenton noted,
"In other countries, there's arrangements through parents for what we would refer to as consensual marriage"
Ali has not spoken on the matter, and it seems like he is not concerned with the opinions of such racist people.
Successful Career; Net Worth In Thousands
Ali started his reporting career joining the CFTO channel based in Toronto. He shifted to the States in 2001 and began working on the channel CNNfn until it went off-air in December 2004. He was later assigned to CNN Network and started hosting the reality show The Turnaround in 2005.
Ali was promoted as a business correspondent on the program American Morning in 2006. He left CNN in 2013 to join Al Jazeera America and started hosting Real Money with Ali Velshi. 
Later in 2016, he was hired by MSNBC where he currently works as a business correspondent and anchor. A bald man, Ali is often the subject of jokes as fans love to edit his picture with hair on his head. On 27 April 2017, a Twitter user by the name "PDXartist" uploaded a photo of a hairy Ali and even praised him for his afro.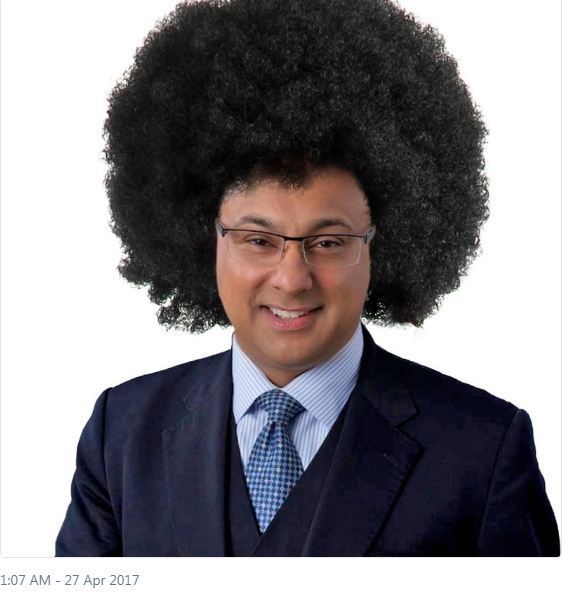 A Twitter user posts an edited picture of Ali with hair on 27 April 2017 (Photo: PDXartist's Twitter)
Ali earns an average salary of $52,029 from the news network MSNBC. Further, he also serves as a correspondent for NBC and earns about $201,000 per year. From his television career, Ali has accumulated a net worth of $500 thousand.