Entertainment
Who Is Alicia Keys Husband? Details On Parents, Ethnicity & More
Alicia Keys is an American singer, songwriter, and pianist...is married to husband Swizz Beatz from 2010...has two children with Swizz...also has three stepkids from his previous relationships...had an affair before her marriage with Swizz...her age is...her parents are of African-American and Caucasian ethnicity...her boyfriend...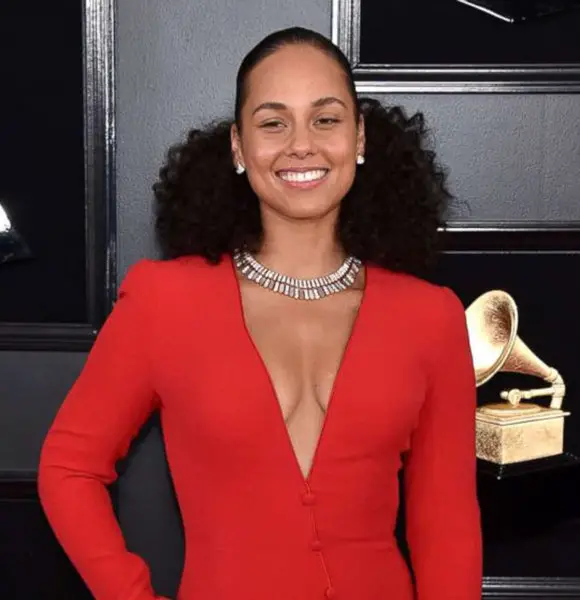 Alicia Keys is a world-famous pop and R&B singer, known for her songs such as Underdog (2020), Fallin' (2001), In Common (2016), A Woman's Worth (2002), Unbreakable (2005), and so on. 
She is a songwriter and composer who has released six studio albums, two live albums, one Extended Plays (EP), and 42 singles during her career as a musician.
Her debut album was Songs in A Minor (released on the 5th of June 2001), and her latest album is titled Alicia, which is set to be released on the 20th of March 2020. 
Apart from singing and songwriting, she is also a TV star. Alicia has worked in various TV programs such as The Voice (2016 to 2018), Jimmy Kimmel Live! (in various episodes from 2007 to 2019), Entertainment Tonight (in various episodes from 2007 to 2018), etc. 
In addition to that, she has 61 credits as an actress, most of which includes appearing in her music videos, and in a few productions such as TV series Empire in 2015 and movie The Secret Life of Bees in 2008. 
Alicia Keys' Personal Life: Husband & Children
Alicia met her husband, rapper Swizz Beatz when they were young. She was 16, and he was 17 when they met each other for the first time.
But, they didn't start dating until 2008. And at the time when they started going out with each other, Swizz was married to his now ex-wife Mashonda Tifrere.
More on Alicia's Husband:- Swizz Beatz Wife, Kids, Ethnicity, Net Worth, Parents
Their dating life turned into an engagement in 2009 when Swizz proposed to Alicia. She accepted, and they got married soon after Swizz's divorce to Mashonda was finalized on the 7th of May 2010.
Alicia and Swizz exchanged their vows on the 31st of July 2010 in a small ceremony on the French island of Corsica. For her wedding, she wore a wedding gown designed by Vera Wang.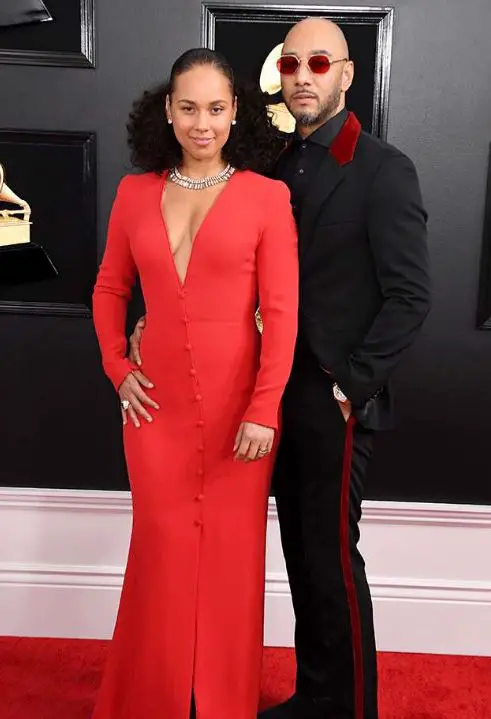 Alicia Keys with husband Swizz Beatz at the Grammy Awards in 2019 (Photo: E! Online)
Following their marriage, Alicia's first child, Egypt Daoud Dean, was born on the 14th of October 2010.
And her second kid, son Genesis Ali Dean, came into the world on the 24th of December 2014. She was 29 and 33 while giving birth to her two children, respectively.
Another Talent Female Singer:- Cher Lloyd Age, Husband, Children, Parents
Alicia is also a stepmother to Swizz's three kids from his previous relationships: son Prince Nasir Dean (born on the 25th of October 2000) with ex-girlfriend Nicole Levy, son Kasseem David Dean Jr. (born in January 2006) with ex-wife Mashonda Tifrere and daughter Nicole Dean (born in May 2006) with British singer Jahna Sebastian.
She co-parents the kids with Mashonda.
Past Boyfriend
Alicia had a secret affair with musician Kerry "Krucial: Brothers. This relationship ended just before she started dating Swizz Beatz.
Parents & Ethnicity
Alicia was born in Hell's Kitchen, Manhattan, New York City, to Terria Joseph and Craig Cook. His father is African-American, and her mother is Caucasian, who has Italian/Irish/Scottish descent.
Interesting Facts About Alicia Keys: Age, Education
Alicia was born on the 25th of January 1981.
Her real name is Alicia Augello-Cook. Her nickname is Lellow.
She stands at the height of 5 feet 6 inches (1.68 meters).
She attended Professional Performances Arts School in Manhattan, where she majored in choir. Due to her academic excellence, she was allowed to graduate at the age of 16. From there, she got a full scholarship to study at Columbia University. However, she dropped out to pursue her music career after attending college for four weeks.
She has won 15 Grammy Awards. She was also named the top R&B artist of the 2000s decade by Billboard.
Alicia hosted the 2020 Grammy Awards ceremony.