Entertainment
Allison Janney Reveals Leaving Career For A Boyfriend On Some Terms; Has Someone To Get Married To And Call A Husband?
If you love and adore someone, then undoubtedly you are ready to make lots of sacrifices. But are you willing to sacrifice your career? Well! That is a very question which might leave people poker-faced.
But when it comes to seven times Emmy winning actress Allison Janney, she has already made it clear that she will always be ready to give up her career if she is madly in love and if her partner asks her to do so.
This veteran actress is often linked to many hot men in the industry, but did she ever started dating affair or got married to any of them? Or does she has someone with whom she is planning to marry? Let's perceive more about the actress in our story today.
Ready to leave a career for love:
The 57 years old actress Allison Janney has shared her thoughts on dating in an interview in March 2015. She revealed how she will be ready to give up her career if she falls for someone madly. She told,
"I am single and dating, but I'd love to find someone to travel the world with and hang out on a regular basis."
She further added,
"The only scenario where I'd give up acting is if I fell madly in love with someone who wanted to move to, say, Budapest. Then I'd say, 'OK, I'll do it.'
The Mom star said she is a romantic at heart and wants someone in life she can make decisions with.
"I do think I am a romantic at heart. I always feel like I have to have someone in my life to make decisions with me. I have done a lot and would like to do more. But it would have to be the right relationship for me to change my life."
Later in May 2015, she said marrying a gay man would be her next move. She stated,
"I have gay friends that I would marry in a heartbeat and be perfectly happy. That might be my next step."
For that view of hers, she doesn't mind if people speculate her as a gay. She added,
"If people think I'm gay, I'm fine with it. I'll probably never get married, and I don't think I really want to be. I've never had a lesbian experience, but I'm beginning to wish I were gay. I think I'd be a lot happier!'
But just a few months later after her those statements, she flaunted her new man in life, Philip Joncas. Undoubtedly, the pair hit the headlines in the 2015 Emmy Awards as they shared a kiss after Allison was announced as the winner in the category of Best Supporting Actress.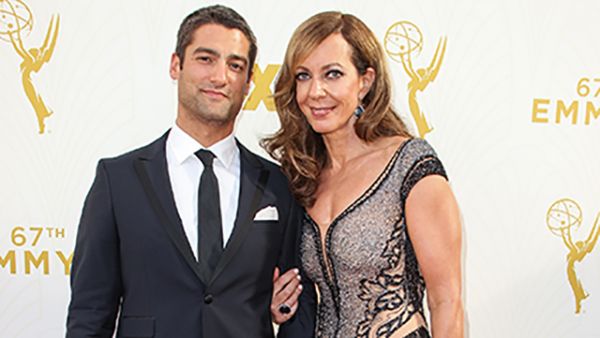 Caption: Allison Janney walked Emmy Awards 2015 with her boyfriend, Philip Joncas. (2015)
Photo Credit: etonline.com
Further, they also appeared at the 2016 Emmy Awards as well.
Back in the past, she has been in several relationships, but she has not married yet. But is she planning to do that anytime sooner? Is Philip Joncas the soon-to-be-husband of Allison Janney?
Well! The couple stays silents on this matter but as they have been dating for two years so maybe soon they will take their relationship to the aisle. Hope they reveal it soon.
Stay with us for more about Allison Janney!