Entertainment
Who Is Allyson Shapiro's Father? College Graduate With 9-5 Job & Famous Parents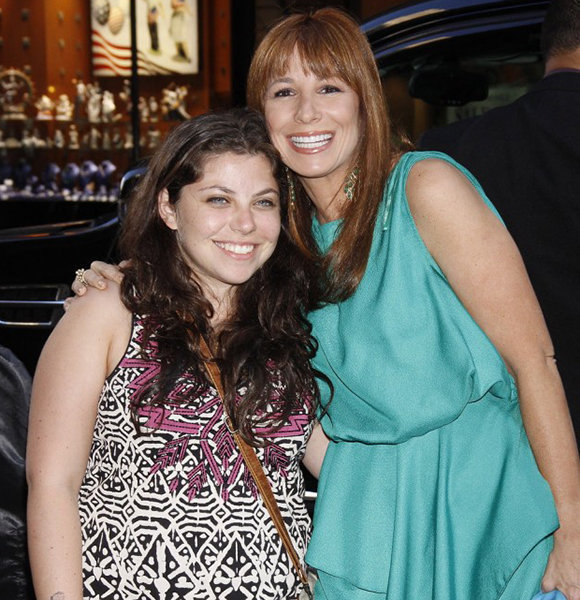 Every father is more than just paying the bills for their child; they look up to their father as role-model while growing up.
Well, the famous daughter of Real Housewives of New York City star Jill Zarin, Allyson Shapiro had two fathers in her life. 
So, let us discover about Allyson's two fathers and the relationship she shared with them along with details ranging from her age to job. 
"Dwarf" Father; Supportive Step-father
Millionaire Matchmaker's reality star, Allyson Shapiro seems to be a lucky soul, who fortunately has two fatherly figures to guide in her life.
Allyson's birth father goes by name Bruce Shapiro, with whom Jill was previously married to. While Bruce kept himself away from the hustle of the media, Allyson's grandmother Gloria Kamen alleged him to be "dwarf" during their embarrassing appearance at the Jewish Federation of Dallas' Women's Event at Night bank on 27 February 2012.
Adding to it, Gloria even shared that she had advised Jill to not tie the wedding knot with him. Well, the reasons for that advice seemed ridiculous during that time but turns out Jill's relationship with Bruce came to an end.
Well, Bruce was not the only father Allyson had!
She had a step-father, Bobby Zarin, whom she looks up to. Jill's second husband, Bobby shared a strong bond with Allyson and became the father figure that she needed.
However, Allyson lost her step-father in January 2018 due to cancer.
She took to Instagram on 15 January 2018 to share her gratitude for her father. Quoting him as the "best step-dad" that anyone could ever ask for, Allyson added that she was fortunate enough to have him throughout her childhood.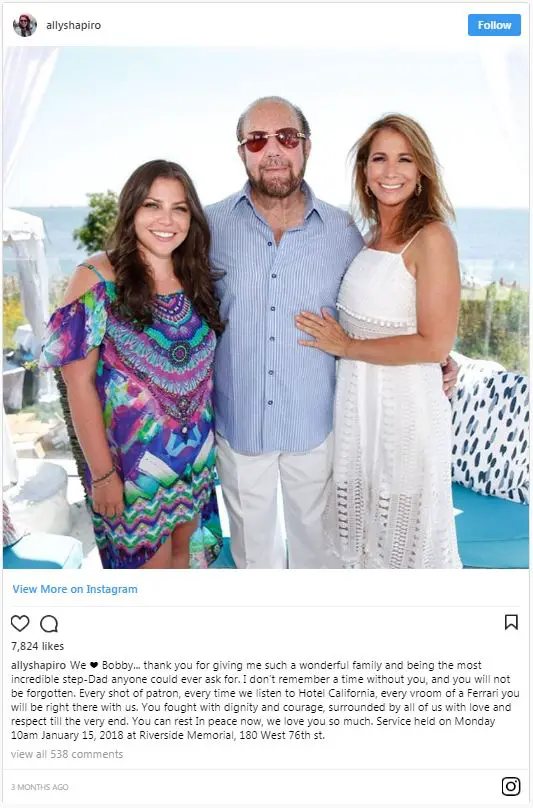 Allyson Shapiro with step-father Bobby Zarin and mother Jill Zarin before Bobby's death (Photo: Allyson Shapiro's Instagram)
Bobby died at the age of 71 and his memorial was held at Riverside Memorial Chapel in New York City.
High School To Job, Weight Loss
Allyson Shapiro, who is at the age of 24, is a college graduate with a degree, working experience, and name for herself in the media. After her high school, Allyson attended Sarah Lawrence. 
Later she transferred to Vanderbilt University from where she graduated with double-major in Film and Sociology in May of 2014. After completing her education, Allyson gained work experience over the years.
She was involved with AOL where she interned as a branded experiences intern and in Heart Magazines as consumer marketing intern. Later in June 2014, she joined the BMF media as a creative strategist for six months. 
After her work in BMF, she landed in Ph.D. worldwide Assistant Analyst where she worked for more than a year. As of now, she holds a job of marketing associate in Douglas Elliman Real Estate.
On the other hand, Allyson who is slightly overweight practiced dieting and detoxing and lost pounds.