Entertainment
Amanda Knox Is Married, Wedding Details, Husband, Net Worth
Amanda Knox became famous, or rather infamous, for being falsely accused of a crime she did not commit. In 2007, she was falsely accused of murdering her roommate, Meredith Kercher, while they were studying abroad in Italy.
Following the accusation, she was convicted in 2009 and spent four years in an Italian prison. However, after a series of court trials, and no hard evidence to support her conviction, she was acquitted of all charges in 2015.
Amanda Knox's Personal Life: Husband
Amanda met her husband, Christopher Robinson, an author, at a book launch in 2015. It was a while after her release from prison, and she had just reviewed a book that he co-wrote for a local magazine.
However, she was engaged to another guy at that time; Amanda and Christopher started dating immediately after her engagement broke off.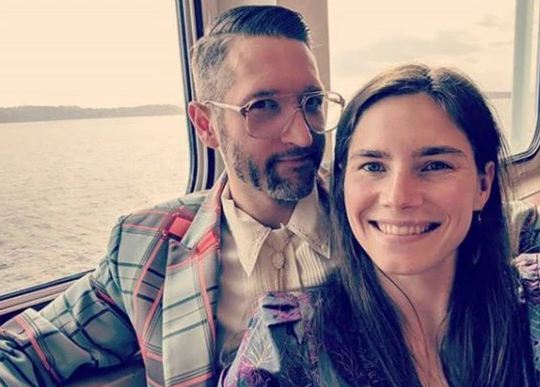 Amanda Knox with her partner Christopher Robinson (Photo:- New York Post)
Then, after three years of dating, the couple got engaged in November of 2018. The couple posted Christopher's alien-themed proposal on YouTube to announce their engagement.
After a couple of days of their engagement, Amanda and Christopher made a marriage application on the 21st of November 2018. And, they tied the knot on the 7th of December that same year, according to The Telegraph and records from King County, Washington.
Another Author:- Tony Robbins Net Worth: Here Is Everything He Owns
However, they had not had their wedding with their loved ones. So, Christopher set up a webpage around August 2019 that allowed people to donate up to $2000 each for their intergalactic-themed wedding.
Following the public funding campaign, the couple got married on the 29th of February 2020. Their wedding was held at the Elk's Lodge in Washington State. Their marriage occurred on a Leap Day.
Past Relationships
Before meeting Christopher, Amanda was in a relationship with Raffaele Sollecito. They dated while she was studying in Perugia, Italy.
They both were found guilty of the murder of Meredith Kercher. He was also the co-defendant in the murder trial of Amanda.
Then, after her release from prison, she got engaged to her childhood sweetheart, Colin Sutherland, in 2015. However, they broke off the engagement shortly after.
Net Worth
Amanda Knox has an estimated net worth of around $200K, according to Celebrity Net Worth.
Contract For Memoir
Amanda signed a $4 million contract to write a memoir titled Waiting to be Heard: A Memoir about her experiences in life.
Bio: Age, Parents
Amanda was born on the 9th of July 1987 in Seattle, Washington, the United States. She is the daughter of Edda Mellas (mother) and Curt Knox (father). Her parents got divorced when she was young, and her mother remarried Chris Mellas.
Podcast Host:- Stefan Molyneux Married Life With Wife, Also His Parents Details
She has a younger sister named Deanna Knox and two step-sisters.
Interesting Facts About Amanda Knox
Amanda graduated from the Seattle Preparatory School in 2005 and went on to study Linguistics at the University of Washington. Then, after a visit to Italy when she was 15, she wanted to study linguistics there. Therefore, in 2007, she moved to Italy to do a one-year course there.

She now hosts The Scarlet Letter Reports and a podcast named The Truth About True Crime​​​​​​​.

She has become a subject of various books and documentaries such as The Fatal Gift of Beauty: The Trials of Amanda Knox and Honour Bound: My Journey to Hell and Back with Amanda Knox.

A Netflix documentary named Amanda Knox has been made based on her life experiences.