Entertainment
Amanda Knox Is Married, Wedding Details, Husband, Net Worth
Amanda Knox is a victim of false allegations for a murder...is now a married woman...their wedding took place at the Elk's Lodge in Washington...her husband's name is Christopher Robinson, who is a writer...was engaged to Colin Sutherland when she met Christopher for the first time...has a net worth of around $200K...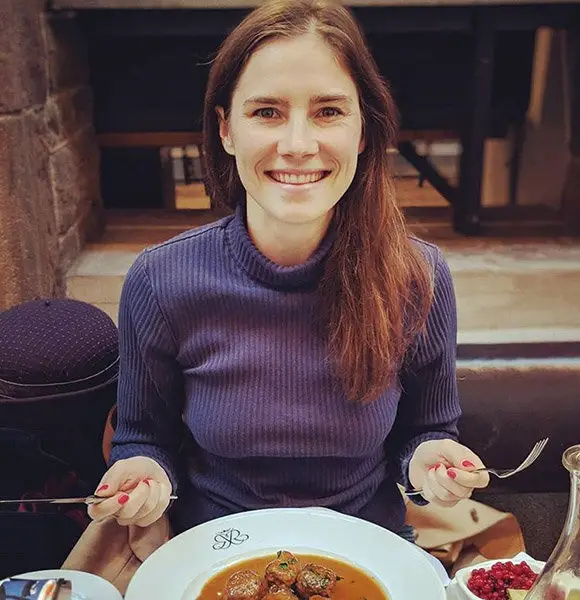 Amanda Marie Knox, mostly known as Amanda Knox, has one of the most saddening life stories. The case of Amanda Knox might be thrilling for some, but it hits close to home for those who have been wrongfully convicted of crimes that they never committed.
Burden Of A Crime Never Committed
Knox, age 20 at that time, was in Italy, living with her roommate, Meredith Kercher. On a day as usual, as it could have been, Knox was hit with an incident that would go on to change her life forever.
Knox and her then-boyfriend, Raffaele Sollecito, found Knox's British roommate with several knife wounds lying dead. Upon reporting to the police, it took no time for the case to spread like wildfire and soon become a global headline.
Eventually, Knox and her then-boyfriend were taken into custody as prime suspects of the murder.
When Twitter was starting to catch up with the Popularity of Facebook, the case got Amanda's name trending on Twitter and all major social media platforms.
After the investigation, the pair were accused of murder, found guilty, and were sentenced to prison. However, after spending close to four years in prison, people wondered if the justice was rightfully served, enabling the case to be restudied.
Upon which in 2011, Knox and Sollecito were set free. Knox, after getting released, came back to America, tried living a normal life, and was resuming her college degree.
But the nightmare did not end for Knoxin as in 2013, the case was again reopened, and another court trial was appealed. Thankfully, the trial was overturned by the Court of Cassation, Italy. However, the more exposure the case got, the more it was tough for Knox to prove her innocence.
In the back and forth Justice war, Amanda was once again inside the court's walls in 2014 after she and Sollecito were again found guilty of the murder in 2014.  Sollecito was sentenced to a 25-year sentence, and Knox was sentenced to 28.5 years.
The verdict never sat right for many; as a result, protests were happening in the US, and Political affairs led the case to be reponed a. Finally, the high-profile case was overturned by The Supreme Court of Italy in 2015. 
The case consisted of another guilty, named Rudy Guede, an even bigger suspect than Knox, as his DNA samples were found during the murder investigation.
Guede was later found guilty and sentenced to 16 years in prison in 2008. But after serving a little over a decade in prison, Guede was released in 2017. 
The nightmare still haunts Knox to this day, and speaking up on Guedes release, she said,
"I am the one who has been condemned to live with his infamy… And while I can't say that I wish him suffering or imprisonment, I do wish that he had been fully held accountable for what he did and that he acknowledged what he did, and I don't know if that will ever happen"
She also goes on to add how people know her name because she has a high-profile case attached to her-
The only reason you know I exist is because [of] what he did, and that is a grave injustice.
The nightmare now seems to have ended for the 34 years old as she and Sollecito were exonerated from the case in 2015.
Knox now seems to have started a new life with her husband, and she is also an active speaker on criminal justice.
Light After The Dark 
The shocking murder trial had painted Knox as a criminal, and wherever she went, she used to garner attention and lots of paparazzi.
Even after being proven innocent, Amanda was always followed by people and media everywhere she went.
However, Amanda eventually found someone who cared for her more than the news attached to her, Christopher Robinson. His existence in Knox's life only came to light in 2015 when she reviewed his book for a local magazine. 
Robinson and Knox got married after three years of dating. The proposal was recorded on YouTube for the world to see, and it is an amazing event to witness.
The writer wed his beautiful wide legally in November 2018, and they are in a happy marriage for about 4 years now.
While the world saw Knox as not more than a thrilling story that would make them millions, Robinson, on the other hand, accepted her past and vowed to support her through her worst nightmares.
Robinson, the co-author of two novels, War of the Encyclopaedists and Delivers Us, is now an active speaker on "The Truth About True Crime With Amanda Knox" podcast alongside his wife, Knox.
Another Author:- Tony Robbins Net Worth: Here Is Everything He Owns
The husband and wife duo talk about their experiences with Knox's case and all the other true crime cases with a history like Knox's. The duo also gives a new perspective on the gruesome crime stories and makes listeners view crime stories with a new lens. 
The pair doesn't share any children, but they have a little fur baby, their cat named Pan, that the pair are absolutely fond of.
The two seem to be living their best life together. Seeing Knox getting all the love and sharing her happiness with her well-wishers makes her look into life with a whole different perspective.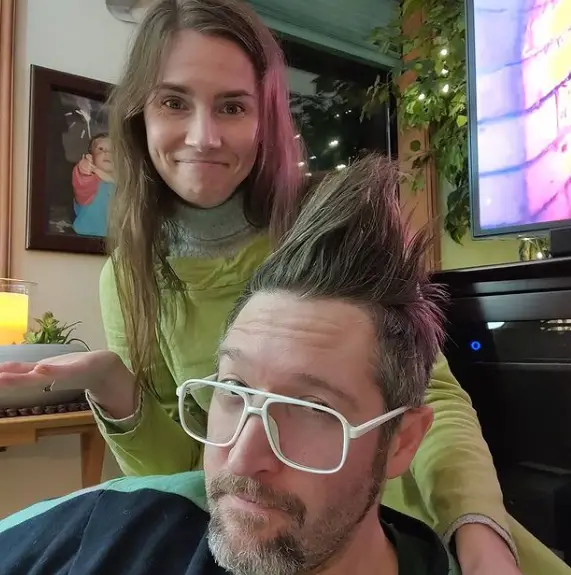 Amand Styling Christopher's Hair (Source Instagram)
Even with such a dark past attached to her, she seems to now have forgotten and forsaken everything and now radiates nothing but positivity and happiness. 
But even after 6 years of the conviction being exonerated, she still has to bear the ruthlessness of trolls and media.
Podcast Host:- Stefan Molyneux Married Life With Wife, Also His Parents Details
Struggling with Tarnished Image
Taking to Twitter, Knox shared how she is still a victim of trolls after being wrongfully convicted for 4 years in prison. A series of tweets she shared shows her being trolled, shamed, and defamed daily.
She shares how she still bears the reputational damage that the case did to her and gives the viewers a taste of what she has to go through every day.
But after having so many years of beautiful life moments taken away from her, Knox now takes the conviction as a gift; on a recent thread of  tweet shared on her Twitter, she wrote,

Amanda Tweets Seeing Positives Amongst All The Trolls (Source Twitter)

Well, if anything, the 34-year old seems to have only moved forward in life and have been providing well for herself. Though money could never compensate for her tarnished image, In 2019, she was compensated 18,400 Euros, which is about 20,000 dollars.
She now works as a Journalist and has decided to devote her time to write and provide justice for the wrongfully accused. Additionally, she is the author of her book Waiting to be heard. 
Amanda Knox has changed her life full 180 after the end of her nightmare. She is now a Journalist, Activist, Speaker, and Writer.
She has taken up a venture that would provide justice for those whose voices are rarely heard.
She has changed the negatives into positives with all she has endured in life and now has an accumulated net worth of around $500,000.