Tony Robbins is a motivational speaker, author, and entrepreneur known for his books such as...has a net worth of around $600 million according to Celebrity Net Worth...sources of his wealth are his investments, book sales, speech fees, and seminars and programs...his bio is given below...stands at a height of 6 feet 7 inches...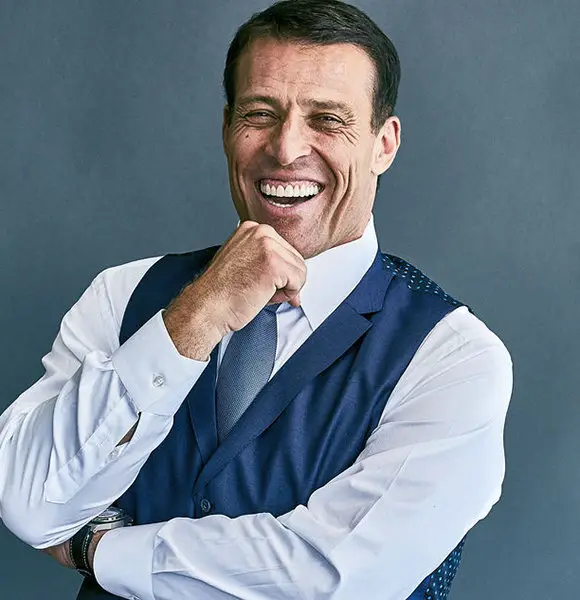 Tony Robbins is a New York Times best-selling author and motivational speaker. He is also involved in the entrepreneurial sector as the chairman of seven privately-held companies and five holding companies that are from various facets of the market.
Tony is also a strategist. He has worked with various top businessmen in the past to create business strategies for the success of their companies, as well as their personal life.
Tony's Net Worth
Tony Robbins owns an estimated net worth of around $600 million according to Celebrity Net Worth.
Sources Of Wealth
Books
Tony is a well-known author. He has published five self-help books to date, with some of them even being the New York Times #1 best-seller.
Another Well-Known Author:- Giovanna Fletcher Husband, Kids, Net Worth, Brother & More
Some of his most well-known books are MONEY Master the Game: 7 Simple Steps to Financial Freedom (published on the 18th of November 2014), Unshakeable: Your Financial Freedom Playbook (published on the 28th of February 2017), and Awaken The Giant Within (published in 1991).
Speeches
Tony is a high-in-demand motivational speaker. He earns up to $300 thousand for one speech according to Money Inc.
Programs
He runs various programs related to motivation and entrepreneurship. His program, Unleash the Power Within, earns him $$9 million annually. Similarly, his other life-mastery program takes $10 thousand from 2,000 people for their participation.
Investments
Tony owns over 30 companies in more than 100 countries around the world. He also owns a resort named Namale Resort & Spa in the Fiji Islands.
Online Store
The motivational speaker also runs an online store. The store has products such as apparel with quotes from himself, mobile apps related to self-help and health, and health products like nutrient supplements, not to mention, audiobooks, videos, and hard copies of his books.
Properties: House And Vehicles
Tony owns a six-bedroom waterfront house at Manalapan in 2013 for $24.75 million. He also listed his house at La Quinta, California, for sale in 2016 for $4 million.
Entrepreneur You May Know:- Billionaire Dustin Moskovitzh Bio, Personal Life & Career Info
As for vehicles, the author owns a private jet, a Rolls Royce, and a Range Rover.
Philanthropy
Tony is the founder of Anthony Robbins Foundation, a non-profit organization that helps feed more than two million people in 56 countries through their International Basket Brigade.
Short Personal Life: Wife
Tony met Sage Robbins, while she was working at one of his seminars. They got married in 2001.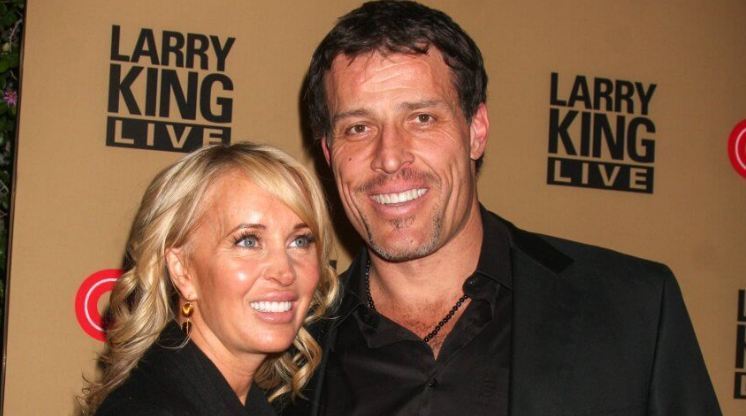 Tony Robbins with wife Sage Robbins (Photo: Shutterstock)
Before Sage, he was involved with Liz Acosta, with whom he had a baby. Then, he married Becky Robbins, and after separation with Becky, went on to marry Bonnie Humphrey.
Bio And Facts About Tony Robbins: Height, Full Name
Tony was born on the 29th of February 1960 in North Hollywood, California, the United States.
He stands at a height of 6 feet 7 inches or 2 meters.
His full name is Anthony J. Mahavoric.