Entertainment
Amber Theoharis, Mother of 3 Children, On Being Pregnant, Baby? Married Life and Husband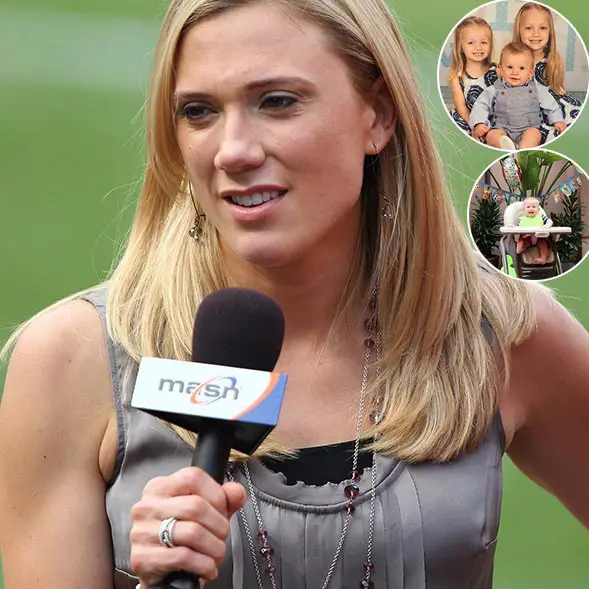 Amber Theoharis, Mother of 3 Children, On Being Pregnant, Baby? Married Life and Husband
Entertainment
If you've watched "NFL: Total Access", you probably know about Amber Theoharis. She is a co-host on "NFL Total Access" on the NFL Network.
For all the independent women seeking advice on how to manipulate career with motherhood and household, here's NFL Network anchor Amber Theoharis, who recently gave birth of her third child.
Nearly Three years ago Theoharis nearly gave birth to her second child, Kamryn Olivia, and that on the set of NFL Total Access. There's also a story behind the delivery of her first child, Dylan Mattea.
Is She Married? Who is her Husband? Also Children:
Amber Theoharis is married to Todd Buchler and together they have two daughters and a son.
Personal and professional mix up !
While Amber was working as the Orioles sideline reporter for the Mid-Atlantic Sports Network in late August 2010, she started feeling stages of labor pains when covering the team in Chicago.
She was then scheduled to fly with the Orioles to Anaheim after the White Sox series but after consulting with the Orioles' trainer, she then decided to fly to Baltimore to consult her doctor.
And then she received the news: She was in preterm labor—at a way-too-early 24 weeks. The paramedics were called all in all and she was taken to Anne Arundel Medical Center on Sept. 1.
"When I was pregnant working the baseball beat, the toughest part was the travel, being at the hot ballpark and still trying to walk around to get interviews done. Now I think the biggest challenge is fatigue because I have two small children. You are trying to do everything a stay-at-home mom would do when you are home and also trying to keep your career going, which you are still just passionate about. Also, being a studio host—and I know this might sound petty—it's finding something that fits you and finding different camera angles. I'm standing up with 300-pound guys and you feel you weigh 400 pounds. You are standing in heels and your balance is off."

Theoharis said about being pregnant and working on-air.
Theoharis also said the NFL Network has had been supportive throughout her pregnancy period and also treated her as they would any other employee.
"I knew I couldn't be a beat reporter for a team and travel with a baby," said Theoharis." I made a personal decision in order to pursue my career and be a Mom. Everyone told me when I was pregnant with my first child, 'Oh, you are going to change and once you put that baby in your arms your dreams will not be the same.'
Well, they put that baby in my arms and I love that baby to death but if anything, I wanted to keep continuing with my career because I had a daughter and I wanted her to see that your dreams don't end the day you have a baby." Amber stated as she continued her career despite her three children.
Her exact figure in salary is unknown although she is a co-host on "NFL Total Access" on the NFL Network.
Her Son's Birthday:
She also celebrated her son's birthday recently as she posted a photo on her Instagram.
Amber's Short Bio:
Amber Theoharis (born September 13, 1978) is a co-host for NFL Network on NFL Total Access. In 1996, Theoharis graduated from Middletown High School (Maryland) and of the University of Maryland.
After that, she started her media career in Salisbury, Maryland at WBOC news. In prior to 2007, Theoharis joined MASN as a reporter. But left MASN in September of 2012 only to work for NFL Network on NFL Total Access.