Entertainment
Ami Brown From Alaskan Bush People Struggles With Health! Her Cancer Fumbling With Personal Life?
It is always a heartbreaking moment when someone close to us suffers from any disease. Similarly, it struck many fans and closed ones of Ami Brown, when news of her being diagnosed with cancer was all over the tabloids in June 2017.
The 'Alaskan Bush People' reality TV star Ami was confirmed to have a lung cancer, but how is the Brown family keeping up with the illness? And what impact is it making in her personal life? Let's break it down. 
A Tragedy for Ami and her family
On June 2017, an episode of 'Alaskan Bush People' showed that Ami's health was in fatal condition and she underwent many tests. Soon, a mass was found in her lungs that demanded her to undergo a biopsy. 
Her husband Billy Brown revealed in an episode of ABP that she was ill since a long time. He spoke, 
"Ami started getting sick months ago and we didn't know what it was, but it changed from the point of 'something's wrong' to 'something's wrong,"
After her biopsy results, Billy said,
"Not good. Not good at all. In one way, I can say that everything in my life has prepared me for this moment. In another way, nothing can."
The Brown family didn't know what the issue was, but they were devastated after knowing it was cancer. The youngest daughter among seven children of the Brown family, Rain(15), revealed how she felt about her mother having cancer. She divulged,
"I don't care who you are. I don't care what you've been through. I don't care how old you are. If you hear that your mother has cancer, it's going to shock you,"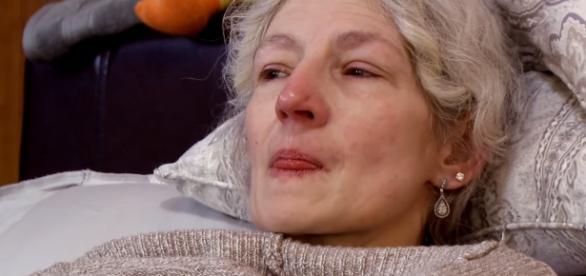 Caption: Ami Brown hospitalized after being diagnosed with lung cancer in June 2017. 
Photo Credit: us.blastingnews.com 
Lung cancer usually is a result of smoking, and sources claim that Ami used to smoke Marlboro Reds. Her smoking habit ultimately caused her a stage 4 lung cancer.
Ami expresses that she is in a lot of pain and losing excessive weight. However, Ami is trying to stay positive about her illness and believes she can survive cancer. She expressed,
 "Sinking boats we've survived — with babies. I can handle [this]. I'm tough."
Despite being in a lot of difficulties herself, Ami is still more concerned about her family's health. She encouraged her family not to worry in an emotional episode of the Discovery Channel Series 'ABP,'
"Bill and the kids are very loving and supportive. They're all worried. I tell them, don't worry. Please don't worry. Be happy … keep the faith. Good or bad, it's God's will and we'll walk that road. There's a lot for the kids to experience. I want to be there. I want to hold their babies. I want to hear them laughing … I want to see their eyes wide with enthusiasm as they experience these new things". 
Caption: Brown family in crisis after Ami got diagnosed with lung cancer. (Published on June 25, 2017) 
On the latest episode of 'ABP,' the Brown family revealed doctor's treatment plan for Ami. It consists of radiation therapy five times every week for six weeks and every week a chemotherapy of four hours duration through an IV.
And if Ami loses five more pounds from her current weight, 94 lbs, she will have to be kept with a feeding tube. Reports say that she is getting her treatment in Los Angeles, but it is yet to be confirmed.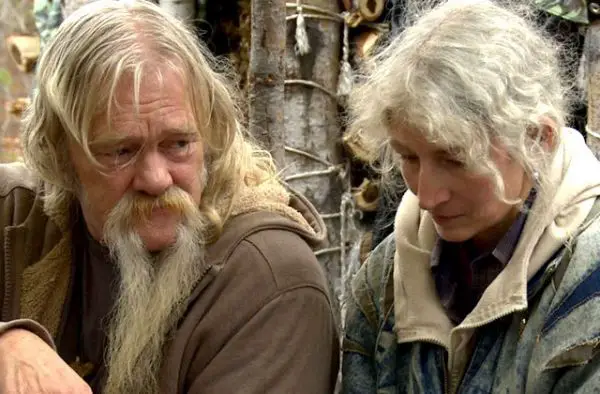 Caption: Billy Brown and his wife Ami Brown pictured together during an episode of Alaskan Bush People. 
Photo Source: radaronline.com
Recently this August, Ami was restrained to a wheelchair, and sadly, rumors have it that she may not have a lot of time left. 
Meanwhile, not only her but also her son Matt, 34, was reported to have suffered injuries on his head and was hospitalized in June.
In an episode of 'ABP,' his head was bleeding excessively due to an explosion that occurred in Browntown. 
Caption: Matthew Brown, son of Ami Brown, is suffering an injury after an explosion hit on Browntown. (Published on July 31, 2017)
We wish both Ami and Matt for their speedy recovery!
Short Wiki-Like Bio of Ami Brown 
Best known for living in the wilderness and starring in a Discovery Channel Series  'Alaskan Bush People,', Amora Lee Branson Brown, also known as Ami Brown was born on August 28, 1964, in Texas.
The series includes her and her family living a rough lifestyle in the wild. She married Billy Brown when she was just 15 years old and then did not keep contact with her family for 36 years.
They share seven children together, sons, Matthew (34), Joshua (33), Soloman (30), Gabriel (28), Noah (24) and daughters, Snowbird (23) and Rain (15). She and her husband raised their kids in the wild for nine months, before they were approached for 'ABP.' 
With such an entertaining show, Ami might have gained decent earning. However, she is yet to reveal her net worth in exact figures. 
Stay with us for further updates on Ami Brown!