Entertainment
Andrea McLean Found Life Changing Love With Boyfriend After Unsuccessful Affairs With Previous Husbands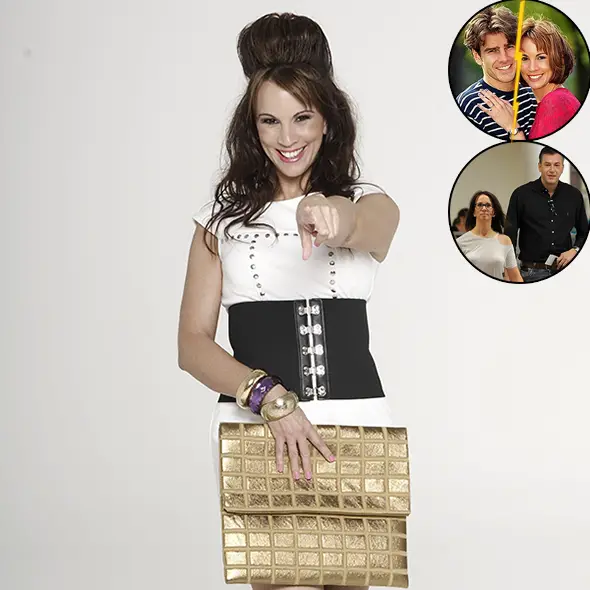 Andrea McLean Found Life Changing Love With Boyfriend After Unsuccessful Affairs With Previous Husbands
Entertainment
Finding love after multiple heartbreaks is not something easy as the trust levels drastically changes with multiple misplacing, for instance, we can look at the personal life of Kimberly Guilfoyle who, even after three failed marriage, couldn't find love. 
However, Andrea McLean, in this case, is an exception because she finally got hold of her perfect love story after multiple failed relationships.
Brewing Romance Getting Stronger With Time!
Andrea McLean, a 47 years old TV presenter, is currently loaded with happiness with her new beau Nick Feeney, a businessman. The couple started their love story in 2014 after meeting on a blind date. Their relationship came out to the public after both of them were pictured together while in a vacation to Antigua in April of 2015.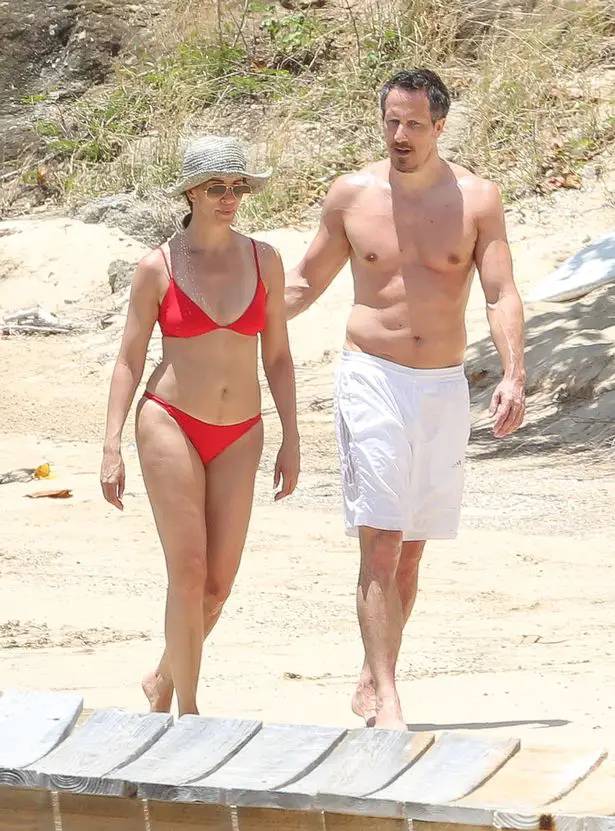 Caption: Andrea McLean and her boyfriend, Nick Feeney on vacation to Antigua in April of 2015.
Photo Credit: mirror.co.uk
The blind date was set up by a Loose Woman make-up artist, and after years of dating, the couple is now inseparable. The bliss that Andrea has in her tummy right now was not always there because she had a pretty heartbreaking love life before she met Nick.
A series of failed relationships!
Prior having Nick as her boyfriend, Andre was a married woman; a woman who was married twice. Her first marriage was with her boyfriend from school, Nick Green with whom she got married in 2000, after 12 years of dating. 
After a year, Andrea and Green welcomed a baby boy Finlay John in October of 2001. However, after staying married for five years, she got divorced with her husband in 2005, ending her 17 years of relationship with no official statements.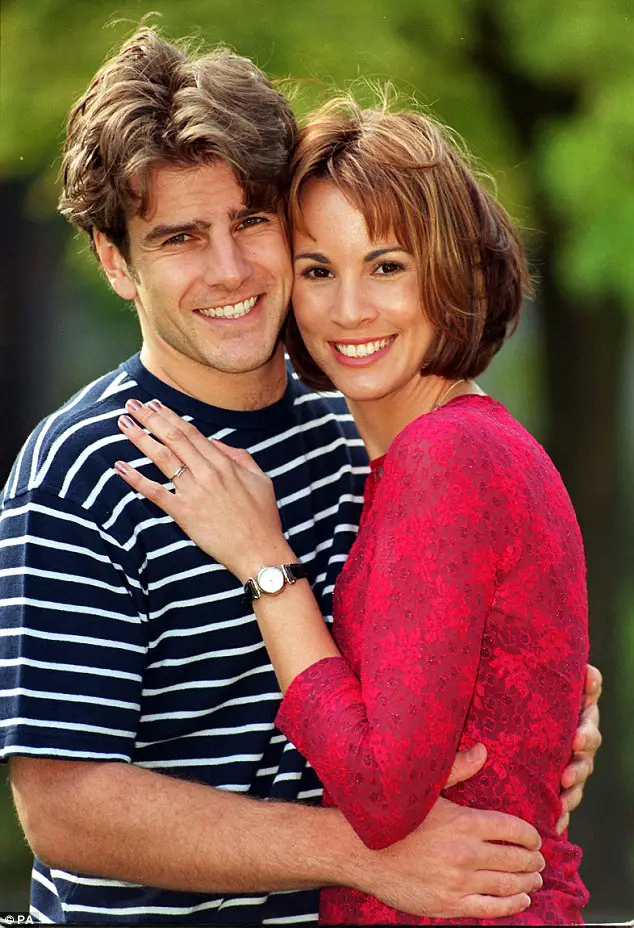 Caption: Andrea McLean with her teenage love ex-husband Nick Green.
Photo Credit: dailymail.co.uk
Moving on from her failed relationship with ex-husband, Andrea started living with her then-partner, Steve Tom. Steve was a builder by profession and the couple became pregnant with a baby and welcomed a daughter Amy in November of 2006.
Years after living together, Andrea and Tom finally decided to turn their affair into a marriage bond and tied the knot in August of 2009. After a couple of years, Andrea came back to the very point where she started from. In December of 2011, Andrea left her marital home with daughter followed by announcing separation in January of 2012.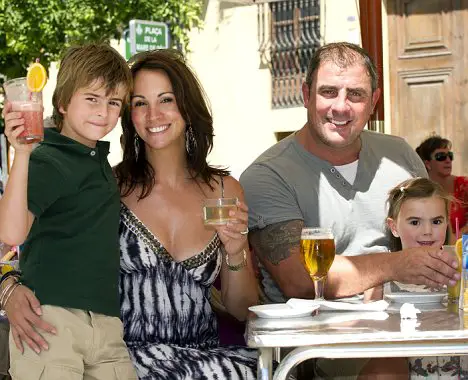 Caption: Andrea McLean with her ex-husband Steve Tom, accompanied by her two children.
Photo Credit: dailymail.co.uk
This time, her split with husband Steve left her brittle and devastated; so devastated that she thought she couldn't love anyone anymore. She said,
'The break-up of my second marriage was so painful I struggled to bring myself back from the brink. I decided I wasn't going to bother with men anymore. When you get divorced, you feel scared and vulnerable, and you don't want to get hurt again. No one gets married thinking it isn't going to last forever.'
A boyfriend after heartbreak!
After her split with boyfriend, she became terrified even with the thought of dating and that she enjoyed being single. She said;
'Thinking about dating is daunting, and I'm nowhere near ready to start another relationship after feeling so hurt by my marriage breakdown, but I'm enjoying being single.'
However, after about two years of staying isolated from love, Andrea was spotted with a mystery man at the airport, all ready for a little gateway. The man was not identified, but he sure was handsome. She said,
'It's been the hardest year of my life, but I am dating. It's scary because I've never done it before, I met my first husband at school! I've had a couple of dates now with the same person.'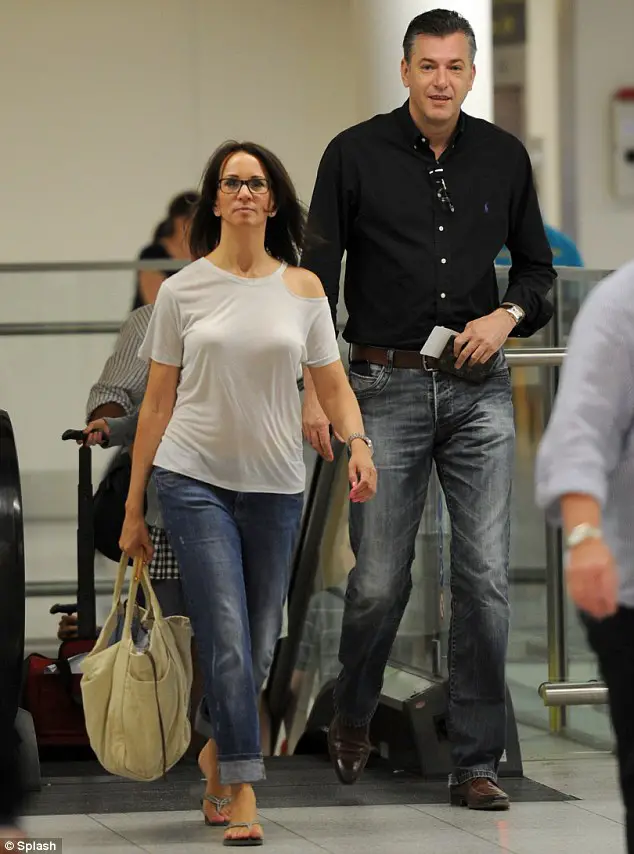 Caption: Andrea McLean with her then mysterious boyfriend at the airport in 2013.
Photo Credit: dailymail.com.uk
Andrea and her mystery boyfriend were not seen together afterward, and that might be because of her discovery of life-changing love with Nick Feeney.
The Love that changed her life!
Since Andrea caught up with Nick, things have not been the same. She is happier and more positive towards life. Luckily, she explained why she's so happy these days.
In an interview with Hello Magazine, Andrea revealed how she and Nick make a perfect couple as she said,
"It's been a revelation to him, too. And because we make each other so happy, it's changed our lives. So many people have commented on how much more positive I've become since I met him. Thanks to Nick, I'm no longer looking backward, I'm looking forwards."
The woman who was once terrified even with the thought of dating someone is now in the arms of Nick, who embraces her for who she is and the reason is simple. Just as Andrea had a failed relationship clinging to her past, Nick has the past where he had a wife and two children.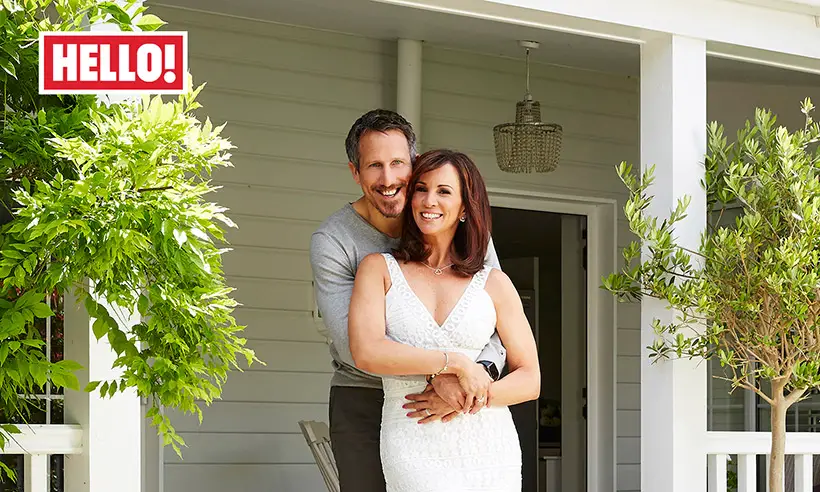 Caption: A loving hug from Nick to his partner in crime Andrea.
Photo Credit: hellomagazine.com
Nick previously had a wife of two years and also shared two children; however, they got separated, but his failure in married life must be a contributing factor to his similarities with Andrea. 
The couple who has already introduced each other to their respective families were completely honest with each other on their first date. Andrea was honest about everything and told everything truth about her past, where she said;
"After a few drinks, we were getting on so well, and as we relaxed in each other's company, I told him everything about my life, all the ups and the downs and the poor guy sat there in shock. My thinking was that he could go home, Google my name on the Internet and find all kinds of inaccurate nonsense; I wanted him to hear the truth from me first."
And Nick, on the other hand, swore not to ever Google her name for any information, he said;
"I vowed never to Google her name and I never have. If I have a question, I just ask her directly." 
In thoughts of getting married again?
In early 2016, news hit the media that Andrea and Nick started living together. In an interview, Andrea revealed,
"Nick's moved in with me, and it's going really well. He moved in with stealth. He got a bathroom shelf, then I gave him a drawer, and then he came home, and I had cleared out half my wardrobe. He looked at me, and I told him, 'You can leave some more things if you want.' And that was it – he was here."
In talks, Andrea also revealed that she did not stand by her words of not getting married again, at least not while she is with Nick. She said,
"For a long time, I said never again to marriage but now I wouldn't say that. Although definitely not right now. Things are so nice I don't want to change a thing."
After moving in together officially as partners, Andrea and Nick appeared together in the All Mr & Mrs show on October 12 of 2016, becoming the first couple of the night.
Andrea's kids love Nick and her son actually prefer having a man to talk around in the house, and Andrea revealed that she had one of the most beautiful Christmas in years with Nick and her whole family at her home.