Entertainment
Anna Elisabet Eberstein, 39, Married Hugh Grant, 57, In Low-Key Wedding, Five Children
Swedish Retail executive Anna Elisabet Eberstein, the director of Ace&Me slipper and socks, married one of her best friends at the Chelsea Register Office in London in the last week of May 2018. The Sweden native had previously announced the wedding news just five days ago.
Elisabeth's marriage with one of the most sought bachelors, Hugh Grant, came as a surprise to many in the wake of his previous comments about marriage and settling down. They got married just months after welcoming their third child.
The couple, who celebrate their respective birthday in September, shares a strong connection despite having the age difference of 18 years.
First Met To-Be-Boyfriend At Bar; Three Children With Him
The freelance entrepreneur/producer and Hugh met for the first time in 2011 at a bar in London and had been dating since then. The pair has three children together, and the famous English producer has two children of his own from his past relationship. He graced the fatherhood of three children between 2011 and 2012 in the space of 15 months from two relationships.
In September 2011, news surfaced that the actor had become a father, not with Anna but with a Chinese restaurant receptionist named Tinglan Hong. Later, the actor's representative confirmed that he was the father to Tinglan's daughter, Tabitha Xiao Xi. As per Tabloids, Tinglan and Hugh had a fleeting relationship back then.
A year later, in 2012, Anna gave birth to their first child, a son named John. Again in the same year, Hugh became a father for the third time in December 2012 -this time again with Hong - a son named Felix Chang was born.
Fans turned furious about the news since he was dating Anna at the time his third child was born from Tinglan. Back then, there were also rumors about Hugh and Anna's possible break-up. However, the break-up rumors turned out to be shortlived.
In 2015, the duo gave birth to their second child, a daughter from their union. Furthermore, Anna and Hugh became parents for the third time in March 2018 with another kid. Eberstein was previously seen with her pregnancy bump at the Golden Globes award in January 2018.
Low-Key Wedding With Bestfriend
On 25 May 2018, the lovebirds shared the holy kiss and got married at the Chelsea Register Office in the presence of close friends and family. They chose the wedding venue since it was near to their West London home. The wedding ceremony was held shortly after 4 p.m.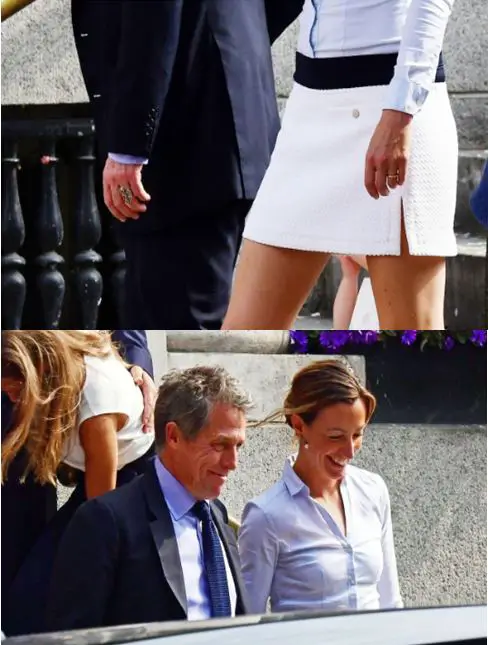 Anna Eberstein & Hugh Grant smile at their wedding on 25 May 2018 (Photo: Telegraph)
The bride featured a crisped skirt along with along with a blue shirt and espadrilles. On the other hand, the groom rocked a stylish navy suit at the wedding ceremony. The pair sported a gold-silver combo for their wedding rings - the bride wore a simple gold wedding ring whereas the groom was seen featuring a large silver wedding ring with three stones.
At the low-key wedding, the presentee looked jovial as they stepped outside the venue after the ceremony wrapped up. Anna's parents as well as two brothers, and Grant's father and brother including their two elder children were present at the ceremony.
Past Relationships: Commitment Issues
Back in March 2018, his ex-girlfriend, actress Liz Hurley, also a family friend to Anna, told that fatherhood changed the hunk for good, appearing on the show, Watch What Happens Live with Andy Cohen.
Hugh and Liz were previously known for dating each other for 13 years from 1987 to 2000. The pair couldn't take their relationship to the aisle even after dating each other for such a long period.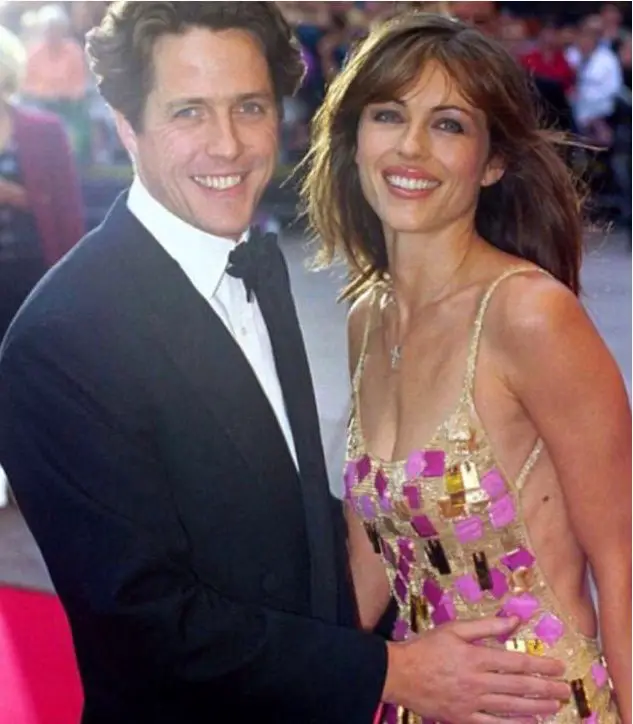 Anna Elisabet Eberstein's husband Hugh Grant poses with his then-girlfriend Liz Hurley (Photo: Dailymail.co.uk)
Hugh, who stands at the height of 1.80 meters (5 ft and 11 inches), has always been in the limelight because of his dating life. One of the most sought-after bachelors in the UK, Hugh has always stirred controversy when talking about marriage.
In 2016, appearing on The Howard Stern radio show, the actor had made a remarkable statement about marriage, quipping that he was not someone who could spend 40 years of his life tied to another. The actor had said,
"Do I think humans are meant to be in 40-year-long faithful relationships? No, No, No............ "I think there's something unromantic about marriage. You're closing yourself off."
Well, the 57-year-old actor at least knows a thing-or-two about commitments - he knows he must keep the flare of romance alive with the mother of his three children.