Entertainment
Andy Cohen Along With Gay Activists Raising Voices: Dating With Journalist Partner
You may be amazed to hear about the show host Andy Cohen walking in the movement of Gay activists and raising voice with them.
Well, this act has definitely amazed his followers and might have even left them clueless about his relationship status and sexual orientation. So dears, for now, let's get hold of this handsome television personality and pull out a few secrets of him.
Dating Journalist Partner?
Well, the star is gay, and hence, the rumor of Andy Cohen dating Anderson Cooper has been swarming across the page six papers. Both the stars have been accused of getting involved with one another during their tour of AC2 Live: "Deep Talk and Shallow Lies".
However, the 50 years old host, Cohen denies the story of romance spread in media and states Anderson to be his best friend. He also has stated about the blind date set up by his friends with Anderson 20 years back and how they became good friends after that. As published by Zapit on 3rd June 2016, he stated:
"We were set up by friends 20 years ago, and had a phone conversation. Nothing really grew of it, but we became friends.I Imagined him gesticulating a lot. Within a few minutes, I knew we'd never date."
Cohen with Anderson in the tour of AC2:
Well, the star has cleared the ongoing romance rumor of him and Anderson, so the star is reported to be single as no official announcement has been made by him regarding dating any other man or getting married or about being a husband or about having a wife. Thus, this may be a sort of good news for his male fan followers who have been eyeing him for a long time.
However, Andy may be single at the moment but he is definitely not lonely. In fact, the talk-show host has already started a family of his own. Back in December 2018, Andy announced that he was set to become a single father through surrogacy.
The anchor has mentioned the news during an episode of his show "Watch What Happens Live," which was attended by five original cast members of the reality series, Real Housewives. At the time, Andy revealed his child was a baby boy but didn't state the name he was planning on giving to his kid.
Baby Bliss:- Anthony D'Amico Welcomes Baby Girl With Wife Ashley Petta
Andy finally became a father earlier in February 2019 and he is loving it. The anchor has named his son Benjamin Allen Cohen but hasn't yet revealed the identity of his child's surrogate mother which is probably due to privacy concerns.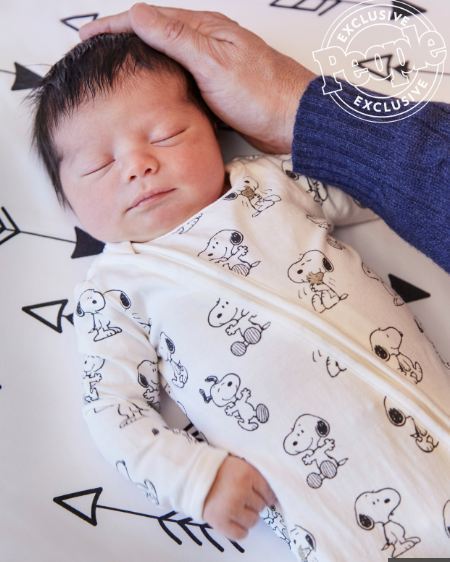 Young Benjamin Allen Cohen rests as his father Andy gently taps on his head (Photo: People.com)
While Andy is having the time of his life with his son, he has also realized his responsibilities as a father and is ready to sacrifice everything to keep the young child smiling.
Dating History Of The Host
Well, the star has accepted about being in a relationship with 2 and a half people. He has also stated about his three years long relationship which was really serious and had left him battered after the breakup. As published on 17th March 2016 in Inquisitr, Andy Cohen, and his Havard boyfriend Clifton Dassuncao split off from their relationship.
The relationship came to halt when the TV host alleged his former boyfriend for using him for fame and name. The host dumped his young boyfriend when his young mate expressed his interest in attending an event with Cohen and Sarah Jessica Parker. As disclosed by a source, he said:
"His boyfriend wanted to attend the MET ball with Andy and Sarah Jessica Parker and that was the last straw."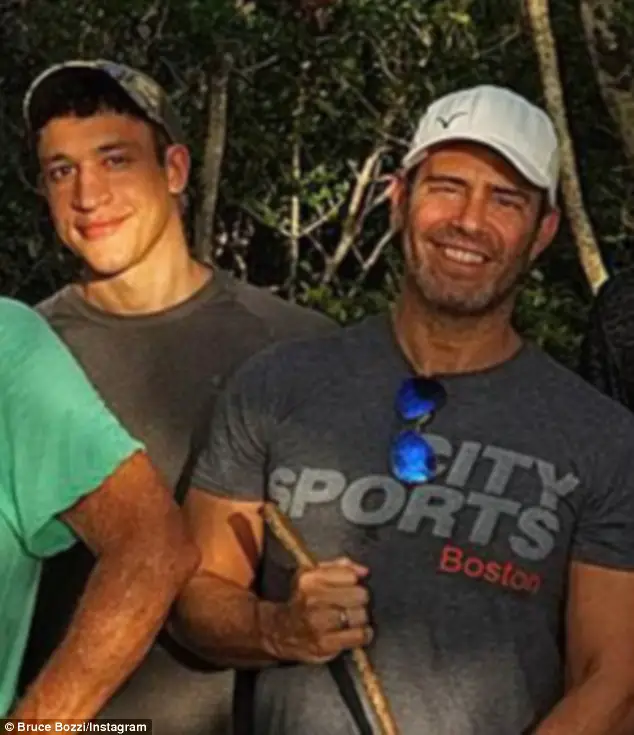 Andy Cohen in left with his 28-year-old boyfriend from Havard Clifton Dassuncao(2016) (Source: dailymail.co.uk)
Divorce Reason Revealed:- Here's Why Wanda Hutchins Age 45 & Ex-Husband Michael Strahan Divorced
However, some source states the reason for break up is the desire to keep the relationship hidden, as the television host has no desire of sharing his stardom with any second person. 
Short Bio of Andy Cohen:
Andy Cohen was born on 2nd June 1968 in St. Louis, Missouri. He graduated from Boston University with a degree in broadcast journalism. He has an estimated net worth of $15 million, whereas he has a salary of $2 million p.a. His first job was as an intern in the CBS News.
Later on, he became the senior producer for the CBS "Early Show". In the year 2000, he left CBS to become VP for the programming channel Trio. In the year 2004, he joined Bravo. Andy is the blogger, show host, writer, and television executive. In the year 2012, he released his book" The Most Talkative: Stories from the front lines of pop culture". He also hosts the weekly show "Watch What Happens Live."
On 22nd March 2014, he also appeared in the music video of Lady Gaga named "G.U.Y" for her third album Artpop. Cohen currently has his own radio channel on SiriusXM called "RadioAndy." He has also partnered with Anderson Cooper on the national tour AC2. He has also achieved Emmy Awards 2010, as Executive Producer of Outstanding Competitive Reality Series Top Chef.
In the year 2004, he received Peabody Award as producer executive of the Trio documentary. In the year 2012, he received the title of as 25 Best Dress Men of The Year.