Entertainment
Who Is Antonio Banderas Wife? Facts On Girlfriend, Children
Antonio Banderas is one of the most recognizable Spanish actors in the world...has worked in many Spanish and English movies... was married to two wives before involvement with his current girlfriend...has one daughter from his second marriage...is dating a woman named Nicole Kimpel...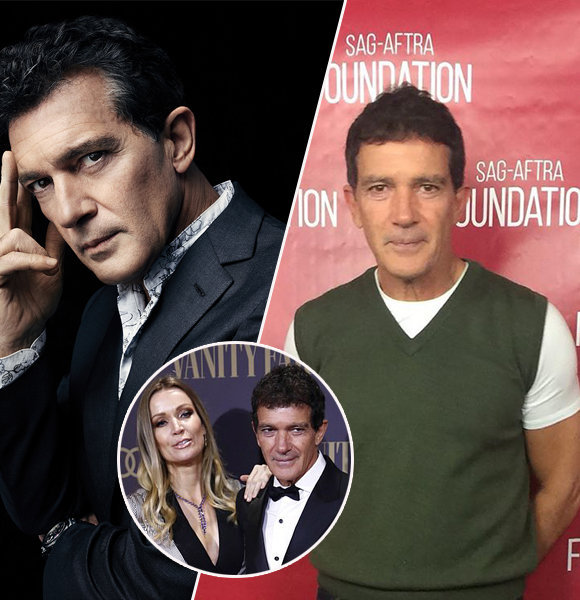 Antonio Banderas is a Spanish actor and director known for his works, both in the Spanish film industry and in Hollywood. 
Born and raised in a soccer-loving country, Antonio was no different than the usual kids in Spain. He wished to become a professional soccer player when he was young. But, an unfortunate incident caused him to break his leg, which ended his soccer career for good. He was 14 at the time.
Around the same time, Antonio developed a passion for theatre acting. He pursued acting as his career, which led him to be where he is now - a respected face in the cinematic scene.
Antonio's Personal Life
Antonio has been with a few women during his lifetime. He has been married twice and divorced the same number of times.
The first woman he was involved with was Ana Leza. Ana, like Antonio, is Spanish and also an actress.
Read More:- How Much is John Ratzenberger Worth? Also His Wife Details
The pair got married on 27th July 1987. However, the marriage didn't last for very long, and the couple separated in some time around early 1996. They didn't have any children from the marriage.
However, Antonio didn't mess around being single after the split. Immediately after his divorce with Ana, Antonio tied the knot with Melanie Griffith. The lovers exchanged their wedding vows on 14th May 1996.
But as things unfolded, it was revealed that Melanie was already pregnant before they got married. Their daughter Stella del Carmen Banderas Griffith, or Stella Banderas, was born on 24th September 1996. Antonio was 36 years of age when he became a father for the first time.
In comparison to his first marriage, his marital relation with Melanie lasted for a long time. The couple divorced each other after 19 years of being together. They announced their divorce in 2014 and made the split official on 4th December 2015.
Life After Two Marriages
Antonio moved on again, pretty quickly, and was rumored to be dating Nicole Kimpel, a Dutch investment consultant. The rumors were proven to be accurate as Nicole was spotted on the set of Antonio's movie Altamira in 2014.
Recommended For You:- Strictly Come Dancing's Kelvin Fletcher Net Worth, Married Life & More
The first spotting progressed to become a real relationship as the couple has been spotted together on numerous occasions, especially in red carpet events and film festivals. The duo's latest public spotting was in November 2019, when they appeared together on the red carpet at the Vanity Fair Award, along with his daughter Stella.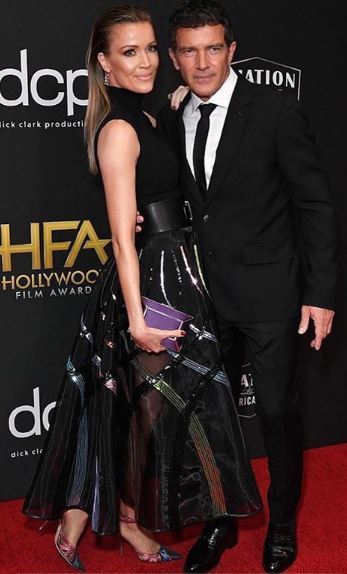 Antonio Balderas with girlfriend Nicole Kimpel at The Beverly Hilton in November 2019 (Photo: Nicole Kimpel's Instagram)
Antonio and Nicole are still together as of December 2019. They frequently post pictures of each other on their respective social media accounts, especially on occasions such as birthdays and award ceremonies.
Interesting Facts: Age, Height
Antonio was born on 10th August 1960. He is a native of Malaga, Andalusia, and has Spanish nationality.

Antonio's full name is Jose Antonio Dominguez Banderas. He is also known as 'The Latin Lover.'

The actor stands at a height of 5 feet 8-and-a-half inches (1.74 meters).

Antonio, during the initial stages of his career, acted in movies directed by Pedro Almodovar. His first big movie in Hollywood was Philadelphia (1993) and has since gone on to work in various other projects such as Vampire (1994), Desperado (1995), The Mask of Zorro (1998), and the Spy Kids trilogy.

Antonio also provided the voice for the character of Puss in Boots in the movie Shrek (2001) and Shrek's spinoff Puss in Boots (2011).