April Macie is an... roamed around the world, gathering stories and experiences from...beauty's dating status, boyfriend, and possible husband...her supportive parents, she...earns a hefty sum of...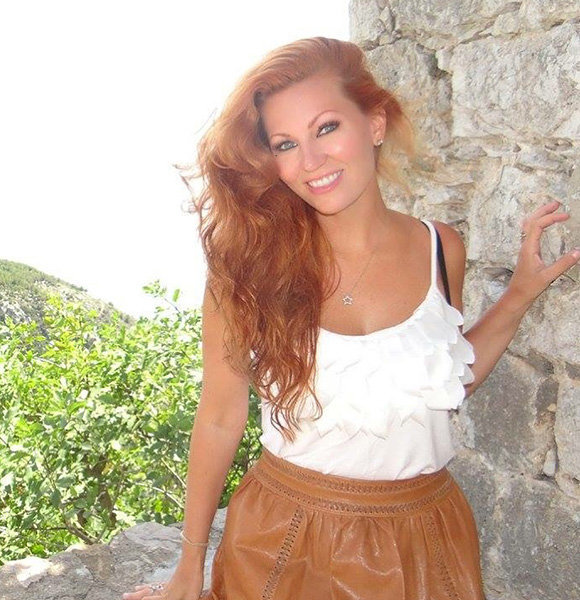 One of the regular guests on the Howard Stern Show, April Macie is an American comedian, television personality, writer, and actress.
Named as an emerging talent to watch by The Hollywood Reporter, April was a contestant at the Just for Laughs Comedy Festival and finalist on NBC's Last Comic Standing. With her comedic nuances, she also went on to co-host the 30th AVN Awards.
To date, the comedian has roamed around the world, gathering stories and experiences from 23 different countries, translating them to humorous and relatable tales.
Married Or Still Dating Boyfriend?
Over the years, there have been a lot of questions regarding the red haired beauty's relationship status. Many might to be surprised to know that April is married to her Iranian boyfriend turned husband, Arya Shoaee.
Although Arya made his first Instagram appearance in May 2017, not much is known about when the two officially started dating.
While the information regarding their first date remains a mystery, April and her boyfriend eventually got married on 2 September 2018. The lovers exchanged marital vows in the presence of their loved ones on the islands of Cyclades, Greece.
Another Worldly Engagement:- Stassi Schroeder Engaged, Ring, Fiance, Beau Clark
The couple is yet to celebrate the very first anniversary of her marriage, which falls in September 2019. However, it looks like their marriage is going strong. With the outburst of love for April's boyfriend turned husband on social media, it's clear how much she loves him.
April Macie with husband Arya Shoaee on their wedding on 2 September 2018 (Photo: April Macie's Instagram)
Supporting the statement of a happy married life, April is eager to complete her tour plan of 100 countries. Until August 2019, she and her lovey-dovey hubby have visited over 96 countries. The couple wants to end the century mark before their first anniversary.
Before Fame
An initial victim of some sexual rumors during high school, April spent four years in trauma due to one of her ex-boyfriend. Undergoing therapy at the time, her father and therapist both encouraged her to take up standup comedy to get over her fears.
With the help of her loving & caring parents, she came over those traumatic experiences. Now at the age of 42, she no longer remains scared and even laughs about the incident that started all her comic acts.
Due to the incident, not much is known about her childhood. Despite little to no detail on her early life, April is an American native of Easton, Pennsylvania born on  30 September 1976. Her father remains nameless, while her mother also falls under the same category. She is an avid painter and a fan of Michael Bolton.
Net Worth In 2019
April has acquired a great deal through her career as a comedian. Performing alongside  Dave Attell on Comedy Central and Jenny McCarthy's Dirty Sexy Funny on A&E, she has garnered quite the attention to her self.
Approaching Comedic World:- Andy Lee Wife, Net Worth, Sister, Parents
While the average comedian earns a hefty sum of $40,000 per year, Alicia's income should be at a higher height than the fixed amount. With multiple live shows waiting for her all around the state of America, the comedian is sure to be earning more than the average amount.