Stassi Schroeder and boyfriend Beau Clark got engaged at...now-fiance popped the question using the ring which cost...biological family hails from...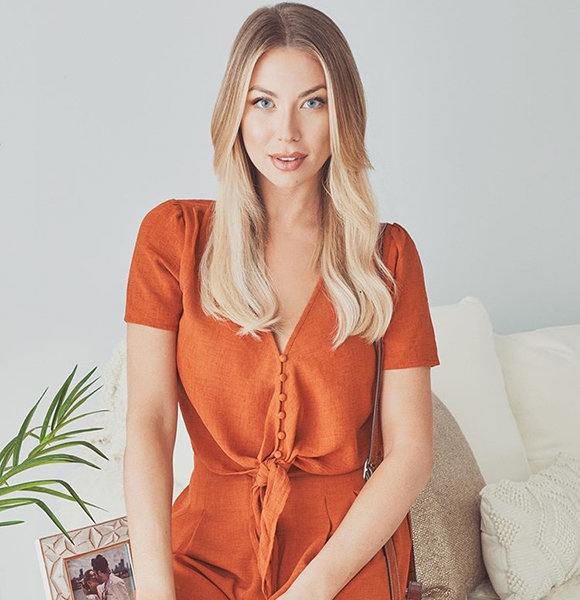 Stassi Schroeder went off the market after getting engaged on 31st July 2019. She accepted the proposal from her boyfriend, Beau Clark.
The engagement between the Vanderpump Rules star and her now-fiance Beau was far from conventional. The latter popped the question inside the Hollywood Forever Cemetery. In many ways, it was an homage to their Valentine's Day celebration in 2018.
Per an insider, Stassi - who hosted a murder-themed birthday bash in 2017  - was beyond elated with Beau's choice of venue. Quoting the very source, E! News wrote:-
"Stassi loves murder, crime, death, and cemeteries, and it was everything she would have hoped for. It was very on-brand for her, and that matters a lot to her."
The stated insider further shared that the reality star was expecting the proposal to come but didn't expect it to happen that day.
Before taking the knee, Beau reportedly professed his love to Stassi and told how much she had changed his life. Bravo stars Scheana Shay, Katie Maloney, Brittany Cartwright, Tom Sandoval, and Andy Cohen congratulated the pair on getting engaged.
Ring Details
Newly engaged Stassi took to Instagram to share the news. Flaunting the gorgeous engagement ring, she joked about feeling like Meghan Markle.
According to jewelry expert Lauren McCawley, the three-carats vintage diamond ring cost Beau a whopping $50 thousand.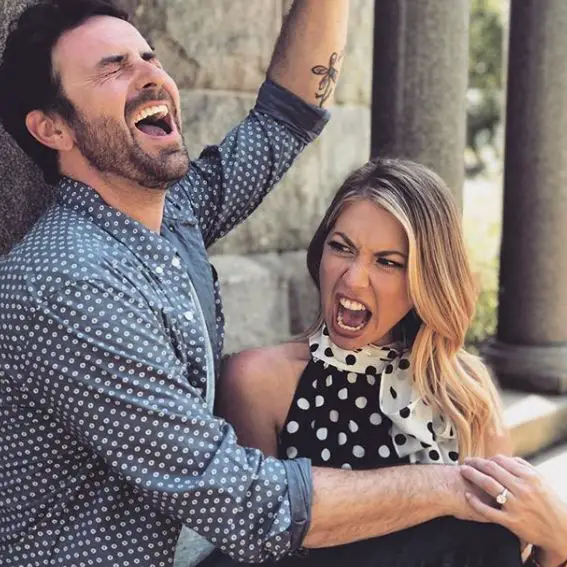 Engaged duo Stassi Schroeder and fiance Beau Clark rejoice their moment circa July 2019 (Photo:- Stassi Schroeder's Instagram)
Back in July 2019, Stassi and then-boyfriend, Beau discussed the plans of their future. During their appearance on Straight Up With Stassi, the lovebirds teased with the idea of getting married on Halloween.
History With Boyfriend-Turned-Fiance, Beau Clark
In February 2018, Stassi's romance with fiance Beau entered the public domain. The now-engaged duo debuted their love on the season seven of Vanderpump Rules. Reportedly, they consider each other a soulmate.
By the reality star's admission, she confesses Beau being a good one. Admittedly, she was growing tired of the dating scene before crossing paths with him.
A native of Italy, Beau Clark is an actor by trade. "2001 short Speechless..." and "William Hung: Hangin' with Hung" are his notable acting credits.
Before committing to Beau, Stassi was in a four-year-long relationship with Patrick Meagher. The Vanderpump Rules starlet and her ex-boyfriend parted ways in August 2017, days shy of their fourth anniversary. She cited distance behind the split.
Her other high-profile boyfriends include fellow Bravo star, Jax Taylor. In April 2019, then-engaged Jax joked about still having feels for Stassi.
Bio Unveils Age & Family
Stassi Schroeder was born in New Orleans, Louisiana in 1988. On 24th June 2019, she turned 31 years of age. Raised by architect father Mark and jewelry designer named Dayana, she is siblings with Hunter, Nikolai, and Georgianna.
Suggested Read:- Danielle Gersh Bio, Age, Husband, Salary, Ethnicity
A graduate of Mount Carmel Academy, Stassi graduated from Loyola Marymount University with a B.A. degree in English Writing. Besides Vanderpump Rules, she gets recognized for competing in The Amazing Race.