Entertainment
Ashlee Holmes Closing On Wedding? Baby & Husband-To-Be Sedating TV Star
Ashlee had been casually dating... but their relationship got serious...Ashlee, who was pregnant before..Ashlee shared...And as of now, the 27-year old actress is busy..The couple seems to be..marriage...but during her former years, she was a troubled girl. In 2011, she revealed that people commented..Her problem with obesity returned....But since 2016, Ashlee has not complained..Not just weight loss, Ashlee also got a nose job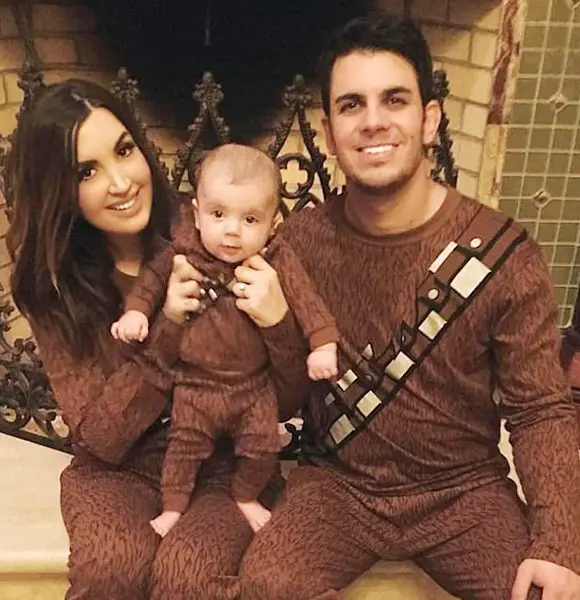 Freelance makeup artist Ashlee Holmes, famous for appearing on The Real Housewives of New Jersey, had been waiting for a fancy wedding. However, as time passed by, she seems to be in no hurry, and in the meantime, remains busy spending quality time with her family.
Romance With Fiance
Ashlee had been casually dating a retail professional Pete Malleo since she was 18, but their relationship got serious only a year before their engagement. On 18 February 2016, the couple was wandering around Hoboken, New Jersey, looking for a new place to live after Pete got down on his knees and proposed for marriage. 
The star was in no place to reject such a romantic gesture and soon shared the news on her Instagram, where she wrote,
"I said 'yes. Thank you for such an amazing day @c3peteo … I'm so excited for this next chapter of our lives.
Ashlee's mother, Jacqueline Laurita also congratulated the newly engaged couple through an Instagram post and wrote,
"I woke up so happy today knowing my beautiful, grown up, 25 year old daughter @ashleenicholexx will be in good hands with this thoughtful, considerate, handsome, kind gentleman @c3peteo ! #engaged #beautiful #RHONJ #IMustBeOld #Smotherinlaw #me."
Ashlee, who was pregnant before her engagement, welcomed their first son, Cameron Hendrix Malleo on 30 August 2016.
Ashlee's dad Matt Holmes first shared the news of the conception via Twitter where he shared:
My baby is having a baby......going into labor. Thoughts and prayers y'all!
Since the arrival of their son, the couple's family is rejoicing their family life and has completed their two years' relationship on 18 February 2018.
To mark the occasion, Ashlee shared an old picture where Pete kneed down presenting the engagement ring to Ashlee.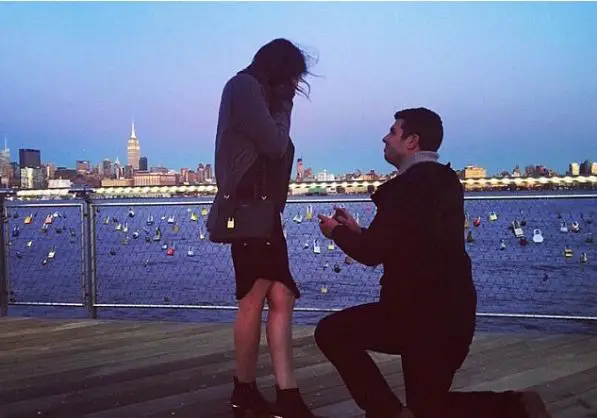 Pete proposing Ashlee on the banks of Hudson River (Photo: Ashlee Holmes' Instagram)
And as of now, the 27-year old actress is busy spending her peaceful life with her husband-to-be and son. She has even created Cameron's Instagram account where she posts pictures of her and Cameroon in matching outfits.
Meanwhile, no recent news has surfaced in the media regarding the wedding plans of Ashlee and Pete. The couple seems to be in no hurry for marriage as they take their time living a blessed family life, and Pete might be encouraging Ashlee to focus on her professional career instead.
And as long as Ashlee is happy with her family life, an official ceremony is just a formality, right?
Body Transformation
Ashlee is living a prosperous life, but during her former years, she was a troubled girl. In 2011, she revealed that people commented on her weight when she was a newcomer to the acting field.
Her problem with obesity returned after Ashlee gained further weight in 2015. Ashlee then posted a tweet in December 2015, saying that it was time for her to join the yoga again as she had put on a lot of weight. However, Ashlee's problem wasn't resolved till August 2016; as she then posted on her Twitter about eating Chinese food equal to her body weight.
But since 2016, Ashlee has not complained about gaining pounds, so hopefully, she is following a strict diet and is on her way of weight loss.
Not just weight loss, Ashlee also got a nose job in 2010 and plastic surgery of her lips a year later. She flaunted her makeover in May 2011 appearing on Watch What Happens Live.
When Andy Cohen asked her whether her lips were bigger, Ashlee answered that she got a little bit of Juvederm in them. Ashlee further explained that she got the plastic surgery because her top lips would disappear when she smiled; however, Ashlee confessed that she was not a fan of the cosmetic procedure.
Think we're missing something? Do let us know in the comment section below!