Entertainment
Ashley Brewer [ABC7] Age 27, Is She Married? Who Is Her Husband?
Ashley Brewer, a reporter at ABC7, has been bugging her fans as she is known for concealing her personal life while providing very few details about her married status...Ashley, who often shares hints about her private life, didn't provide a clear picture that could relate her to a husband and children...However, she still loves confusing her fans with misleading info and incomplete details... But, over the years she has portrayed herself as a hopeless romantic and maybe soon looking to get married...So, does she have a boyfriend, whom she may soon call her husband? Let's find out!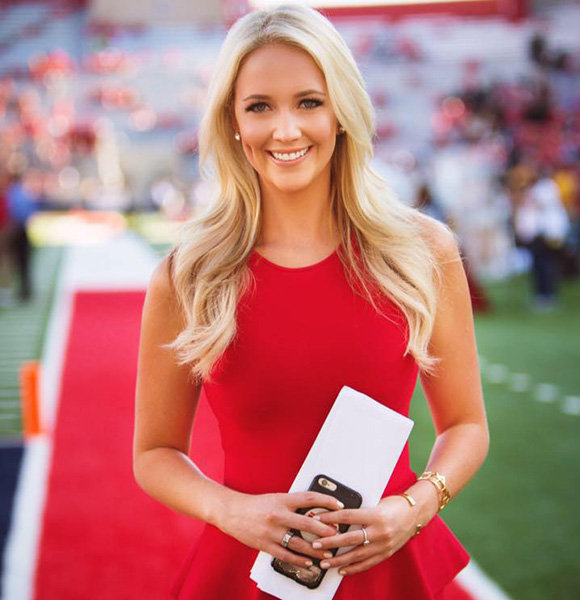 When you reach a certain age, and you are as beautiful as an angel, the number of people, who are curious about your personal life, ascends. Same is the case with the beauty with brains Ashley Brewer.
Being a reporter at ABC7, Ashley amassed a huge number of fans. But, bugging her fans is in her blood as she keeps her married status or dating concealed. She loves confusing her fans with misleading info and incomplete details. 
So, does she have a boyfriend or husband behind the cameras? Let's find out! 
Ashley Brewer's Married Status; Hangs Out With LA Kings' Mascot
Ashley has never been vocal about her love life, but she shares social media posts that highlight her romantic persona. On 3 April 2011, she posted a tweet mentioning that one of her problems was she "didn't do boyfriends." 
"I have problems. I don't do boyfriends" hahahaha @cathwagner"
But, hinting the contrary, on 10 September 2018, she revealed that she had been in dating relationships. She disclosed via Twitter that her ex-boyfriends were mean to her. 
"I'm about to sign up every twitter troll who has said mean things to me. How bout my ex boyfriends too while we're at it?"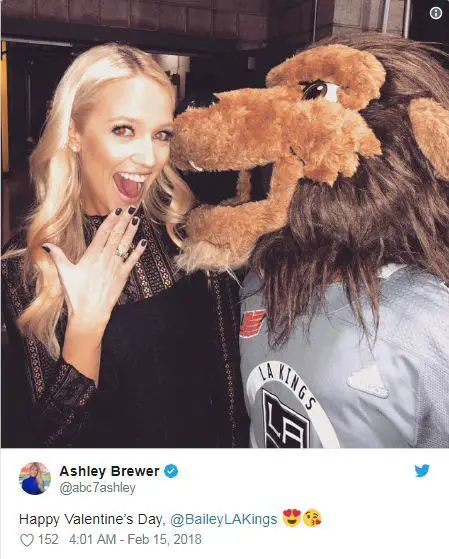 Ashley Brewer wishes LA Kings' mascot, Bailey, on Valentine's Day 2018 (Photo: Ashley Brewer's Twitter)
It seems like Ashley's miserable history with the ex-boyfriends is the reason for her being unmarried; living without a husband even at the age of 27. Nevertheless, she relishes singlehood and spends quality times in Valentines and birthdays with her friends and family. 
For You:- Nicole Scherzinger Boyfriend Now; Who Is She Dating Now?
For instance, in 2018's Valentine's Day, Ashley - a fan of Los Angeles Kings - shared a portrait with the team's mascot, Bailey. Speculating her dedication, it appears as she is married to her work rather than focusing on finding a perfect husband. 
ABC7 Reporter Ashley's Salary & Family
Ashley Brewer currently works as a reporter for ABC7's Eyewitness News and also serves as a sports anchor on weekends. For her contributions to ABC7, she is paid a salary averaging $56,000 per year.
A Graduate from the University of Southern California, she previously worked as an intern for ABC7 in 2014. Further, she had jobs in other news networks including Cox 7 Arizona and KGUN-9.
Ashely, who ages 27, celebrates her birthday on 13 December every year. She was born as the daughter of Robert Brewer and Deborah Pyburn Brewer. She grew up in her family among four siblings- brothers Charles, Chase, Connor, and a sister named Abby- who are all Division-I athletes. Ashley is also a former athlete, who participated in the 2012 Olympic trials for the 100-meter backstroke swimming.
Ashley's mother, Deborah was previously a news anchor, who worked for the CBS News based in Pheonix. Deborah, who is also a former beauty pageant queen, had been earning an annual salary of nearly $300,000 from her anchoring job before she retired to take care of her family.
Standing at a height of 5 feet and 10 inches, Ashley hasn't revealed much about her father but has often described him as a good man and a responsible father.