Entertainment
Ashley James, 30, Budding A Romance: Meet Her Rumored Boyfriend!
The reality TV star, Ashley James is a beautiful lady who had her share of relationships in the past. Known for dating famous figures in the past, Ashley James is possibly not single, because she seems to be budding a romance with someone new this time.
But is it just a rumor or she is budding a romance for real? Keep reading to find out the truth!
Meet Ashley James' Rumored Boyfriend:
'Made in Chelsea' star, Ashley James is a recent addition to the reality show, Celebrity Big Brother. The show depicts a group of celebrities living in a house outfitted with cameras everywhere, recording every move 24 hours a day.
As the show captures almost all the moves of the participants, Ashley's budding romance could not escape as well.
The beautiful model is kindling a romance with the American singer-songwriter, Ginuwine (real name Elgin Lumpkin) who is also the participant of the show. On the show, the pair was spotted cuddling and even sharing the hot bathtub together, which is fuelling the rumors of Ginuwine being Ashley's boyfriend.
The duo even shared a passionate kiss on one of the episodes of the show which aired back on Thursday, 1st February 2018.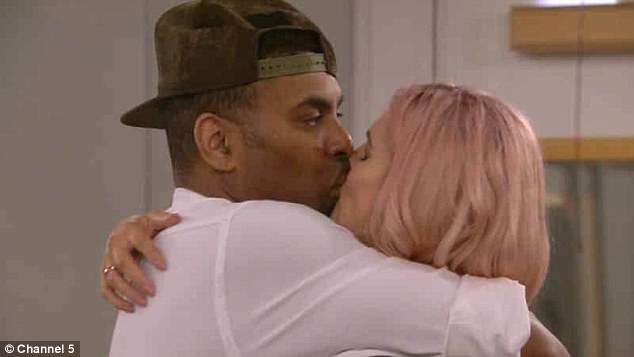 Ashley James and Ginuwine kissing on the show, Celebrity Big Brother (Dailymail)
Following the passionate kiss, Ashley was spotted sneaking into Ginuwine's bed.
Ashley sneaking into Gwinne's bed (Video: Dailymail)
The duo soon made the headlines, and in one of the interviews, Ashley was asked about the future of the couple, to which she replied,
"I'm excited to see how this develops, but we live on different continents so I can't promise what will happen."
She further added that physical attribute was never the attraction,
"I've never looked at a man on a first date and found them attractive! I really don't care about the physicality- I don't care about the physical. I find him attractive based on his energy."
Similarly, Ginuwine, who is 47 years of age as per his wiki, made a significant revelation on the phone interview with FUBAR Radio on 2nd February 2018. The interview's hosts Lizzie Cundy and Stephen Leng were interviewing Ginuwine, and he was asked whether he wanted Ashley to move with him to America. Ginuwine responded,
"Um… I don't know! We've just been talking and we're just trying to make sure it's something we can talk about. We're going to be friends first. Any relationship that you have you should be friends first."
He interrupted the interview for a moment and revealed Ashley was with him in his hotel room. He said,
"Hold on… I want you to talk to someone!"
Ashley, who is 30 years of age, commented that the duo was trying to spend time together. One of the Radio hosts, Lizzie further questioned Ashley whether they were enjoying a "pajama party together." Responding to that, Ashley stated:
"No, we were in the Big Brother house last night. We're just hanging out."
From revelations in interviews to show's episode, both Ashley and Ginuwine seem to share a good bond with each other and feel comfortable in each other's company. However, comfort is not what Ashley's family seems to feel!
Ashley's father, Geoff went on the records to say that watching duo's relationship is difficult for him. Revealing on the interview of 16th January 2018, Ashley's father commented,
"As a father, it's quite difficult watching. As a long as a guy treats Ashley well, I'll be fine….if he doesn't, I'll knock his head off."
Besides the present budding romance, both Ashley and Ginuwine have their share of relationship history; Ashley previously dated David Walliams and Xtra Factor presenter Matt Richardson, while Ginuwine is a father of nine; seven daughters and two sons from his past relationships.
Ashley James' Wiki-like Bio:
Ashely James was born on 2nd April 1987 in England. Ashley studied BA (Hons) French & English Literature degree (Bonjour) at the University of Nottingham.
The 30 years old actress started working on her love for music at the tender age of 7 and secured work in BBC Radio Cumbria, at the age of sixteen. Ashley, who loves rap, Hip Hop, trap, grime, and R&B, presents at the radio show as well as DJ on various occasions.
She was also the nominee for an IARA Award for Best FM / UK Radio DJ for her works.
Besides, Ashley also owns the modeling agencies in London, Milan, Istanbul, Australia, Germany, and New York, and has fronted a campaign for George swimwear.
Not only that, but Ashley also contributed in the women empowerment section. She has penned the column for the Huffington Post and has earned the guest column in Closer Magazine for female empowerment.
Think we're missing something? Do let us know in the comment section below!