Entertainment
Is Ashley Nocera Dating? Boyfriend, Baby, Family, Net Worth
Ashley Nocera is mostly known as a famous social media star, but she is also a World Beauty Fitness and Fashion bikini model, as well. A competent woman, she has also made it the top five list of the global WBFF bikini competitors ranking.
Aside from her success in WBFF, she is also popular on Tik-Tok, YouTube, and Instagram.
On social media, she is both strictly professional as well as full casual. While she shares her day to day occurrences in the platform, Ashley also takes the chance to document and spread her strict dietary regimen to others interested.
Known for doing weird stuff on the internet, the model has filled her social media accounts with her jocular moments, videos, and vines.
Is Ashley Nocera Dating? 
In 2019, her dating status can be assumed to be single, and here is why.
Ashley's last known relationship was with another social media influencer named Alex Sharoykin. The pairing allegedly began dating sometime in 2009.
Ashley and Alex were first introduced through Facebook and had later met in real life after a few conversations online.
Talking About Boyfriends :-  Christian Serratos Boyfriend, Married, Children, Net Worth
Three months after their first meeting, the pair's relationship was officially confirmed. Similarly, the lovers also attended Wagner College in New York.
However, once she graduated from the university in 2017, their story ended. 
Since 7th September 2017, Ashley and her boyfriend Alex have not been seen together. The last post together, a throwback to Ashley's 23rd birthday in 2017, Alex still has his Instagram account filled with their photos as a couple.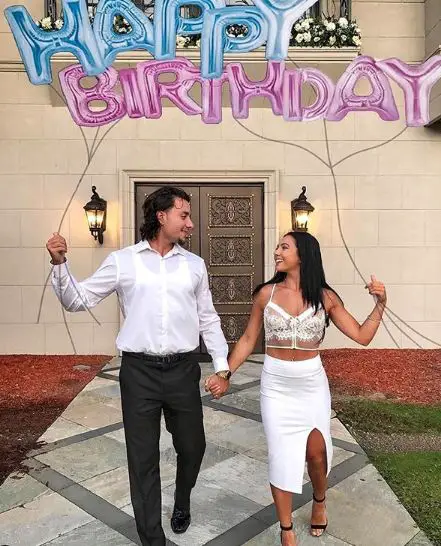 The last post: Ashley Nocera with boyfriend Alex Sharoykin in 2017 (Photo: Alex Sharoykin's Instagram)
On the other hand, Ashley's Instagram handle has been wiped completely. The two never came out with the news that they had separated, but with no trace of her relationship with Alex on Ashley's social media, it is safe to say that she is single in 2019.
With Baby? Parents?
Via an Instagram post made on 28 January 2018, fans got a preview of what pregnant Ashley would look like. But, in reality, she is not expecting a child anytime soon.
The word "baby" only links Ashley as the baby girl of father Gregg Nocera. Also, a part of her family is her mother and sister, whose details remain unknown. The only information revealed about her parents is that they are both enjoying a happy married life, with over three decades of marriage.
Net Worth Details
As a  member of the WBFF, a famous model and person with high social media presence, the only question that remains is how successful she is.
While a fitness model as Ashley is assumed to earn an average sum of $46,209 per year, her making's might be a little more. In general, the range of income of a fitness model varies from $18,000 to $100,500 per year. And, with her popularity as a model, she is sure to earn on the higher side of the range.
Yet Another Fitness Model :- Jen Selter Boyfriend, Net Worth, Parents
Adding on her social media accounts such as YouTube and Instagram, she is sure to add a decent sum to her net worth through the platforms as well.