Entertainment
CNN Athena Jones Bio: What Is Her Age, Height, Birthday, Ethnicity
At the age of 36, CNN correspondent Athena Jones was living her best life until the cancer diagnosis almost derailed her burgeoning career. Then a rising star in the journalism realm, she confided in her then-boyfriend for moral support.
Springing into immediate actions, her yet-to-be-named boyfriend, in return, helped her get acquainted with a fellow breast cancer survivor. No doubt, the stated boyfriend exhumed husband-like qualities.
Almost seven years have passed since the beloved journo's first diagnosis. Did Athena and her then-boyfriend get married? Delve into her biography to find out!
Married Her Supportive Husband-Like Boyfriend Or Single? 
The CNN journalist chronicled her breast cancer journey in 2017's self.com piece titled Why I'm Glad I Got Screened Before 40. In it, she goes into excruciating details of what her life was life before the diagnosis.
Working as the general assignment correspondent for CNN back then, Athena would spend her leisure time with her then-boyfriend planning about their future, attending events and going for long walks.
Similar Cancer Story:- Deborah Roberts Age 58 Longtime Husband & Cancer Battle In Family | Bio
A mammogram screening followed by the diagnosis in September of 2017 left her stunned. Unable to digest the news on her own, she called her then-partner from Baltimore. By her admission, the call led to more tears and hugs.
Recognizing the need to build strong support, her boyfriend introduced to a young cancer survivor. Thanks to the connection, Athena writes that she was better able to gaze the treatment options. That year, she underwent a double mastectomy & even got declared cancer-free in no time.
Addressing the return of cancer into her life at the age of 39, the CNN journo thanks her family and friends for helping battle the disease for the second time. But at this point in her piece, she doesn't mention her supportive husband-like boyfriend.
Interesting enough, The Hill's July 2017 profile on her declares her relationship status as single. Even if their romance didn't end up with the two getting married, they ought to be in good terms.
CNN Journo Bio Unveils Parents & Education
However, Athena, age 42, has very little to fear about not finding a great husband. A graduate of Harvard University with a degree in government, the CNN personality - who is of African-American ethnicity - possesses a Master's degree in Journalism from Columbia University.
Bio You Might Dig:- Sarah Baker Bio: What Is Her Age & Who Is Husband? Married Life Revealed
Born on 6th July 1976 in Houston, Athena - who celebrates her birthday on 6th July every year - comes from a long line of family members who prioritize education. Her parents, her mother to be more specific, is her most significant influence.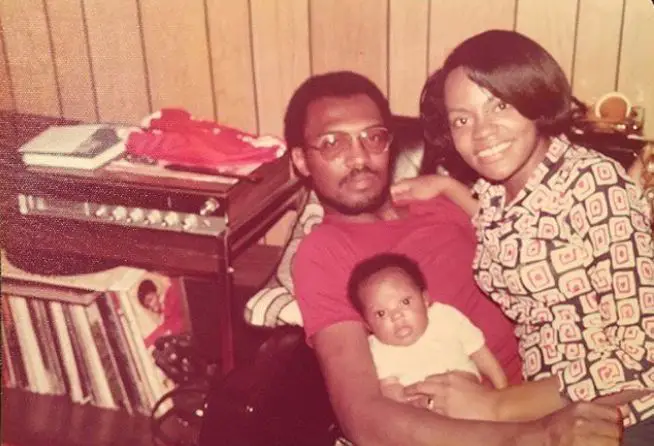 Baby Athena looks startled as she poses next to her parents for an adorable family portrait (Photo:- Anthea Jones' Instagram)
A trailblazing lawyer, mama Jones - who passed away in 2013 - taught her to aim high. Papa Jones, on the other hand, is a judge now.
Showcasing her journalistic ability and beautiful hair while working for CNN, Athena - who stands a little over five foot and six inches (167 cm) in height - makes a sum of over six-figure in salary and bonuses.