Entertainment
Autumn Calabrese Age 37 & Husband Still Friends; Married Life Rift, Family Stays
Fitness Instructor, Autumn Calabrese got on her career after the heart-wrenched split with her husband. Miraculously, her son worked as the ultimate inspiration for her as now; she is the top fitness model in the industry.
Also, she has her own programs which include 21 Day Fix, The Master's Hammer and Chisel and Country Heat. Aside from the show, she has also penned the cookbook Fixate.
Blissful Husband Tweets; Initiates Career After Divorce
Sometimes the married couple is not meant to be married for all the time, but sometimes they can be called as good friends as well.
The once-married fitness instructor would not have paved the step on this career if she had not faced the heart-wrenching situation, divorce. Until 2010, Autumn shared the happiest moment of her life with her husband and their then-toddler son, Dominic.
About Fitness model:- Paige Hathaway Wants Husband & Kids By Age 35! Model Craving For Family
On 15 January 2010, she described on Twitter that she was having a great time at Disneyland with her father, son, and husband.
Also after a month of the tweet, she could not wait to gush about her husband who brought her Muscle & Fitness magazine where both the Autumn was featured along with his husband on the cover.
Autumn  Calabrese talks about a husband (Photo: Autumn Calabrese)
Well, she seemed to have an extravagant time with her husband.
But the undated married life of Autumn seems to have ended before 2012 as in earlier 2012; she tweeted that she rejoined the dance class and was spending more time with girlfriends to get over the divorce.
While in the interview with The Business of Life podcast with host Keith Callahan on July 2015, she revealed that she wanted to pursue the career in fitness when he was still married. But her husband never supported her but wanted her to sit without doing anything, and when her marriage fell apart, she diverted her mind into doing something she had always wished to do.
See Also:- Tony Little, Overcoming Adversity After Fatal Accident: Motivating Others With Fitness Model Wife
Since then, her real story of success begun and she has been on the height of her career after her friends working at the Hallmark Channel showed Autumn's product to the producer. Then she started having more clients including the film industry.
With the heightened career, she seems to raise her only son taking full responsibility. As a single mom, she is responsible for all his needs. And he has been her topmost priorities. She also described in an interview that she is working hard busting her butt to bust her son's career.
"I'm a single mom so I'm responsible for him 100% like, you now, I don't I'm not off gallivanting and shopping and lounging on yachts. He's my priority always, always, always. I'm busting my butt but I'm busting it for him."
Well, with the little man into her life, it seems most of her time is well-occupied by him. This might be the reason she is not spotted in any dating relationship.
Also, she mentioned that her son had been the motivational factor to keep on her track. She lives with her son, and on 2015 she sold her Studio City Home at the worth $2.35 M.
Though the marital bond between Autumn and her mysterious husband ended, she still shares a good bonding with him and is co-parenting their nine-years son together. In March 2018, she took to Instagram with her son's picture mentioning that her nine-year-old son was mountain biking with his day and realized that he is no more a kid.
Family: Bodybuilder Sister And Chef Brother
Born on 23 September 1980 in Cleveland, Ohio, Autumn Calabrese grew up among her four other siblings dancing and also had majored in dance in college, but unfortunately, a back injury in college ended her career and forced her to restructure.
She has an elder sister named Calie Calabrese who is also a Beach body coach side by side with her. The two sisters seem very close as she described her sister as a biggest cheerleader and best friend.
You May Also Like:- Allison Stokke Ignites Dating Rumors After Posting Close Up Picture With Alleged Boyfriend Rickie Fowler
Autumn has been a Beachbody super trainer for almost five years, and the two sisters are working together in the Beachbody has regained the Calie's confidence. Calie used to be the coach who gave up, but Autumn kept influencing her and again she started her career as a trainer.  She is also a divorcee like Autumn, and also she has a son. 
With the work as a Beachbody coach,  she might earn the handsome salary between $35K - $38K, which might benefit her net worth figure.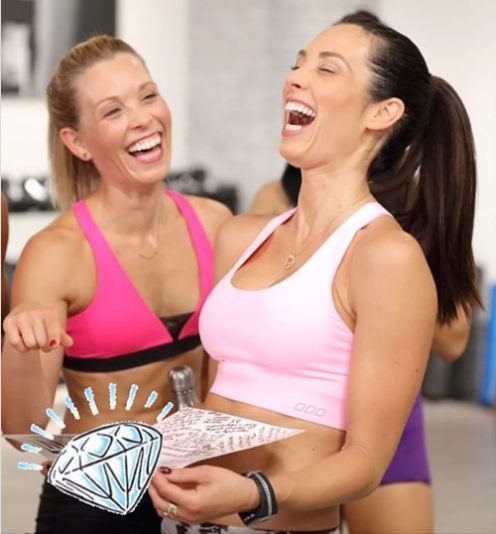 Autumn Calabrese wishes her brother Bobby Calabrese on his birthday (Photo: Autumn Calabrese's Instagram)
Not only she is close to her sister, but her elder brother Bobby Calabrese is also the co-host of the cooking show, Fixate. Also on his birthday, she took to Instagram in January 2017 to wish him the happiest birthday.
Well, though she has not much talked about her other siblings and her parents, working with the elder brother and sister would be indeed a fun day always.