Entertainment
"Captain Phillips" Actor Barkhad Abdi Of Somalian Family Struggle, Wife Still Together?
Somali-American actor Barkhad Abdi is renowned as the ruthless pirate Abduwali Muse in the 2013 biographical movie Captain Philips. The highly acclaimed role surely brought him lots of recognition, including the Oscar nomination, however, the film didn't help much in filling his pockets. 
The actor struggled to fulfill his requirements despite his new-found fame. Now, the actor has made it through the tough phase and is enjoying a comfortable life.
Struggles: From "Hard To Pay Bills" To A Multi-Thousandaire
After the movie, Captain Philips ended, Barkhad's spotlight life too ended somehow.
He moved back to Minneapolis with a paycheck of $65000 and started working at his brother's phone shop. Barkhad even earned a bonus for promoting the movie in social events and attending various award shows. However, no money could last forever, and the actor soon suffered a financial crisis during the time of awards. 
Barkhad, who previously worked as a limousine driver before the movie, Captain Philips, chose to continue his luck in the acting industry. He wanted to flourish his natural talent for he never had prior movie experience before indulging in the 2013's biographical survival thriller film. 
He gave auditions for movies and landed some significant roles in several films including Eye In The Sky, The Brothers Grimsby, Blade Runner 2049, and more.
Currently, Barkhad enjoys a net worth of $100 thousand, which is not too much but at least it's sustainable for now. The 33-year-old actor has a promising career ahead and already has substantial fame. But, all this would not have never been possible without the love of his beloved wife and family.
Wife As Date In BAFTA
Generally, Barkhad chooses to be silent regarding his wife, however, he made a different approach in the 2014 BAFTA Awards. Making BAFTA as one of the exceptions, he brought his wife as his date in the event, held on 16 February 2014. 
Barkhad, who was joined by his lovely wife, was dressed in full black suit attire in the event.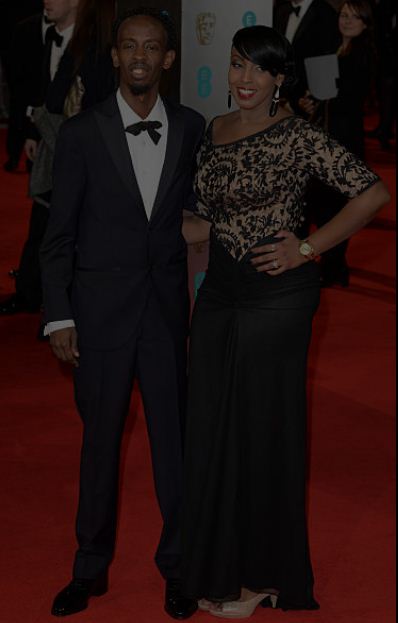 Barkhad Abdi and wife attend the UK BAFTA Awards on 16th February 2014 (Photo: GettyImages)
Apart from that, Barkhad hardly mentions about his wife or spotted anywhere together with his her. Though the actor prefers to keep most of his personal life out of the spotlight and it can be seen that he is blessed with a lovely family, who brought him from a war-torn country to Hollywood. 
Somalia Childhood, Relocate To U.S.
Barkhad, born in Mogadishu, Somalia, is the son of teachers. His father moved to Yemen but frequently returned to meet his family. After war broke out in 1991, a six-year-old Barkhad along with his mother, two brothers, and a sister, left Mogadishu to join his father in Yemen.
Barkhad was 14 when his mother won America Direct Visa Lottery, and the family shifted to Minneapolis, Minnesota. There he passed high school and even joined Minnesota State University. Sadly, he dropped out of the college after two years.
Barkhad later moved to Los Angeles to pursue his acting career and currently resides there.