Entertainment
Meet Daniella Monet Boyfriend Turned Fiance | Net Worth, Bio & Facts
Being blessed with a happy relationship is undoubtedly a boon for everybody and we are sure you have one like that too. However, if you don't have one till now then don't lose hope because shortly you might just get as lucky as...Why? Well, let's just find out why... couple officially announced the name of the baby to be Gio James in...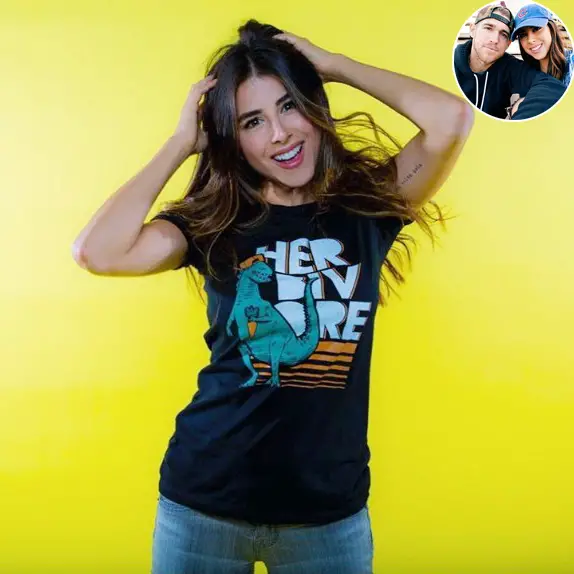 Being blessed with a happy relationship is undoubtedly a boon for everybody. 
American actress Daniella Monet found the love of her life seven years ago when she was still young to make the decision. And now, she is proud of her choice and thinks she is the luckiest girl in the world.
She feels luckier after her 31-year-old boyfriend popped the question most romantically.
Dating Gafton Creator; Boyfriend Knew, "She Was Special"
The 30 years old Victorious actress seems to have already found her soul lover. She has been dating the creator of Gafton, Andrew Gardner, since 2011.
The young love bird first met in May 2011 through Daniella's best friend. And the active going couple conversed via Facebook before meeting in person in August of the same year. Since their first meeting, the couple has been inseparable.
Dive In:- Leighton Vander Esch Age 22 & Girlfriend, Dating To Engaged Details
On their first date, Daniella stated that she was too nervous about meeting him in person. She further claimed him to be the smart, witty, and perfect amount of persistent person. And now, the actress thinks she is lucky that she didn't blow the relationship.
Similarly, the Paradise Run host disclosed that after dating for a while, Andrew confessed to her. He revealed that he liked her when he first saw her picture and knew "she was special."
The further gushed that he is the most "strongest" and most level-headed men she has known.
Boyfriend-turned-Fiance, Engaged; Seven Years Of Dating! 
After more than six years of sharing a romantic dating life, Daniella and Andrew are engaged!
The Nickelodeon star said "Yes" after her boyfriend popped the question on 2017's Christmas day by carving "Marry Me?" on a tree outside the home. 
She Instagrammed the picture of the tree captioning the day to be the "Best day" of her life.
Explaining the best moment of her life to People in December 2017, she stated that after opening their Christmas presents, her fiance proposed her. At first, he blindfolded her and walked her over to the kitchen sink, asking her to look out the window.
She recalled that when she looked at the window, her "stomach shrunk" and "tears rolled down" on her cheek as she saw a bow on the tree and the magical words engraved on it.
Recommended:- Graham Phillips Spotted With Ariana Grande, Dating Again?
And when she turned around, he was on his knee with the wooden box, and she said that the ring was stunning. 
On 26 September 2018, she Instagrammed the picture with her soon-to-be husband recalling their seven years of the journey together. In the post, she stated that Andrew was her first love and was unsure to start the relationship as she was young at that time.
While the couple celebrated their one year of getting engaged in 2018, their wedding remained impending till September 2019. 
Mother To Be
Daniella Monet and fiancee' Andrew Gardner are going through a lot of mixed emotions for the past few months. Well, Daniella is on the ninth month of her pregnancy, and the loving couple is expecting to welcome their new family member on 29 September 2019
The happy couple officially announced the name of the baby to be Gio James in July 2019 and since then have continuously updated fans and family about the pregnancy. The longtime lovers are finally extending their family and taking their relationship to the next level.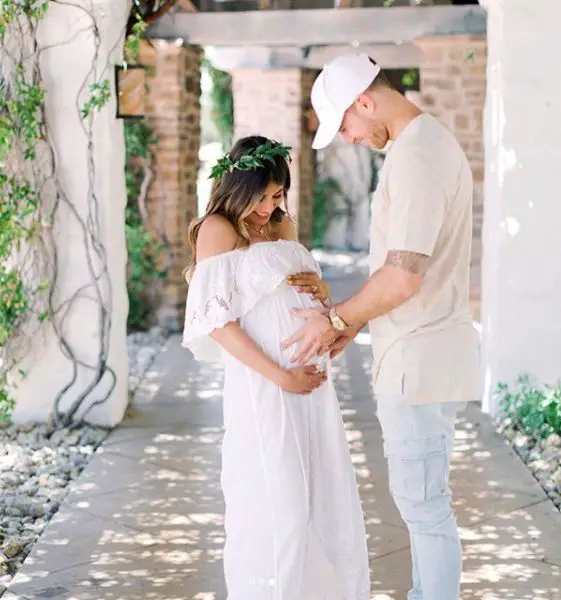 Daniella Monet and husband Andrew Gardner at Westlake Village Inn in July 2019 (Photo: Daniella Monet's Instagram)
Knowing about the happy news, Daniella's best buddy Ariana Grande also went in tears and congratulated her on the new chapter in life.
Baby On Way:- Ashley Graham Pregnant, Husband, Wedding
The two shared a lovely moment when they Facetimed, and Ariana broke down in tears upon hearing the happy news. All eyes were on the arrival of the baby and the start of parenthood for Daniella and Andrew.
Birth of First Child
Only happy moments for the duo, as they have welcomed their first child. On the day of the expected delivery husband and wife, Andrew & Daniella were promoted to the life of parenthood on 29 September 2019.
Before the birth of their kid, Daniella and Andrew had already revealed the gender. The big detail surfaced through her Instagram handle on 12 May 2019. With a pink and blue cake on display, Daniella enthusiastically shared that they were going to have a baby boy.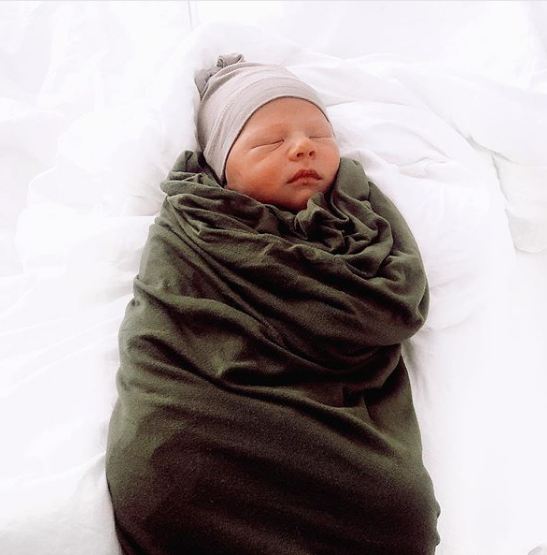 Daniella Monet's Son Gio James Gardner sleeping in October 2019 (Photo: Daniella Monet's Instagram)
Soon after his birth, Daniella also revealed that her son was going to be named Gio, full name Gio James Gardner. His name has quite the entertaining fact behind it.
According to the parents, they just knew his name was going to be Gio. Her husband's nickname was G as a kid and his grandpa also went by GEE and Giovanni was her brother's middle name so that is reason enough for her son's name to be Gio.
While many details have already been revealed the parents have kept a tight lip about their child's date of birth. Maybe just like his gender and name, a date might surface soon enough.
Daniella Monet's Short Bio
Born on 1 March 1981 in West Hills, California, Daniella Monet started working since 1997. She has played a role in many TV series and movies like Pacific Blue, Fairly Odd Christmas, Victorious. Currently, she has appeared in TV series like Baby Daddy and Paradise Run.
With all the work she has done, Daniella has successfully gathered herself a massive net worth of $3 million and stands beautifully at the height of 5 feet 5 inches ( 1.65 m).