Entertainment
Pregnant Becky Miesner Slides Wedding Date! Mario Falcone's Fiance Details
Sometimes your wedding can be postponed for a good reason and Mario Falcone's fiance, Becky Miesner knows it good.
She was on the verge of a wedding with Mario Falcone but announced the rescheduling of her soon-to-be wedding with a happier news. Becky, who was set to marry her fiance, postponed the wedding as they are expecting their bundle of joy into their life.
The couple had many failed attempts to welcome the new addition to their family but the happy news knocked their door just while their wedding was around.
The story is too good to miss!
Read along to figure out her the whole story!
Dating Turned To Wedding Proposal
Becky Miesner shares a long-term relationship with her man Mario Falcone, The Only Way Is Essex star. The pair has been together for a long time now and is looking forward to exchanging the marriage vows.
Becky first started dating Mario back in summer of 2016. The couple shared memorable moments together going on vacations. After a year of dating, Mario finally popped the question to his girlfriend during their holiday on Santorini.
While they were spending some quality time together, Mario got down on one knee with a sparkly diamond ring on his hand. In turn, Becky said "Yes," and Mario took it to social media to share the happiness of his engagement. He shared a snap of himself going down on bended knee on Instagram on June 2017, while captioning the picture as
"She said yes! YES!! Very very happy and lucky ❤"
Since then the pair has been busy planning their wedding together. Some sources revealed that they were looking forward to having two wedding ceremonies. They had plans to have one wedding ceremony in Italy while the other in London.
The couple would have a large lively party in Italy for which they separated the budget of £30,000. As for London wedding, they planned Savoy as the venue while keeping the wedding budget of £50,000.
But as things got better instead!
The soon-to-be-married couple surprised their fans with some better news, which made them reschedule the wedding. The couple is expecting a baby together - their firstborn, which would bring a new addition to their family.
Their anticipated wedding has been pushed back from August to spring of 2019.
Expecting First Baby; Rescheduled Wedding Dates
The couple surely took a break from exchanging the wedding vows. They decided to be parents first before being a husband and a wife. While the wedding dates were around the corner, Becky got pregnant and later revealed that they were expecting their first child together.
The couple found out about the news themselves while they were on holiday in Barbados in March 2018.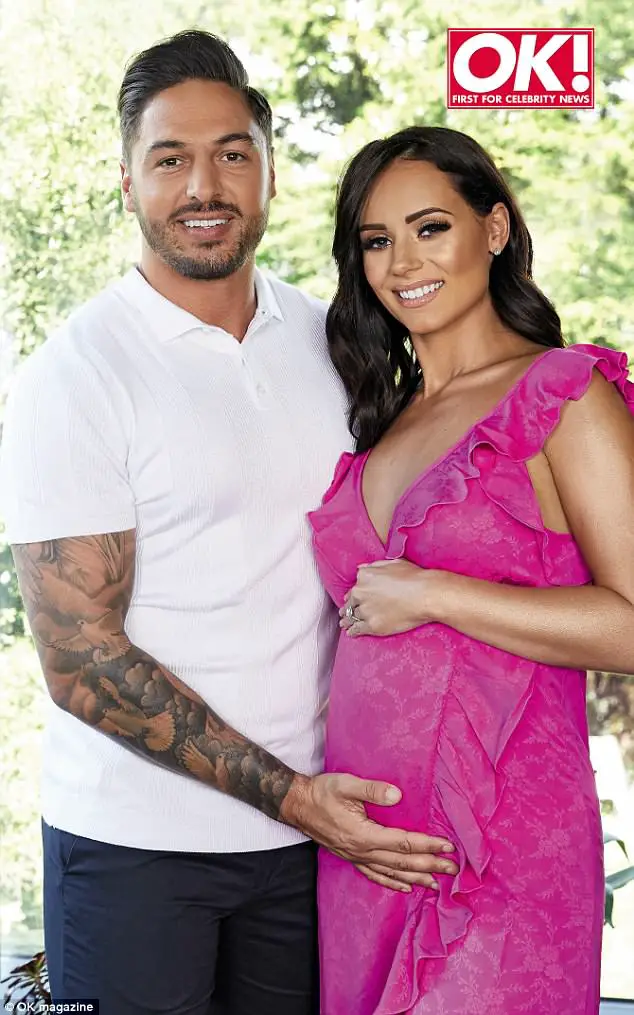 Becky Miesner showing baby bump with fiance Mario Falcone (Photo: ok.co.uk)
It has come to light that the pair were trying for a baby for a while now but had no luck all this time along.
While talking exclusively with OK! magazine on May 2018, Becky revealed about her pregnancy by saying,
'We were trying for a baby for a while last year but it wasn't happening, so we decided to stop for a bit. Then a few months later I fell pregnant!'
Also, Mario revealed that they were neither taking precautions nor were they trying obsessively. He opened up that the moments were just getting stressful so they decided to stop and went back to just having fun.
Mario, age 30, added,
'We weren't taking any precautions, but we had stopped trying so obsessively. It was getting quite stressful so we decided we needed to relax a bit. But as soon as we went back to just having fun, she fell pregnant!'
Moreover, he even revealed how the news of pregnancy came as a shock and how he dreamt of being a parent overwhelmed him. HHe expressed,
'It was a bit of a shock when the test was positive! It's been my dream to be a dad for a long time now, so I'm over the moon."
Adding to it, the excited parents also shared that they are planning to have more babies which would be three or four kids while hoping to end up with a boy and a girl.