Entertainment
Bel Powley Dating Hunky Actor! Subtle Love For Boyfriend With Sharp Jawline
Bel Powley shares low-key romance with boyfriend...They met back in...during the filming of...in which they starred as...and...They were spotted kissing at...back in...which fueled their romance rumor...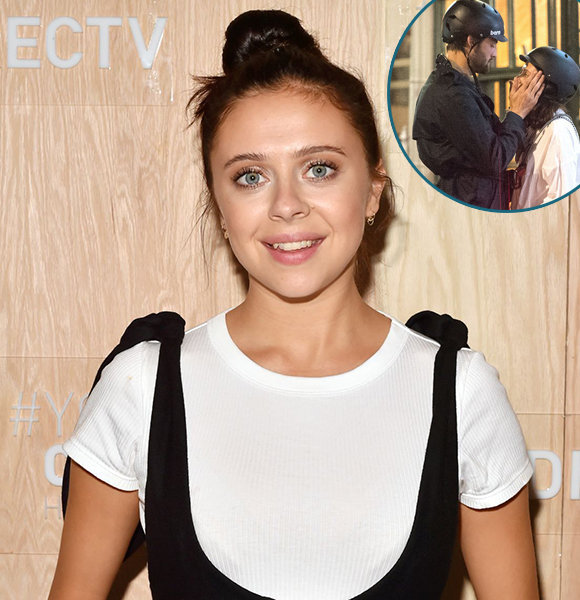 English Actress Bel Powley, is best known for her starring role in the 2015 film The Diary of a Teenage Girl. She also appeared as Daisy Millar on the TV series M.I. High but most prominently she is known for her role in A Strom In The Stars as Claire Clairmont.
Her role in the movie A Strom In The Stars not only gained her fame but also someone she could share the love with. Turns out Bel found the romance that she shares with her boyfriend on the sets of the movie.
Well, even a year after the release of the movie the couple still seems to hang out together which hints that they might still be dating. 
Romance With Boyfriend On Streets
Bel Powley, who is known for her appearance in the 2011 revival of Tom Stoppard's Arcadia on Broadway, shares a low-key love life with her boyfriend. Bel keeps the romance with her boyfriend under the radar for her admirers.
See Also: Why Did Alexandra Krosney Exit Last Man Standing? Was It Because Of Her Boyfriend?
Bel, at the age of 26, has been involved in a romantic relationship with her long-time boyfriend Douglas Booth. Bel and Douglas were first introduced to each other on the sets of A Strom In The Stars as they both starred in the movies. Bel appeared as Claire Clairmont whereas Douglas appeared as Percy Shelley. 
While on the screen Douglas shared romance with co-actress Elle Fanning who appeared as Mary Shelley, he had a keen eye for Bel. As the movie began its filming in Dublin and in Luxembourg in early 2016, they might have found a few time off from the set to share their budding romance. 
Months later, they were spotted showing public display of affection. Back in July 2016, Bel, who stands at the height of 1.57 m, was spotted with her co-actor Douglas outside a bar in central London. While the couple was on the street with helmets on their head, they shared a passionate kiss.  
The pair was seen gazing into each other's eyes while Romeo and Juliet actor, Douglas, caressed Bel's cheek. After the lip-lock in the street, they headed off on their bicycles. 
Well, they shared a romantic moment on the street which gave rise to their romance rumors. Even though the couple was contacted during that time, they did not come forth with their relationship.
Don't Miss: Actress Lucy Walters Wiki: Age, Height, Net Worth, Boyfriend, Ethnicity
As of now, the still appear together in various events and only on each other's social media hinting their on-going romance. 
Now Single Or Still Going Strong?
While Bel, whose parents are British actor Mark Powley and Janis Jaffa, a casting director, seems to be sharing a romance with Douglas as she often appears alongside him on her social media. Even though they hardly share any lovey-dovey posts on the Instagram their appearance together hints their romance. 
Back in September 2017, Bel and Douglas jetted off to met their co-star Elle Fanning. Through the post, it seems that the two were having a quality time together while they flew to meet their co-star.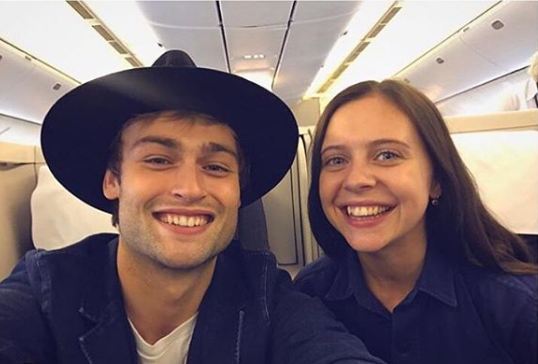 Bel Powley with boyfriend Douglas booth. (Photo: Bel Powley's Instagram)
Adding to their getaways, they even visited Kerela together. Bel posted a picture in which she and Douglas lied on the mat while she had her arms wrapped around him. Through the picture, it seems that the pair enjoyed a quality time by the lake.
You May Also Like: Emmanuel Hostin Wiki: Sunny Hostin's Beau, Parents To 2 | Bio & Net Worth Detail
Likewise, Bel and Douglas also attended CHANEL artists dinner recently in April 2018 while they matched their outfit keeping it simple to white and blue as the color code.