Entertainment
Why Did Alexandra Krosney Exit Last Man Standing? Was It Because Of Her Boyfriend?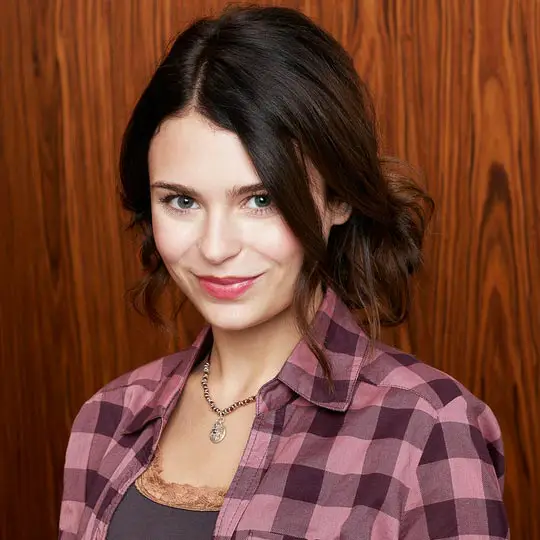 Quick Information
Date of Birth Jan 28, 1988
Nationality

American

Birth Place

Los Angeles, California

Profession

Actress

Birth Name

Alexandra Benjamin Krosney

Zodiac Sign

Aquarius

Religion

Christianity

Relationship Status

Single

Salary

$50,529 (Approx.)

Nominees

Indie Series Awards(2016)

Height/ How Tall? 5 Feet 4 Inches (1.6 Meters)
Facebook

facebook.com/BringBackAlexandraKrosney

Twitter

twitter.com/alexkrosney

Instagram

instagram.com/alexkrosney
American film actress Alexandra Krosney is definitely on the top brass whenever one has to remember the name that dominated the small screen. The level that she achieved comes after being a part of various famous TV series like Bones, Criminal Minds, NCIS. However, the prominent reason for her success remains her performance in the ABC comedy series Last Man Standing.
But the irony is that her run in the series Last Man Standing was short-lived as she took an exit from the show in 2012. The sudden exit initiated speculations regarding the reason for her exit, but the truth that came out was shocking!
Reason To Quit "Last Man Standing": Boyfriend Or Other Issues
News broke out back in 2012 that Alexandra was making her exit from the American TV series 'Last Man Standing.' 
Following that, all sorts of speculations came forward, trying to figure out the possible reasons for Alexandra to quit the show. The most prominent speculation was that Alexandra left the show due to her boyfriend's reasons. However, it was later proved to be false as it came to light that she was not dating anyone during that interval. 
As for the actual reason, it came after the show's officials reasoned that Alexandra was replaced for some "creative reasons" rather than quitting. As per reports, Alexandra was replaced because ABC favored Amanda Fuller more than Alexandra. 
Along with that, it was also revealed that the show made a couple of cast changes, which included Alexandra being replaced by Amanda Fuller for the role of Kristin Baxter, which Alexandra initially portrayed.
The officials also brought out the age differences issue as one reason to replace Alexandra for Amanda. As per the show,
"the age difference afforded the show the opportunity to retool the family dynamic."
Executives even argued that Alexandra was brought in to set the storyline; however, Amanda was more suitable for the role than Alexandra once the story came on track.
As for fans, they were quite disappointed with the change in cast, as Alexandra was a more easy-going demeanor. The viewers were quite acquainted with seeing Alexandra performing the character of Kristin. 
The whole show was later canceled in May 2017. ABC announced the cancellation of the sitcom 'Last Man Standing' after the failure of yearly negotiations with 20th Century Fox. Following the announcement, many celebrities expressed their frustration with the cancellation through Twitter.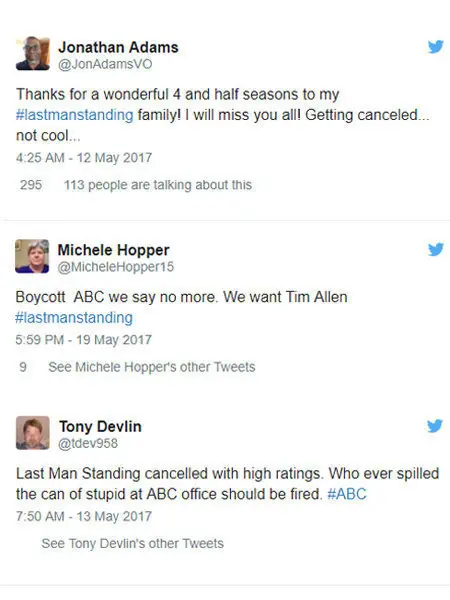 Different Celebrities expressing their emotions after ABC announced the cancellation of the sitcom 'Last Man Standing.'
As for Alexandra, she got a lead role in 2014's MTV's dark comedy movie, 'Self Promotion,' which suited her more than the previous series. Despite her exit from Last Man Standing, she didn't suffer a financial backdrop as she has been getting minor roles along with a salary averaging $50,529 a year.
Surprise Exits:- Why Did Jedediah Bila Exit From The Voice? Is It Because of her Clash With Hilary Clinton?
Alexandra Krosney's Dating Life!
The TV actress has her own personal boundaries when it comes to opening about dating, and since her exit from 'Last Man Standing,' she remained relatively private. Neither of the interviews nor social media helped figure out whether Alexandra, in fact, has a dating life or not. 
The only thing Alexandra seems flaunting in social media was her love for her pet, which she does time and again. Besides her pet, Alexandra was also spotted with the Georgian-American actor George Finn as per an Instagram image back on 10 March 2017. 
Though the image did stir up a rumor, neither of them officially confirmed or denied their connection tenure.
Alexandra, age 33 - who celebrates her birthday on 3 February - may not have talked about her boyfriend, but that doesn't mean she is not interested in dating.
Birthday Revealed:- CNN Athena Jones Bio: What Is Her Age, Height, Birthday, Ethnicity
In fact, the actress is excited to have a boyfriend, but the man can only become her lover if he succeeds in fulfilling her demands. She mentioned in 2017 that she wanted a man who was tall and handsome. Further, she also expressed that her dream guy should remain quiet and let her do all the talking.
While Alexandra can easily find a man who fulfills her first two requirements, fans wonder if she insists on dating a mute guy.
Short Bio Of Alexandra Krosney
Alexandra Krosney is a former actress who is well known for portraying a role in the ABC sitcom Last Man Standing during the first season.
She was born Alexandra Benjamin Krosney on 28 January 1988 in Los Angeles, California, U.S. Besides this, not much is available about her personal life, including her parents' and siblings' details.
Alexandra Krosney Movies & TV Shows
Krosney made her debut in the year 2002. She served the industry for more than a decade and finally left the reel life in 2016.
Starting her career at the age of 15, she portrayed a role in the drama series Without a Trace for an episode. The following year, she also appeared in the series Family Affair as Remy. Since then, she has been part of a number of series that include,
2004 - ER
2005 - Grounded For Life, Crossing Jordan, Strong Medicine
2006 - NCIS, Bones, Read It and Weep
2007 - Numbers, Without a Trace, Shredderman Rules, The Last Day of Summer
2008 - Cory in the House, Criminal Minds
2009 - Lost, CSI: Crime Scene Investigation, Surviving Suburbia, Psych
2010 - Medium, Nikita
2010 -2012 - Transformers: Prime
2011-2012 - Last Man Standing
2013 - Emily Owens, M.D.
2014 - Rainbow Brite
2015 - Aquarius, Keith Broke His Leg, Self Promotion   
Her film credits include, 
2013 - The Pinhole Effect
2015 - Barely Lethal, Funny Woman
2016 Twenty-Three Pints