Bette Midler is an American singer and...was nominated twice in The Academy Awards for...is married to artist...was on the brink to divorce...her daughter has grown up to become an...now, the 74-year-old actress is in long-lived...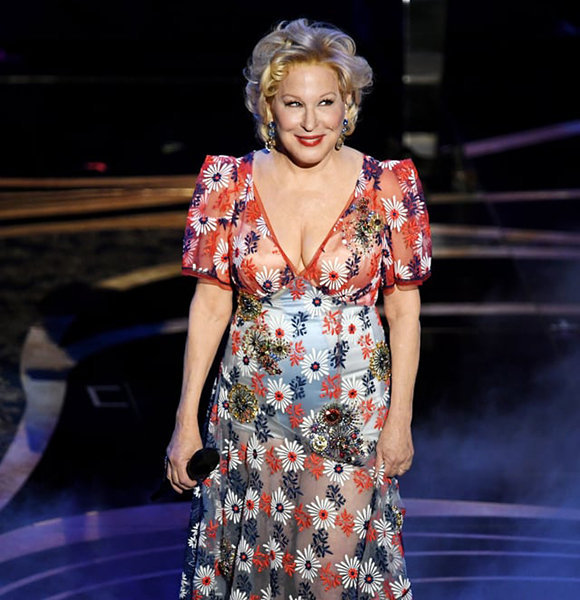 Bette Midler is an American singer and actress. She is well-known through her stage name, The Divine Miss M in the realm of music.
Ever since the start of her career in music, she has managed to release more than ten studio albums.
Interestingly, she was the final guest in the hit talk show The Tonight Show Starring Johnny Carson (1962) and was also named among the 100 Greatest Women of Rock N Roll by Vh1 Network.
Moreover, she was nominated twice in The Academy Awards for the category of Best Actress.
Bio: Parents, Siblings
Bette was born on 1st December 1945 in Honolulu, Hawaii to Jewish parents. Both of her parents' (Father Fred Midler and mother Ruth Midler) family members had initially immigrated to the US from countries like Russia and Hungary.
Miss Hawaii 1993:- Why Hasn't Kelly Hu Married yet? Is It Because of Her Unsuccessful Relationships? Husband or Boyfriend?
The singer grew up in a working-class family since her father was a house painter whereas her mother's profession was that of a seamstress.
Although the actress made a big name for herself in Hollywood, her father wasn't happy with the career path she chose in life. Until his last breath, her father regretted that she didn't lead a healthy life as a nurse or teacher instead of showbiz. Nevertheless, Bette was loved by her father despite their differences.
Apart from parents, the Hawaii-born singer has two siblings; a sister named Susan Midler and an elder brother named Daniel Midler.
Unfortunately, tragedy struck the singers life while she was at the height of her career as a performing artist. Her sister Judith Miller lost her life in a car accident while she was eagerly traveling to attend Bette's Broadway show "Fiddler on the Roof" to support her.
Married Life, & Daughter
Bette is married to artist Martin Von Haselberg since 16 December 1984.
Interestingly, the pair had met eachother the same year and made up their mind to live their life together after dating for merely six weeks. However, with the test of time, their marriage began to fall apart; partly due to constant fight and partly due to the distance created by professional duties.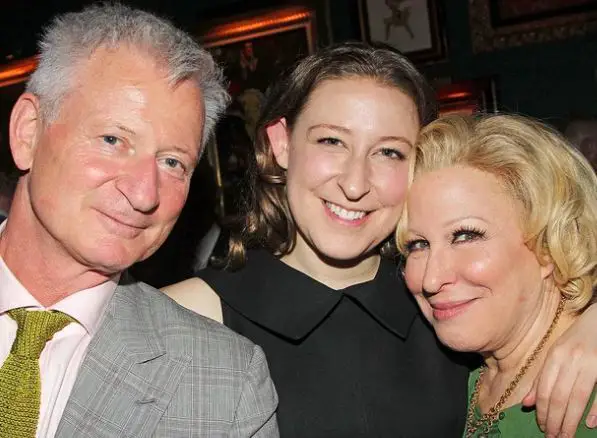 Bette Midler poses with husband Martin von Haselberg and daughter Sophie Von Haselberg in 2014 (Photo: people.com)
Thankfully, with the birth of their daughter Sophie Von Haselberg in 1986, their marriage was saved; love started to rekindle amid the duo. Also, thier relationship flourished due to their mutual effort to raise Sophie in a loving environment.
For You:- Book Club's Diane Keaton 'Never Married' Story, Dream Husband & Adopted Children Talks!
Now, her daughter has followed her footstep to become an actress; she even appeared in Woody Allen directed film The Irrational Man in 2015.
Age, Recent Years, Net Worth
As of now, the 74-year-old actress is in long-lived marriage with her husband without any conflicts.
Also, she is still very committed to her work.
In 2017, the singer of height 5 feet and an inch(1.55 m) lost a weight of 13 kilograms to perform in the Broadway show Hello, Dolly!. Furthermore, in 2019, she played the song Where The Lost Things Go at the 91st Academy Awards with perfection.
Since the singer has made the world hum the tune of her hit single Friends from her early days, she has garnered a vast amount of wealth now.
Her net worth is already a jaw-dropping $230 million, which is 200 times more than her husband's net worth of $20 million.